November 15, 2019, is America Recycles Day. Participants from all around the United States will stage recycling events to mark the occasion. As of this writing, nearly 80,000 people have signed an online recycling pledge associated with America Recycles Day.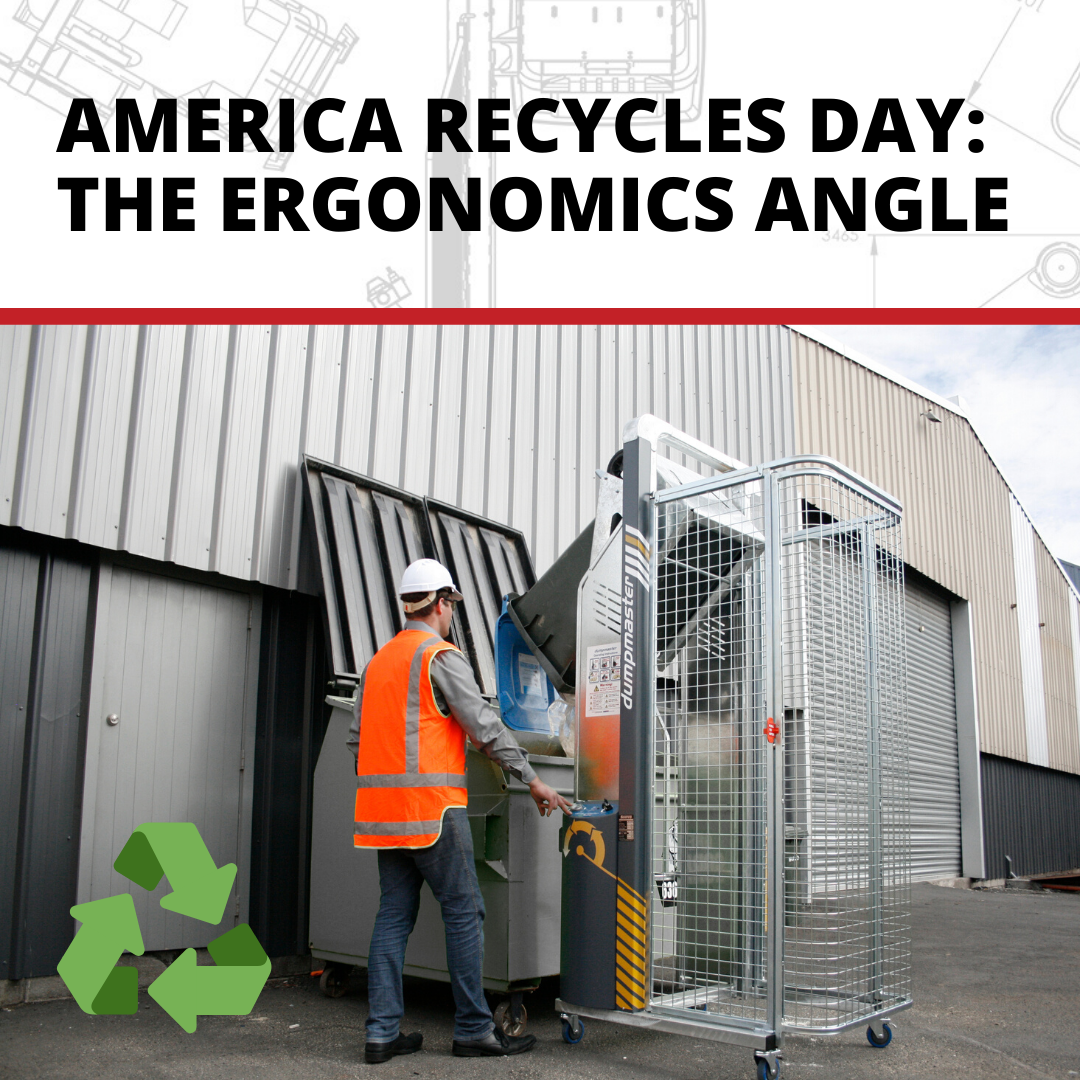 At Solus Group, we're using the holiday to remind recyclers and recycling facility staff about a related health issue: ergonomics. Waste handling occupations are rife with ergonomic and other hazards, as attested by the tragic numbers of workplace fatalities among refuse and recycling workers.
In 2017, the Bureau of Labor Statistics reported 30 fatalities among refuse and recycling collectors, marking the occupation as the fifth most dangerous in the nation. While not all of the injuries in the field are associated ergonomic hazards, an application of this science of work can help to reduce injury rates considerably.
America Recycles Day offers an excellent opportunity for workers in the recycling field to start the conversation about a safer, more ergonomic workplace. Solus Group hopes to be part of that effort.
An America Recycles Day List of Ergonomics Tips for Recycling Plants
Here are a few ergonomics interventions for recycling professionals to discuss this America Recycles Day:
Install rounded pads at the edges of all conveyors. One ergonomics study of three Canadian recycling facilities found that protruding, sharp edges on conveyors lead to a higher pain onset rate in the lower limbs of workers. Creating a softened, rounded edge will allow workers to lean their pelvises against the conveyor less stress on the body.
Reduce the maximum horizontal reach distance necessary for recycling sorters. An ergonomics assessment of the sorting line at recycling facilities found a common maximum reach distance of around 31.5 inches. (This marks the distance to reach past the midpoint of the conveyor.) This exceeds the recommended reach guideline of around 27.5 inches, leading to awkward postures and pain in the shoulders and back. The assessment recommends that recyclers reduce the maximum reach to even less than the guideline, down to 19.6 inches total. This can be accomplished by installing thinner lines, or, more affordably, by providing trash pickers with ergonomic handles.
Provide material handling equipment for all lifting and dumping processes. While trucks may dump recycling loads directly into the conveyor system, employees must carry and empty bins of waste removed by sorters. This task carries multiple ergonomic hazards, including heavy lifting, awkward postures, and twisting in the torso. Eliminate these risks with easy-rolling Roll-Out Carts or Mobile Garbage Bins and a Hydraulic Bin Dumper. This latter material handling solution lifts and empties heavy loads at the press of a button, removing all the ergonomic hazards associated with dumping trash cans.
While these tips offer effective ways to reduce the rates of musculoskeletal disorders and body pain for recycling staff, they are only part of the solution. They're just meant to start the conversation. Managers at recycling plants will see the greatest benefits from completing a full ergonomics audit to uncover the unique workplace hazards that exist at their facilities. What better time to do that than America Recycles Day, November 15, 2019? Resources:
Cottom, Theresa. "Surge in industry-related fatalities in 2019." RecyclingToday. GIE Media Inc., 23 Jan. 2019. Web. 29 Oct. 2019.
"Ergonomic assessment: Recycling sort." UWaterloo. University of Waterloo, Centre of Research Expertise for the Prevention of Musculoskeletal Disorders, n.d. Web. 29 Oct. 2019.
Lavoie, Jacques and Serge Guertin. "Evaluation of Health and Safety Risks in Municipal Solid Waste Recycling Plants." TandFOnline. Journal of the Air & Waste Management Association, Taylor and Francis, 27 Dec. 2011. PDF. 29 Oct. 2019.