Bulk material loads present particular challenges, but bin tippers allow safer, more-productive handling for dry bulk loads and liquids alike.
Industrial engineers separate materials into three basic categories: individual units, containerized loads, and the toughest of them all: bulk materials. Odds are, most material handling applications have plenty of equipment to safely move individual units — such as components or subassemblies — and containerized loads — such as loaded pallets, boxes, and bins. But too many workplaces still rely on manual labor to empty bulk materials, such as grains, powders, and liquids.
The act of lifting and emptying a bulk load container presents particular safety hazards:
The postures involved in emptying containers are often awkward, which increases the risk of musculoskeletal disorders.

Bins and drums are frequently far too heavy for a single person to safely lift. While agencies such as the Canadian Centre for Occupational Health and Safety recommend two-person lifts for full drums, the risk of low-back pain remains.

Bins and drums may have hard and/or sharp edges, creating pressure points that can lead to nerve damage during lifts.

The weight of the load shifts as it is emptied, which can cause sudden changes in the muscle groups used to elevate the container, increasing the likelihood of an unprepared exertion.

If workers must lift and empty multiple containers within a shift, the risk increases based on frequency and number of repetitions of the action.
In order to mitigate these risks, the Centers for Disease Control and Prevention recommend "engineering improvements," or changing the work process in order to remove hazards. That's precisely what industrial bin tippers were built to do.
Using Bin Tippers to Lift and Empty Containers of Bulk Materials
Bin tippers from Solus Group ship standard with a cradle that automatically secures standard wheelie bins. However, drum-handling cradles and other custom attachments make these devices ideal for emptying virtually any industrial container, including fiber drums, plastic drums, and even 55-gallon steel drums.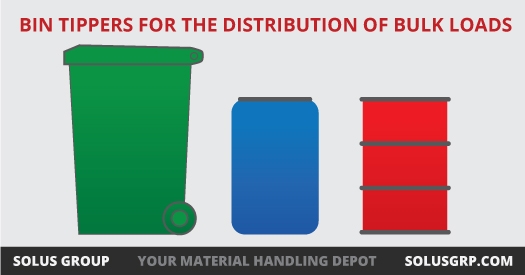 The process is simple. The operator wheels a bin tipper to the load, so the only manual handling of the container is pushing it into the cradle. There, wheel locks, an optional hoop retainer, or custom bolt-on securing mechanisms secure the container for emptying.
Once the unit is in place next to the material's destination, the operator presses a button to engage the hydraulic lift function. The bin tipper quickly lifts and gently tilts the container over to empty it completely. Unlike standard drum dumpers, bin tippers keep the load centered over the frame during the entire process for greater stability.
Finally, operators reverse the motion, bringing the empty container safely back to floor-level. Bin tippers completely remove the ergonomic risks associated with manually handling containers of bulk materials.
Specific applications include every instance of bulk material handling, from grain distribution to pouring ingredients into mixers to pouring drums of chemicals into pharmaceutical manufacturing equipment. If you handle bulk materials in your workplace, bin tippers can help you run a safer, more productive operation.
References:
"Ergonomic Guidelines for Manual Material Handling." CDC. National Institute of Occupational Safety and Health, Centers for Disease Control and Prevention, 2007. PDF. 28 Sept. 2017.
Kay, Michael. "Material Handling Equipment." NCSU. Fitts Dept. of Industrial and Systems Engineering, North Carolina State University, 12 Jan. 2012. PDF. 28 Sept. 2017.
"MMH - Drums and Barrels." CCOSH. Canadian Centre for Occupational Health and Safety, n.d. Web. 28 Sept. 2017.