The purpose of a bin tipper is to empty trash bins, right?
Yes, but that's just part of the story. In fact, Bin Tippers from Solus Group can be outfitted with specialized cradles to safely lift and empty virtually any industrial container, from drums to boxes to, yes, trash bins.
And while Bin Tippers are a terrific solution for the material handling challenges of the waste management industry, lots of other businesses enjoy the safety and productivity benefits of these unique machines. Here are a just a few of the varied industries that use Bin Tippers to make their tasks safer, faster, and more successful: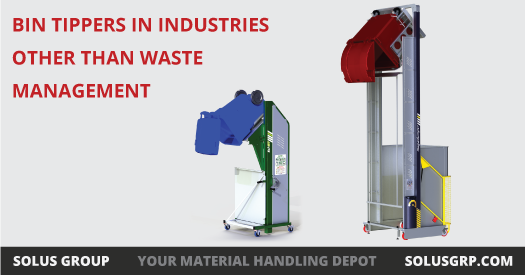 Food production.

Food production lines begin with bulk ingredients, and handling them creates serious ergonomics hazards for staff. Industry journal Food Engineering Magazine lists a few common causes of musculoskeletal disorders, including "exerting excessive force, "working in awkward postures," or placing "localized pressure on a body part."

Lifting and emptying heavy sacks of ingredients into mixers requires several of these hazards. Bin Tippers automate the task, and they can be produced in full stainless steel to meet cleanliness requirements in food production facilities.

Spirits manufacturing.

Similarly, distilleries must empty great volumes of grain and mash into enormous stills. They must also mix dry ingredients in the first place.

All of these tasks are simplified by the unique lift-and-tip action of a Bin Tipper from Solus Group. This tipping motion keeps loads centered over the frame's footprint, ensuring perfect stability before, during, and after use.2.

Agriculture.

Animal farms deal in at least two types of bulk ingredients: animal feed and manure. Both require material handling equipment that can spare workers from lifting and emptying heavy containers manually.

Custom bin cradles securely grip virtually any type of bins, boxes, or drums. Bin Tippers are safe for both indoor and outdoor use, and they have a small footprint. Some farmers store a Bin Tipper in the barn to handle feed and manure.

Medicine.

As we've mentioned here before, Bin Tippers offer a safe and efficient way to handle medical waste at hospitals, clinics, and laboratories.

Optional Operator Guards (DM-OG) form a liquid-proof barrier to ensure that staff remain free of contact with hazardous waste. The polycarbonate construction is easy to disinfect after each use in the medical industry.
Bin Tippers are available with capacities of up to 1,300 pounds, and can be custom-built for even greater loads. They come in a variety of models, from winch-driven EZI-MT Manual Bin Tippers to the ultra-heavy-duty MegaDumper, which was designed to handle 450-gallon industrial bins.
Bin Tippers began in the waste handling industry, it's true. But they have since spread far and wide. In any industry that requires staff to empty heavy containers, Bin Tippers improve safety and get the job done quicker.
References:
Gerrard, Jeremy. "Ergonomics: Creating a Culture of Safety." FoodEngineeringMag. BNP Media, 6 Oct. 2015. Web. 21 July 2017.
Higgins, Kevin. "Cultivating a Culture of Safety in Food and Beverage Plants." FoodProcessing. PutmanMedia, 6 Oct. 2014. Web. 21 July 2017.