At the typical casino, waste management presents several challenges unique to the industry. Facilities may be open 24 hours a day while food service departments create tremendous amounts of trash, recycling, and compost at peak times. The daily ebb and flow can make scheduling difficult for management and keeping up with multiple waste streams stressful — and even dangerous — for workers.
Handling waste, whether it's bound for the landfill, the recycling center, or a composting service, puts a strain on staff.
The Occupational Safety and Health Administration (OSHA) gives ample warnings to employers about unsafe lifting. Here's just a sampling of potential hazards that janitorial staff assigned to trash duty may face at a busy casino:
Lifting loads heavier than 50 pounds

Bending while lifting

Carrying loads on one shoulder or arm (creating uneven pressure on the spine)

Repetitive motions
It doesn't take an expert to see that waste management workers are at a particularly high risk of injury when lifting and dumping heavy trash cans, recycling bins, and/or food waste receptacles. Thankfully, powered equipment like Bin Tippers from Solus Group can eliminate this risky duty for custodial staff in the gaming industry.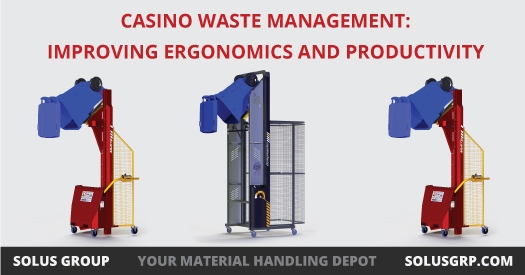 Some employers may take the position of "If it ain't broke, don't fix it." Custodians have manually emptied bins for decades, so there's no reason to change things now.
However, the perils of manual bin emptying may be worse than they seem. The Bureau of Labor Statistics reports that, in 2015, nearly one third of injuries resulting in missed workdays comes from musculoskeletal disorders (such as the ones caused by poor lifting practices).
That's a major inefficiency. Even worse, in addition to missed days, those workers likely aren't working at full-strength when they return due to lingering musculoskeletal issues.
Bin Tippers also help casinos meet the demands of large volumes of waste.
Bin Tippers can help a modestly sized janitorial crew keep up with the heavy demands of around-the-clock trash. These powered machines allow a custodian to dump heavy bins into a dumpster without ergonomic risks.
Versatile models such as the Multi-Tip Bin Tipper can lift and empty a 330-pound load in 20 seconds. With four casters, the Multi-Tip can be moved from dumpster to dumpster (or to a compost pile), and with a durable, powder-coated frame, it's designed to last outdoors.
Heavier duty options include the Dumpmaster, which can safely lift and dump up to 660 pounds. Choosing an option that works with different sized bins ensures that the workflow keeps moving safely and steadily.
Bin Tippers help ergonomics, but they also help productivity.
Ergonomics and productivity go hand in hand. While some employers think of ergonomics as simply making workers more comfortable, there's a clear production benefit as well. When workers reduce wasted motions and avoid stressful positions, they have more energy to perform their jobs.
Bin Tippers allow a smaller staff to dispose of large amounts of waste without risking injury. This gives casino management greater flexibility when scheduling workers to meet demand at peak times.
Relying on powered equipment means more employees can work at times that demand constant attention in food service and restrooms while fewer employees can catch up emptying bins during downtime (without risking injury due to repetitive heavy lifting). Bin Tippers make work safer and easier for workers while giving managers greater flexibility in scheduling. This combination of benefits makes this powerful dumping equipment an appealing solution to the unique challenges of casino waste management.
References:
"Controlling Ergonomic Hazards." OSHA. Occupational Safety and Health Administration, U.S. Department of Labor, n.d. PDF. 13 Nov. 2017.
"Ergonomics eTool: Solutions for Electrical Contractors." OSHA. Occupational Safety and Health Administration, U.S. Department of Labor, n.d. Web. 13 Nov. 2017.
"Hotel, Motel, Resort, and Casino Waste Reduction." Thurston.Wa. Thurston County Solid Waste Program, n.d. PDF. 13 Nov. 2017.
"Nonfatal Occupational Injuries and Illnesses Requiring Days Away From Work, 2015." BLS. U.S. Bureau of Labor Statistics, 10 Nov. 2016. Web. 13 Nov. 2017.