Changing Forklift Batteries in Small-to-Medium-Sized Fleets
Print
By Jennifer Taylor
September 5, 2017
According to the latest analysis from the Industrial Truck Association, there are nearly 540,000 lift truck operators working in the United States today.
Some of those jobs are in enormous distribution centers, but many are scattered across all sorts of industries — warehousing, yes, but also waste management, wholesale trade, retail, and manufacturing, just to name a few. Companies in most of these industries that use forklifts do not operate an enormous fleet, which means they might struggle to find battery handling equipment that gets the job done without overkill.
For those who change forklift batteries several times per day, Solus Group offers a complete line of forklift battery carts and carriages. These heavy-duty steel, side-extraction machines improve efficiency and safety during forklift battery changes, and they're available at several price points to match any application.
The first question to ask when investing in forklift battery handling equipment is: How many batteries must you change in a day? Here's the battery changer to choose based on the answer: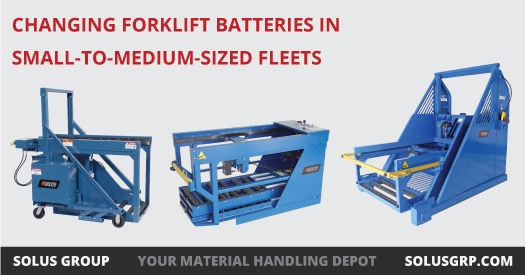 According to the industry journal Food Logistics, lift truck manufacturers expect fleet sizes to shrink in the coming years. Automation, right-sizing, and better lift truck management will allow operations to achieve their goals with fewer forklifts on the floor.
Battery carts and carriages from Solus Group are ideal for the smaller battery fleets of the future — as well as fleets of all sizes today.
References:
"Lifting America - The Economic Impact of Industrial Truck Manufacturers, Distributors and Dealers." IndTrk. Industrial Truck Association, June 2017. Web. 8 Aug. 2017.
Maras, Elliot. "How Data Metrics Revolutionizes Lift Truck Management." FoodLogistics. AC Business Media, 25 Feb. 2016. Web. 8 Aug. 2017.