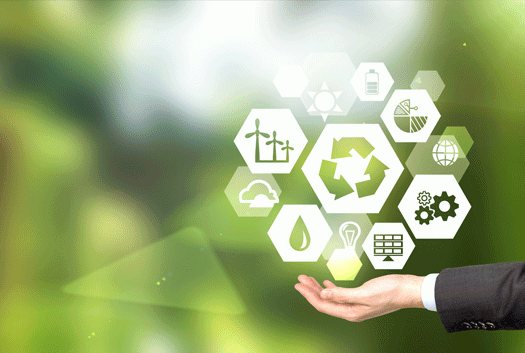 Working in the industrial manufacturing business, it may seem difficult to imagine how composting and recycling could help your company and save you money. And while beginning the process may seem daunting, the payback is higher than you think.
In fact, according to the WasteCare Corporation, industrial manufacturing facilities have the greatest potential for benefiting from recycling and composting opportunities. A lot of the materials coming from these industrial facilities, such as paper, plastics, and metals, can be recycled and reused with the proper programs in place. And leftover organic materials can be deposited at composting facilities to limit dumping fees while meeting environmental goals.
Implementing green waste-handling procedures doesn't have to be costly, either. Lots of cost-efficient strategies can help manufacturers start recycling and composting without breaking the bank.
How Do Manufacturers Start Recycling and Composting?
It's a lot easier than you think. As of 2013, there were nearly 4,000 recycling facilities in the U.S., and in 2017, BioCycle counted more than 4,700 composters. Odds are, waste-recovery services are available in your area.
As with any new waste-handling program, start by evaluating the existing system. This may sound time-consuming, especially for larger facilities, but it shouldn't interrupt the existing flow of materials. Besides, bigger industrial facilities that have the most potential for payback in the long run. Here are a few things to keep in mind as you make the move toward greener waste streams:
RECYCLING:
The first thing you'll want to do is observe:
Consider what kinds of industrial waste you're dumping, and how much of that material is going to the landfill. Once you determine the kind of waste that is being discarded, you can then consider where the bulk of this material originates.
As you pinpoint the origin of these recyclables, you can plan ways to divert them toward a separate waste stream:
Placing large bins at waste-originating workstations is an easy, non-intrusive way of collecting these materials in one area. Remember that the goal of a successful waste-diversion plan is to create solutions for gathering materials with the least impact to your worker's productivity.
Label these bins clearly. Indicate precisely which materials go into which bins to speed up the process and avoid any glitches in the system.
COMPOSTING:
As with recycling, start by observing your existing system:
Consider where most of your compostable materials are being thrown away — whether that's in kitchen/cafeteria areas, production floors, or elsewhere.
After identifying the originating locations, consider what you can do to separate regular waste from compostables, like organic debris, food-soiled paper, and kitchen scraps:
When you place composting bins in these areas and label them clearly, employees are more likely to use them to deposit compostable waste.
Choose Mobile Garbage Bins with easy-rolling casters to help workers transport waste to collection points. There, use a Bin Dumper to lift and empty bins without creating ergonomic hazards for employees.
How Can Recycling and Composting Benefit Your Business?
In addition to preserving the natural resources manufacturers depend on, there are plenty of other benefits to recycling and composting in the industry. Here are just a few.
Save Resources and Energy.
When you recycle byproducts of the manufacturing process, you contribute to a significant decrease in the demand for new materials. This can save an industrial company a lot of money in the long run.
Recycling can also help reduce greenhouse gasses created during some production processes.
Increase Your Company's Overall Value.
Working to become eco-friendly endears a company to its consumers. This proactiveness can make your brand more favorable to customers, investors, and vendors.
Participation in sustainability programs makes manufacturers eligible for programs and certificates that can create new business opportunities.
Considering that manufacturing companies produce some of the highest volumes of industrial and organic wastes, it is important for these facilities to reclaim as many of these materials as possible. The simple steps listed above can save an industrial facility money while meeting environmental goals.
Recycling and composting programs can also provide positive brand connotations for manufacturers, spreading product awareness to new customers who care deeply about sustainability.
References:
"The Benefits of Industrial Recycling." SouthernWasteandRecycling. Southern Waste and Recycling, n.d. Web. 9 Jan. 2019.
Goldstein, Nora. "The State of Organics Recycling in the U.S." BioCycle. BioCycle, Oct. 2017. Web. 10 Jan. 2019.
"Industrial Composting: What It Is and How It Works." UrthPact. UrthPact, 24 Aug. 2017. Web. 9 Jan. 2019.
Kennedy, Matt. "Waste Reduction & Recycling Tips for Manufacturing Facilities." WasteCare. WasteCare Corporation, n.d. Web. 9 Jan. 2019.
Lee, Jan. "Green Bins And Commercial Composting: What's Working, What's Not?" TriplePundit. TriplePundit, 15 Dec. 2015. Web. 9 Jan. 2019.
Szczepanski, Mallory. "EREF Releases MSW Management Facilities in the U.S. Report." Waste360. Informa, 10 Oct. 2017. Web. 10 Jan. 2019.