Does your business need a container dumper? Odds are, the answer is yes. Hydraulic dumpers have the power to improve productivity, reduce injuries, and streamline mission-critical processes in a much wider variety of industries than you might think.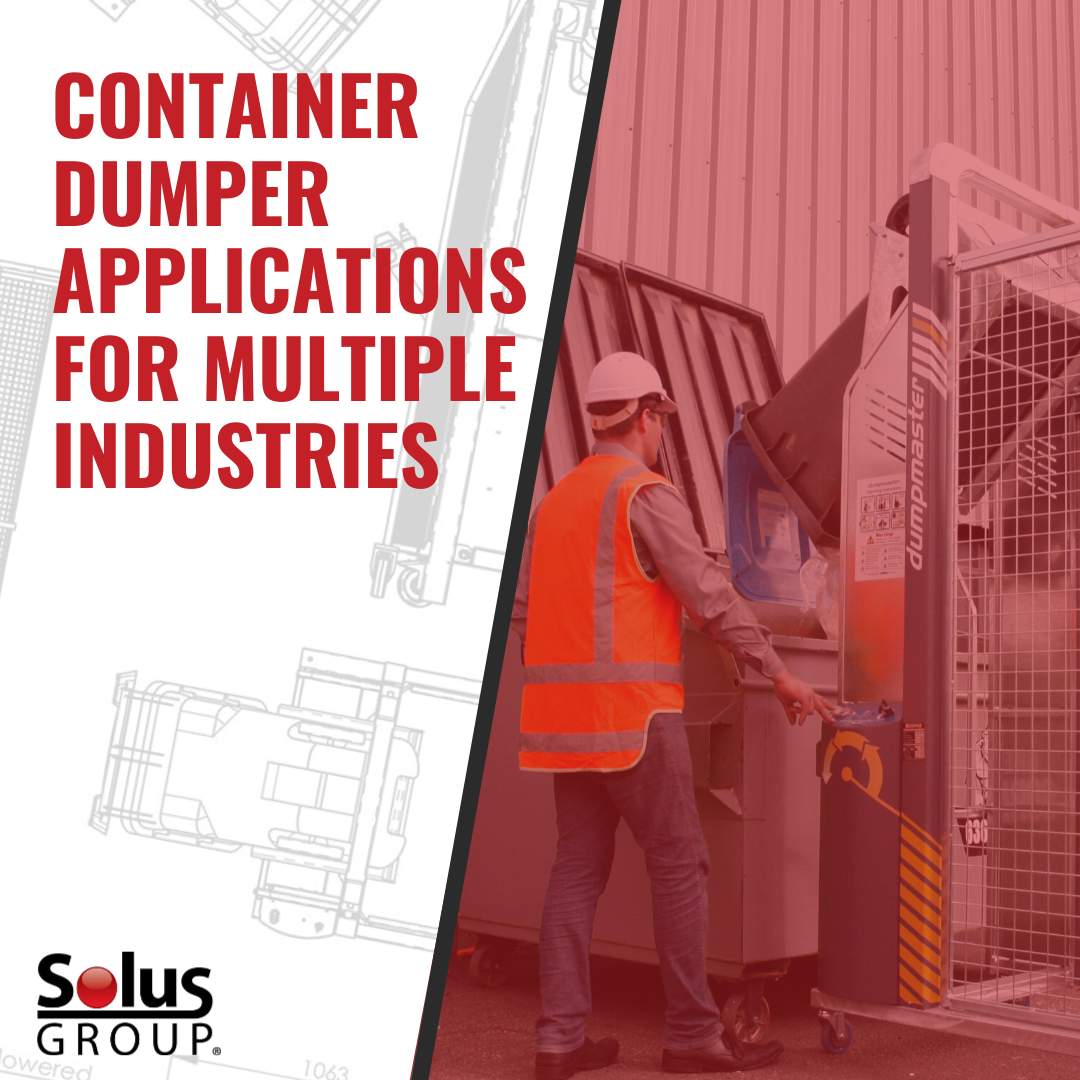 So what exactly is a container dumper? It's a piece of material handling equipment designed to both lift and empty bulk containers — bins, drums, boxes, and more. Beyond that, container dumpers come in a wide variety of models and designs to fit seamlessly into existing operations.
Solus Group is North America's exclusive online dealer of Simpro Bin Dumpers, a leading dumper brand with a unique lift-and-tip motion that keeps weight centered within the unit's footprint throughout the entire emptying task. This specialized design, along with the extensive range of customizable options, make Simpro Bin Dumpers ideal for any lift-and-tip operation. Here are just a few of the applications that benefit from these heavy-duty container dumpers:
Shipping and mailing. Bin Dumper cradles are available for virtually any type of container, including mail bins. Shippers empty containers full of mail and/or packages onto sorting lines many times per shift. A Dumpmaster Hydraulic Bin Dumper with a 660-pound capacity can prevent costly workplace injuries while keeping the sorting lines full.
Recycling and waste processing. Container dumpers originally came out of the waste handling industry, and they remain a crucial part of many material recovery facilities (MRFs) and recycling sorting lines today. Ergonomic material handling equipment like Bin Dumpers have helped to drive down injury rates at U.S. MRFs, where workplace injuries and illnesses declined from 9.8 per 100 full-time employees in 2017 to 4.9 the following year. Stationary container dumpers can be built into recycling lines. For a highly portable solution, many MRFs employ forklift attachments called Forward Bin Dumpers. These dumpers attach to lift truck forks for quick tipping power anywhere on the line.
Food service. Restaurants in the United States generate 4 million tons of food waste every year, and employees have to haul all of it to dumpsters. Employers can provide a low-cost EZI-MT Manual Bin Dumper to reduce the risk of musculoskeletal disorders proliferating among their staff.
Food processing and production. Container dumpers are also heavily used in the food processing industry. Stainless steel models are easy to clean and comply with FDA Food Code rules. Stainless steel Dumpmasters can empty grain, powdered ingredients, liquids, and oils into processing or baking equipment safely and much more efficiently than manual lifting.
Hospitality and building management. Wherever there are a lot of people, janitorial staff will need to take a lot of trips to the dumpster. Container dumpers remove the strain, keeping the workforce happier, more comfortable, and more productive.
The above list is far from comprehensive. In fact, container dumpers remove the ergonomic hazards associated with emptying trash cans into dumpsters, so any facility that handles its own waste would benefit from one of Simpro's products.
The U.S. Occupational Safety and Health Administration (OSHA) tells employers to implement "engineering controls" to remove hazardous actions, such as those associated with lifting and emptying heavy containers. An engineering control is any physical change to the workplace that eliminates an ergonomic hazard — changes such as the introduction of hydraulic material handling equipment.
Container dumpers provide a powerful engineering control wherever containers are lifted and emptied. Contact Solus Group at 314-696-0200 to learn more about container dumpers and other ergonomic solutions for your business.
References:
"Ergonomics: Solutions to Control Hazards." OSHA. U.S. Occupational Safety and Health Administration, n.d. Web. 14 Nov. 2019.
"Restaurant Food Waste Action Guide." ReFED. ReFED, 2018. PDF. 14 Nov. 2019.
"Rising BLS injury, illness rate for collection workers troubles industry." WasteDive. Industry Dive, 8 Nov. 2019. Web. 14 Nov. 2019.