Large-scale events generate significant volumes of waste, which is why organizers need a comprehensive Waste Management Plan (WMP) in place from the very start. The creation of this plan does not have to be a daunting process. In fact, putting some extra time into your WMP while organizing your event is a proactive step that can make the event easier to manage.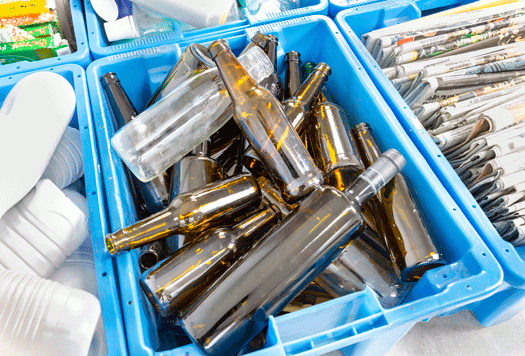 Your Waste Management Plan should identify what kinds of waste your guests will create, as well as estimated waste tonnage. This data will help organizers create effective steps to collect and properly dispose of this waste.
Also, including new or updated material handling equipment in your Waste Management Plan can speed up the process and make collecting and disposing of your event's waste safer overall.
Waste Management Strategies
There are plenty of strategies that you can use to make sure that you adhere to the Waste Management Plan's minimum requirements. These strategies include, but are not limited to:
Utilizing reusable, recyclable, and/or compostable/biodegradable food and beverageware. See examples of reusable, recyclable, compostable, and biodegradable materials below.
Providing high-visibility waste and recycling labels on bins.
Safely storing, using, and disposing of potentially polluting substances, such as containing used cooking oil to avoid spilling or cross contaminations.
Arranging bins consistently throughout the event's site, with a recycling bin (usually blue in color) always next to a waste bin (usually green or some other color).
Solus Group's 660 Liter Mobile Garbage Bin is one of the largest commercial bins for recyclable, compost, and waste materials, and can carry more than twice the amount of a standard wheelie bin. With its four casters and grab handles, maneuvering the Mobile Garbage Bin is easy, even at its maximum capacity of 584 pounds.
Locating bin stations where food and beverages will most likely be consumed, at entry/exit points, close to toilets/facilities, and at the interaction of pathways throughout the event. Be sure to remember to consider the access needs of children and people with disabilities.
Positioning bins at a maximum of 46 feet apart so that they are completely visible.
Identifying a bin collection point and planning bin transfer routes to the collection point.
Nu-Star's Power Pusher makes maneuvering heavy bins to collection points fast and without the excess of exertion. The Power Pusher uses an electric motor to provide a single user with total control over material up to 50,000 pounds.
Once at the collection point, Solus Group's collection of Bin Tippers can be utilized to reduce back strain by mechanically lifting and gradually tipping bins into a collection point. This reduces the strain of workers and provides for faster removal so that bins can be safely returned to their posts in a timely manner.
Providing organics collection facilities. Organics can be collected in an organics bin and processed by commercial compost, worm farm, or organics recycling system.
Utilizing bin monitors that can easily track the type of wastes being deposited into bins to encourage appropriate bin use, such as HID Global's RFID Tags that can enable operators to monitor sorting quality, the weight of a container's contents, and how often that particular bin has been emptied.
Providing a water dispenser or water refilling station to discourage purchasing of water bottles.
And…
Donating leftover food to a charity in need.
All of these strategies should be implemented to provide a competent Waste Management Plan. By following these steps and providing your event with the proper equipment, you can make managing waste and the removal process of leftover materials a breeze.
How to Reduce Event Waste
The easiest way to avoid a buildup of waste is to utilize reusable material whenever possible. Reusable material has become incredibly popular in the environmental movement, as it cuts down on waste and avoids the energy expenditures associated with recycling.
When it seems impossible to avoid producing waste, and reusable material is not an option, it is advisable to use recyclable, compostable, or biodegradable materials. Remember to provide the appropriate collection systems and waste services to properly dispose of any of the materials mentioned above that you may use.
You can find a sample list of these recyclable, compostable, and biodegradable materials for your future reference here, courtesy of the Australian town of Waverly's city council. Remember when consulting with waste services to ask about the nature of any materials that you are uncertain of.
The fight for a cleaner planet coincides neatly with creating safer workplaces. Choose material handling equipment that can make diversifying your event waste streams easier, while reducing the risk of injury among waste-handling staff.
References: "Event Waste Management Plan." LGNSW. Waverley Council, Feb. 2012. PDF. 25 Feb. 2019.