Visit the factory that produces your favorite snack and you'll find a long line of gleaming metal food production equipment. Whether you prefer Twinkies or beef jerky, stainless steel machinery probably played a part in bringing that treat to market.
The ubiquity of stainless steel in the industrial kitchen brings up a question: Do these machines have to be made of steel?
In the United States, the FDA does not specify a particular material for food production lines. Still, FDA guidelines contain much to recommend stainless steel to manufacturers. The FDA specifies that all food-contact surfaces of production equipment must be:
Safe, meaning "manufactured from or composed of materials that may not reasonably be expected to result...in their becoming a component or otherwise affecting the characteristics of any food."

Nonabsorbent, durable, and resistant to corrosion.

As smooth as possible, with rounded edges.

Strong enough to avoid denting, bending, scarring, or breaking down.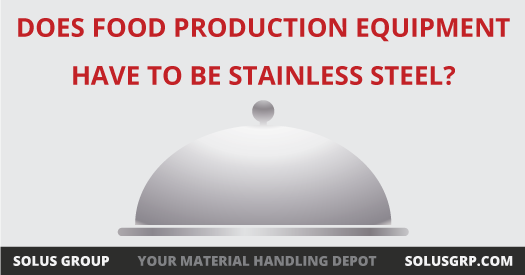 Stainless steel meets all of these requirements as few other materials can—but not all grades of steel are appropriate for use in food production lines. Different grades vary depending on how much chromium and nickel they contain. Chromium content improves corrosion resistance, while nickel strengthens the steel.
For food-contact surfaces on production equipment, the American Iron and Steel Institute recommends 300 Series Stainless Steel, which contains 18 percent chromium and 8 percent nickel. This line of steel resists corrosion, even in the presence of acidic ingredients such as tomatoes or citrus fruits. The high nickel content makes 300 Series steel smooth and tough, so it's less likely to develop bacteria-hiding dents, cracks, or gouges.
Industrial journal Food Manufacturing reports some further advantages of the material:
In terms of health and safety, stainless steel has no negative impact on individuals who handle the material throughout its production process, use or ultimate disposal. The emissions footprint of stainless steel as related to carbon, water and air is minimal. Stainless steel is highly reusable and also recyclable. Its low maintenance costs and long life mean stainless steel has minimal impact on the planet. Industries that produce stainless steel show long-term sustainability and growth, provide excellent reliability and quality for their customers and ensure a solid and reliable supply-chain to the end consumer.
Stainless steel is the industry standard for food production equipment, but until recently, it wasn't easy to find a versatile, portable industrial dumper made out of this all-important material.
Stainless Steel Bin Tippers for Food Production Lines
As staff on food production lines will tell you, it's hard on the body to lift and empty drums, boxes, and buckets of ingredients into industrial mixers. Employees who add ingredients to the line by hand may face a higher risk of developing musculoskeletal disorders.
Instead, provide employees with a Bin Tipper from Solus Group. Order any model with optional high-grade, 304 stainless steel construction. This metal contains 18 percent chromium and 8 percent nickel, and complies with guidelines from the American Iron and Steel Institute.
Bin Tippers lift and tip loads of up to 1,300 pounds, depending on the model. The cradle tips as hydraulic lines lift the container, keeping all weight within the frame's footprint for unparalleled stability. To learn more about how Bin Tippers integrate with other food production equipment, check out the product page, here.
References:
Erickson, Daniel and Ronald Schmidt. "Sanitary Design and Construction of Food Equipment." IFAS. University of Florida IFAS Extension, May 2005. Web. 15 July 2017.
"Food Code." FDA. Food and Drug Administration, U.S. Department of Health and Human Services, 2013. Web. 15 July 2017.
Scherzinger, Jerry. "Stainless Steel and Contamination Prevention in Food and Beverage Equipment." FoodManufacturing. Advantage Business Media, 18 May 2016. Web. 15 July 2017.