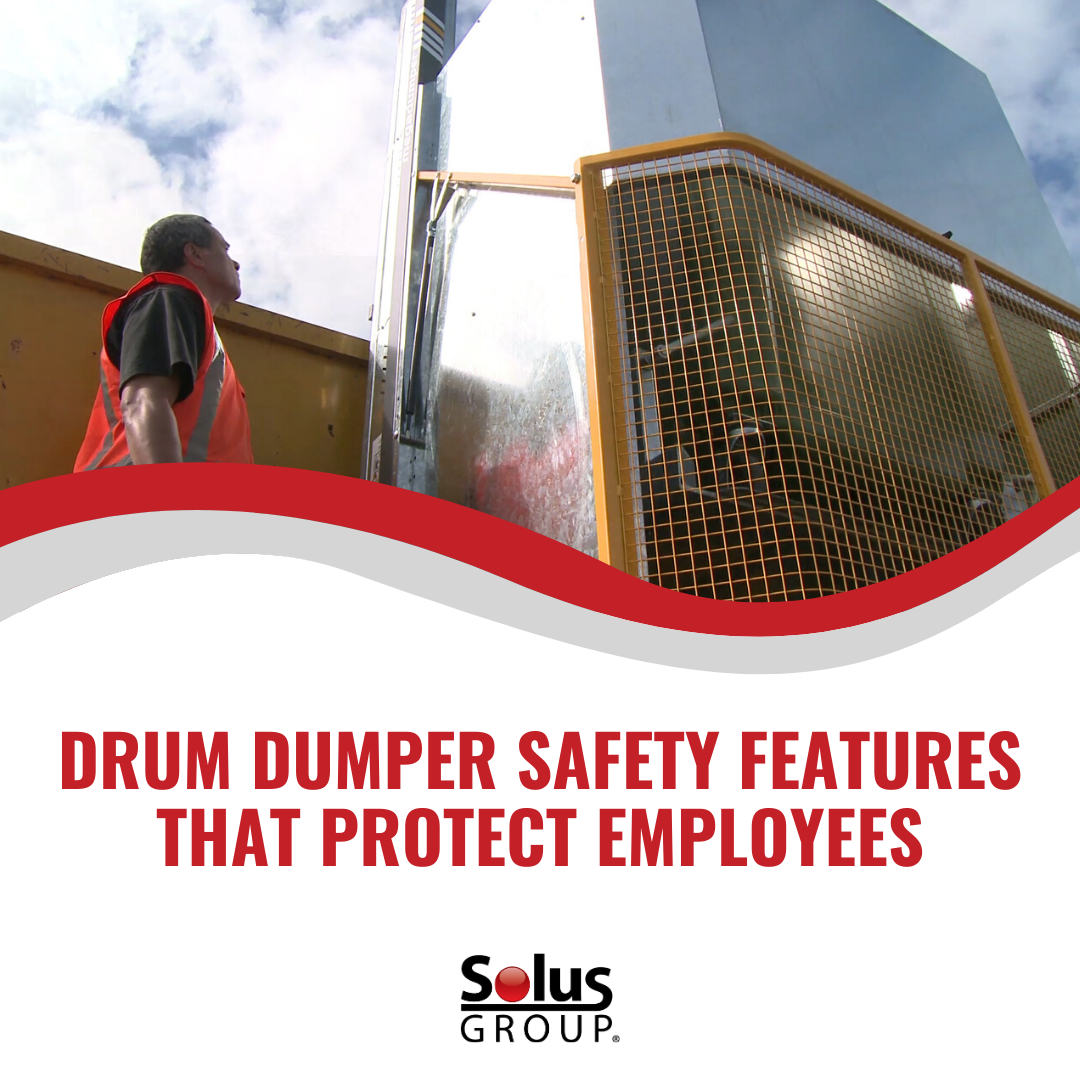 Safety is a major reason employers invest in drum dumpers and other ergonomic drum-handling equipment. (Efficiency is probably the other big motivator.) And certainly, lifting and emptying full 55-gallon drums is much safer with dedicated material handling equipment.
But even with drum-handling equipment, hazards remain. Not all drum dumpers are built with operator safety in mind. When making a decision on purchasing a drum dumper, then, look for the following safety features:
Even weight distribution. Some drum dumpers carry drums along an arced track shaped something like a crook or a candy cane. This design moves the weight of the load outside of the dumper's frame, creating potential stability issues. Simpro Bin Dumpers (available with drum cradles) keep weight centered over the unit frame during the entire dumping operation. This unique design maintains optimal stability at every point of the task.
Splash-protection operator guarding. Depending on the application, the contents of a drum may be hazardous. Even in food-processing plants, splashes can create unsafe conditions and negatively affect employee productivity. Choose drum dumpers that offer several options for operator guards. PET-G Operator guards are available on most models of Simpro Bin Dumpers. These transparent, breakage-proof plastic barriers protect operators from splashes during the tipping process. For even more protection, opt for the full PET-G Cage. This feature replaces the Bin Dumpers wire mesh caging around the lift channel with splash-proof industrial plastic, isolating the drum from the operator as it rises. Dumping chutes can also help prevent splashing when pouring liquids into hoppers. Frame-mounted chutes are available on Simpro Bin Dumpers, as well.
Guarding around the lift mechanism. Exposed moving parts create serious hazards for operators of all types of industrial equipment. In fact, "caught in/between" injuries are on the Occupational Safety and Health Administration's "fatal four" list of deadliest construction accidents. Machine guarding is also required by OSHA standard 212. Simpro Bin Dumpers feature full caging around the lift rails and hydraulic components. For an extra level of safety, a Swing-Up Locking Door is available. This cage lifts vertically, and prevents the unit from powering on until the door is locked shut.
Toe guards on mobile drum dumpers. Mobile drum dumpers roll across the floor on phenolic casters; rolling over an operator's foot could lead to a significant injury. Foot guard panels, such as those available on mobile Simpro Bin Dumpers, remove this risk.
According to OSHA's guidelines on handling drums, employers should always "train personnel in proper lifting and moving techniques to prevent back injuries." Even better, employers should provide appropriate material handling equipment loaded with safety features that guard against every conceivable hazard.
Simpro Bin Dumpers are packed with these features, and can be built to conform to any local, national, or international safety regulations. With a steel bucket cradle instead of the standard bin cradle, these Bin Dumpers make extremely safe and effective drum dumpers.
References:
"29 CFR 1910.212 - Machinery and Machine Guarding." OSHA. U.S. Occupational Safety and Health Administration, n.d. Web. 21 Nov. 2019.
"Commonly Used Statistics." OSHA. U.S. Occupational Safety and Health Administration, n.d. Web. 21 Nov. 2019.