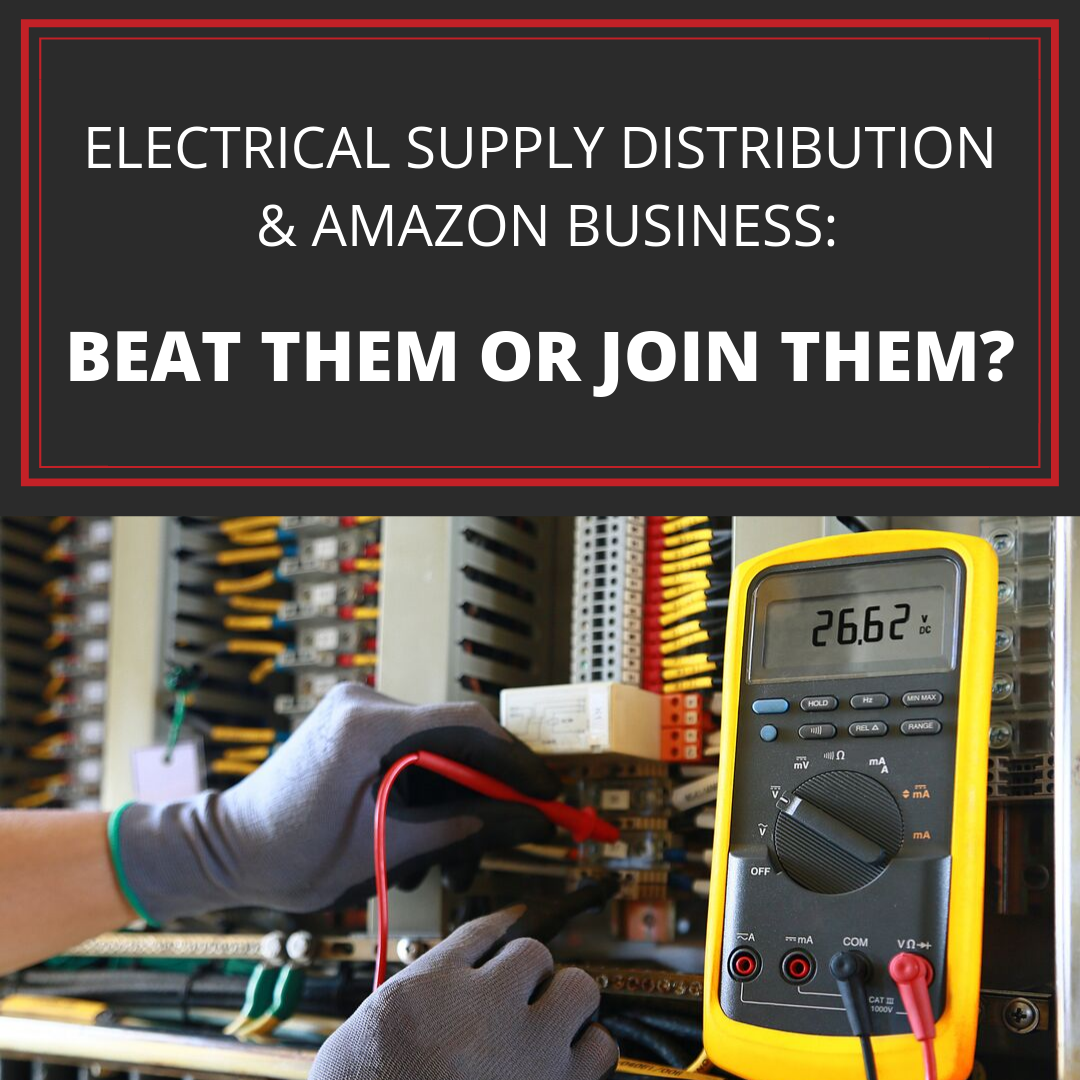 Amazon Business is coming for your electrical supply customers. Or is it?
The online retailer has been disrupting B2C retail for decades, but the e-commerce juggernaut only entered the B2B space in 2015, with the launch of Amazon Business. By 2018, the company reported its B2B division brought in $10 billion a year.
That business has to come from somewhere. Electrical supply distributors are concerned that Amazon will go after their customers — if it hasn't snagged them already. It's hard to compete with a company as big as Amazon, even in the economies-of-scale-driven world of B2B electrical distribution.
The bad news is that the existing electrical supply distribution industry is not completely ready for this disruption. According to a 2019 article in industry journal Electrical Wholesaling, 52 percent of respondents in a recent survey said that they don't have a strategy to oppose Amazon Business' move on their territory. By way of context, 22 percent of respondents said they did have a strategy, and 5 percent had already enacted one particular strategy — selling on Amazon themselves.
And this is the question that electrical distributors are asking themselves. Stand against Amazon and their fees, or use the channel to expand sales without effectively fueling your own competition?
Here are some thoughts on each approach.
Competing Against Amazon Business in the Electrical Industry
Most larger electrical distribution providers are unlikely to bow to Amazon's entrance into their corner of the marketplace. They will seek to consolidate existing customers while growing sustainably with value-added services unavailable from Amazon Business.
But what about independent distributors? Here are a few things smaller businesses in the electrical distribution field will have to do to compete with Amazon's entrance into the electrical space:
Invest in e-commerce. You can't compete with the world's largest online retailer with a warehouse and a phone. There's no doubt that the B2B buyer, like retail consumers before them, come to expect an online option when making purchases. In 2018, B2B e-commerce sales grew at the fastest rate yet recorded, hitting more than $1 trillion for the first time. So whether electrical distributors invest in a website, an online marketplace, customer portals, or all of the above, they can expect customers to look for them in the e-commerce space. If you're not there, Amazon Business is just a click away.
Optimise user experience. Here's where Amazon has a distinct advantage. Not only is their platform easy to use, it's familiar to many electrical purchasers already. Easy navigation, simple, flexible payment options, and one-click access to human support staff can all keep visitors on your site long enough to make a purchase — rather than click away in confusion or frustration.
Leverage value-added services. Wire and cable suppliers have been at the forefront of the value-added service in electrical supply for decades. Offer custom dying, paralleling, cut-to-length services, and pre-assembly with pulling eyes for cable orders. Amazon Business will have a hard time keeping up with these options, which can save electrical contractors considerable time and money at the job site. Relatively minor investments in cut-to-length support infrastructure can reduce the price of offering this value-added service. A single Spool Winding Trolley, for instance, automatically fills one or more order reels while counting linear footage along the way.
Explore creative delivery and retrieval options. Amazon Business promises free shipping on some orders; two-day, one-day, and same-day shipping for others; and pallet-load delivery on still more. Unless electrical suppliers can match those terms, they might have to find other areas in which to seize new advantages. Local electrical supply distributors know their territories better than Amazon's logistics system. Consider delivering directly to job sites that don't have algorithm-enabled addresses yet. Another idea is to install Will Call Dropboxes outside the warehouse, or in other strategic locations. Distributors can give customers a one-time passcode, allowing them to pick up their order at any hour of the day or night. Upon receipt, the passcode expires, readying the locker for the next order.
Use existing customer relationships to anticipate customer needs. Small, local electrical supply distributors may not even be aware of their greatest strength: relationships.
An electrical sales team knows its customers. This allows them to suggest helpful additions to orders, and to anticipate customer requirements before they arise in conversation.
This last point of leverage — history — goes by another name, and it's what Amazon's really after when they try to get electrical suppliers to sell through their platform: Data. Remember that as we explore the potential advantages of working with Amazon Business rather than competing head-to-head for the same customers.
Selling Electrical Supplies Through the Amazon Business Marketplace
At first glance, the Amazon Business marketplace looks like an ideal service to augment existing distribution channels. After all, it's got the logistics infrastructure in place, and the website is familiar and easy to use.
Amazon will sell and ship products on your behalf, and all they ask for (as of this writing, at least), is 15 percent of the profits derived from your sales on the platform. But remember that keyword — data. That's the unseen cost of running sales through someone else's system.
Rather than establishing relationships with new customers who buy on Amazon Business, a third-party seller just gets the sale. The data on that buyer's preferences goes straight to Amazon, which has more than enough algorithmic and analytic power to leverage customer information into greater market share.
Of course, this is not to say electrical supply distributors should never sell through the Amazon marketplace. There are certain types of transactions that may be worth the sacrifice of data and a percentage of the sale. Just keep these tips in mind:
Electrical supply distributors shouldn't think of Amazon Business as their only e-commerce provider. The safest use of the platform is to augment sales on highly select products. Today's electrical supplier should offer their own in-house e-commerce solution for the fullest range of materials.
Electrical suppliers should consider their overall sales strategies when choosing which products to sell through Amazon Business. If one distributor's value proposition includes highly customized or pre-fabricated components, they might benefit from promoting these products on Amazon Business. However, note that the platform's user interface might not work with all custom options. Another strategy is to focus on no-brand, low-cost products. While this will make it harder to distinguish a third-party seller's place on Amazon Business, it's fairly low-risk in terms of supporting competition with the core operation.
Avoid getting into price wars on Amazon. Suchit Bachalli, writing in industry publication Electrical Wholesaling, warns electrical suppliers not to give into the temptation to continually lower their prices just to gain more market share on Amazon. "One thing distributors must avoid is becoming the low-price providers, which puts them in a category where other distributors with better unit economics can ruin them on price...," Bachalli writes. "And there is always a chance that Amazon could create a private-label version that is cheaper, further undermining the distributor's brand."
Of course, no one can predict the threat Amazon Business may (or may not) pose to existing electrical supply distributors. Regardless of where the industry moves, though, the suggestions outlined above make good business sense no matter where competition comes from.
What we do know is that the electrical supply market in the US was worth more than $180 billion in 2019. Amazon Business may be a ticket to securing a bigger slice of that pie, or it may be out for the whole thing itself.
Regardless of Amazon's place in the industry — now and into the future — innovations like a strong e-commerce experience, value-added services, and next-level shipping options will help any-size electrical supply distributor maintain and even expand profits — while providing the strong benefits that electrical contractors depend on.
References:
Bachalli, Suchit. "Amazon Business Is Growing. Do Distributors Have a Plan?" EWWeb. Informa USA, Inc., 1 Mar. 2019. Web. 6 Sept. 2019.
Betters-Picaro, Elyse. "What is Amazon Business and how does it work?" ZDNet. CBS Interactive, 6 Aug. 2019. Web. 6 Sept. 2019.
Davis, Don. "B2B ecommerce sales surpass $1 trillion—with more growth to come." DigitalCommerce360. 22 Mar. 2019. Web. 6 Sept. 2019.
"Electrical Equipment Wholesaling Industry in the US - Market Research Report." IBISWorld. IBISWorld, May 2019. Web. 6 Sept. 2019.
McCrea, Bridget. "Is Amazon Business Really Taking Over B2B Distribution?" TEDMag. tEDmag, 14 Nov. 2018. Web. 6 Sept. 2019.