Energy Action Month: Choosing Trash Can Dumpers at Federal Agencies
Print
By Solus Group Marketing Team
October 1, 2018
Every October, the federal government observes Energy Action Month. To mark this event, the Federal Energy Management Program (FEMP) offers specific, step-by-step recommendations federal agencies can use to meet energy-efficiency requirements.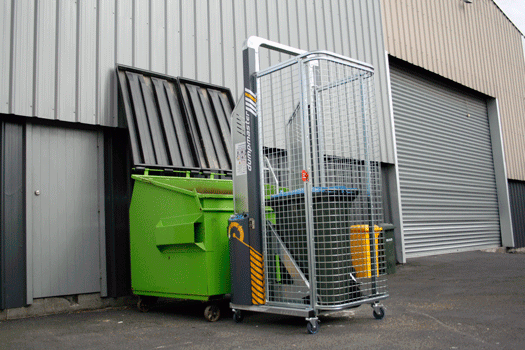 However, agency purchasers might not always know how to align energy management goals with the choice of material handling equipment. This is especially true when weighing the energy requirements of specialized material handling solutions, such as Bin Tippers from Solus Group.
Federal agencies can purchase these trash can dumpers through GSA schedules to improve ergonomics and productivity in multiple material handling scenarios. Bin Tippers lift and empty industrial bins. Traditionally, facility managers use them to prevent injuries associated with emptying heavy trash cans. Over time, though, users have found Bin Tippers to be ideal for lifting and dumping any large-scale industrial container, from pallet bins to steel drums to stainless-steel food carriers.
This October, procurement officers at federal agencies can obtain the benefits of Bin Tippers while helping to meet Energy Action Month goals. Here's your energy-based buying guide for Bin Tippers from Solus Group:
The Ezi-MT Manual Bin Tipper requires no electricity at all to run. Users simply wheel the unit into place and activate the tipping process with an easy-turning winch. While this is considered our "light-duty" model, it carries a hefty lifting capacity of nearly 150 pounds. This is an excellent choice for day-to-day trash can dumping.
Higher-capacity models, like the Multi-Tip (max. cap. 330 pounds), the Dumpmaster (660 pounds), and the MegaDumper (1,320 pounds standard or 1,650 pounds with a heavy-duty optional upgrade) use hydraulic circuits with incredibly conservative energy requirements. The Dumpmaster, for instance, only requires 18 kilojoules to lift and empty a standard, 220-pound load. (The maximum capacity, note, is much higher, but the manufacturer tested energy expenditure with a 100-kilogram [220-pound] load.)
Hydraulic Bin Tippers can also operate completely carbon-free. Optional solar panels provide enough power for most standard uses. Given the model's energy efficiency, the panels are quite compact, as well. The panel occupies just about 5 square feet to power the entire unit for all-day use.
Energy Action Month asks federal agencies to re-examine energy savings across the facility. Choosing highly efficient — or, even better, carbon-free — material handling equipment is an important part of the move toward greater overall energy efficiency.
For more tips on how to participate in Energy Action Month, check out FEMP resources on the subject here. Trash can dumpers prevent injuries and boost efficiency at every federal agency. Thanks to energy-efficient design, they make ideal investments during Energy Action Month. Contact Solus Group at 314-696-0200 or [email protected] to learn more about how Bin Tippers may fit into your energy-efficient plan.
References:
"Energy Action Month." Energy. U.S. Office of Energy Efficiency & Renewable Energy, n.d. Web. 28 Aug. 2018.
"The nuclear powered bin-tipping machine." Simpro. Simpro Handling Equipment, Ltd., 9 Sept. 2016. Web. 28 Aug. 2018.