Staff in the entertainment and hospitality industry strive to keep their hustle and bustle behind the scenes, which can lead to sacrifices in ergonomics. They want patrons to enjoy an event or a vacation with no stress or worries. But all that hard work adds up, and without ergonomic habits and equipment, it could leave employees taking sick days or injury time at disproportionately high rates.
The incidence of injury for leisure, entertainment, and hospitality workers is slightly higher than the average for all workers.
According to the Bureau of Labor Statistics, however, when you isolate operations with 250 or more employees, that gap widens. In businesses with over one thousand employees, injury rates are 25 percent higher in the leisure, entertainment, and hospitality industry than for an average business of the same size outside of the industry.
This jump is likely caused by the increase in volume across the board for large operations. In such an operation, think about the following positions and their corresponding workload: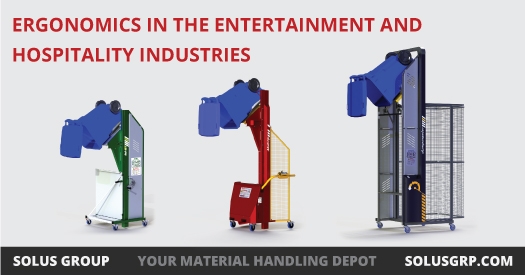 Dishwashers handle more trays of dishes.

Housekeepers lift more bundles of sheets and towels.

Janitorial staff lift more bins of trash and recycling.

Cooks handle larger sizes of ingredients and heavier pots and pans.
Thinking in those terms, it's easy to see how the injury rates go up as the size of an operation increases. So what can be done to decrease injury rates and keep staff healthy and happy?
The two most common categories of injuries are slips, trips, and falls and musculoskeletal disorders. Here's what we know about reducing these types of injuries.
Slips, Trips, and Falls
Where people are hurrying, there will always be accidents. Still, employers can lessen the risk with a number of safety precautions. Here are some of the big ones to tackle:
Ensure that floors are dry (and display signs when they're not).

Remove obstructions in walkways and near staircases.

Mandate proper footwear for all staff.

Promptly address spills.

Avoid running cables across walkways (even temporarily).
In addition to these common precautions, employers should communicate with staff to learn about accidents and near misses that may point to problem areas.
Musculoskeletal Disorders
These common injuries occur when staff twist their backs, raise their arms above their shoulders, bend their wrists or necks repeatedly, or stand for long periods of time. These postures, along with increased force, repetition, or duration of certain actions greatly impacts the likelihood for injury.
To minimize these injuries, consider the following steps:
Educate all staff on ergonomic ways to complete tasks.

Encourage staff to lift heavy items together to minimize strain.

Rotate staff to different jobs to rest overused body parts.

Provide mechanical equipment for lifting items that cannot safely be lifted manually.
For example, employers that provide Bin Tippers from Solus Group for janitorial staff can greatly reduce the strain on workers' backs. Repeatedly lifting trash cans to dump them into dumpsters raises several red flags for injury risks.
The motion requires twisting the back and raising arms above shoulders. In addition, the load may be heavy and the action is frequently repeated. The use of a Bin Tipper eliminates all of these ergonomic hazards by safely lifting and dumping an overly heavy trash bin.
Not every hazard has such an easy solution, but investigating each trouble spot can inform management of what kind of equipment to invest in and what kind of education is needed for staff. Reducing sick days and injury time is beneficial to everyone from management to staff and customers, who get to interact with well-trained, healthy, and happy staff.
References:
Buchanan, Susan et. al. "Occupational injury disparities in the US hotel industry." Wiley. American Journal of Industrial Medicine, 10 July 2009. Web. 20 Oct. 2017.
"Incidence rates of total recordable cases of nonfatal occupational injuries and illnesses by quartile distribution and employment size, 2015." BLS. U.S. Bureau of Labor Statistics, 2015. PDF. 20 Oct. 2017.
"Musculoskeletal Disorders (MSDs) in the Hotel, Restaurant and Catering Industry." SafetyBOK. Safety, Health and Environmental Body of Knowledge, 11 Jan. 2008. Web. 20 Oct. 2017.
"Slips, Trips, and Falls - The Most Common Cause of Accidents in the Hospitality Industry." FoodAlertLimited. Food Alert, n.d. Web. 20 Oct. 2017.