October is home to not just one but two outreach efforts focused on eye injury prevention. The American Academy of Ophthalmology declares this the month Eye Injury Prevention Month, and the World Health Organization observes World Sight Day on the second Thursday, which will be October 11, 2018.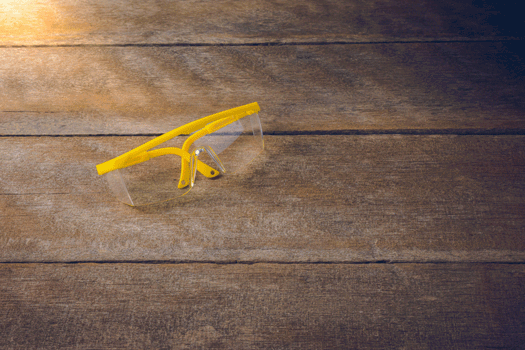 So it seems like a good time to review eye safety protocols in every forklift battery room. After all, forklift batteries contain acidic electrolyte, which, when not handled correctly, can boil over or otherwise come into contact with the worker's eyes. This can cause severe damage and even blindness, so it's crucial to follow appropriate procedures, such as:
All staff who work with forklift batteries should wear personal protective equipment (PPE), including chemical-resistant eye goggles and a chemical-splash face shield.
These are available in the Personal Protective Kit from Solus Group, along with aprons, boots, and gloves rated to resist acid splashes.
The use of PPE is mandated by OSHA standard 1926.441(a)(5), which states that "face shields, aprons, and rubber gloves shall be provided for workers handling acid or batteries."
Provide eye wash stations to quickly flush the eyes if they come into contact with electrolyte or other battery-related fluids.
Eye wash stations are required, per OSHA standard 1910.151(c), which reads: "Where the eyes or body of any person may be exposed to injurious corrosive materials, suitable facilities for quick drenching or flushing of the eyes and body shall be provided within the work area for emergency use."
Solus Group offers a range of eye wash stations, from safety showers to wall- and pedestal-mounted eye wash facilities.
Locate eye wash stations no more than 50 feet from the work site. According to ANSI Z358.1, the standard for eye wash stations, these facilities should be placed so that workers could reach them from work sites within 10 seconds. That typically equates to an unobstructed path no more than 50 feet away.
Meeting this standard can be difficult for battery rooms that aren't adequately plumbed. That's why Solus Group provides Portable Eye Wash stations that don't require plumbing. These self-contained units hold 16 gallons of water at the ready, and can be placed anywhere in the battery room for full compliance with ANSI Z358.1.
Without these safeguards in place employees risk their eyesight every time they work with batteries and failing to comply with OSHA and other regulators. Be sure to check the eye-care equipment in your forklift battery room this Eye Injury Prevention Month.
References:
"29 CFR 1910.151: Medical services and first aid." OSHA. Occupational Safety and Health Administration, U.S. Department of Labor, n.d. 30 Aug 2018.
"29 CFR 1926.441: Batteries and battery charging." OSHA. Occupational Safety and Health Administration, U.S. Department of Labor, n.d. Web. 30 Aug. 2018.
Kaletta, James. "Lift trucks: Battery room safety tips." MMH. Peerless Media LLC, 27 Oct. 2010. Web. 30 Aug. 2018.
"Make Safety a Priority during Eye Injury Prevention Month." YourSightMatters. Your Sight Matters, n.d. Web. 30 Aug. 2018.