Facilities maintenance workers face a range of ergonomic risks on the job, including hazards associated with repetitive motions, heavy lifting, and awkward work postures. In fact, the Occupational Safety and Health Administration (OSHA) continues to list "maintenance and repair workers, general" among its high-risk occupations for developing musculoskeletal disorders.
The good news is that managers can take steps to reduce injury risks through education, proper staffing, and assistive equipment — particularly machines that replace risky manual tasks with simple push-button operation.
There may be no workplace task more ergonomically risky than simultaneously lifting and emptying industrial containers.
Bin Tippers from Solus Group remove the risk of injury while improving overall productivity in applications that require this dangerous material-handling motion. These are ultra-safe mechanical devices that lift trash cans and other containers and empty them in an efficient and highly controlled motion. The Bin Tipper then brings the container back down to ground level where the maintenance worker can wheel it back to its place.
Think about how often facilities maintenance workers must handle large volumes of heavy materials:
Every replacement of HVAC or other bulky infrastructure creates waste (or, better yet, recycling).

Repairing machinery can litter the room with defective parts, which can often be quite heavy.

Every room remodel might produce tons of ripped-out carpet or knocked-down drywall.

Even a simple task like replacing light bulbs produces material handling challenges when completed on a facility-wide scale.
For all of these jobs and more, Bin Tippers accomplish several ergonomic goals at once. Let's look at three of OSHA's major factors for musculoskeletal disorders and think of how they apply to lifting heavy bins:
Exerting large amounts of force to move materials.

Performing same or similar tasks repeatedly.

Working in awkward positions or postures.
Repeatedly emptying heavy trash cans involves all three of these factors. But reliable equipment like the Dumpmaster from Solus Group can eliminate all three hazards at once.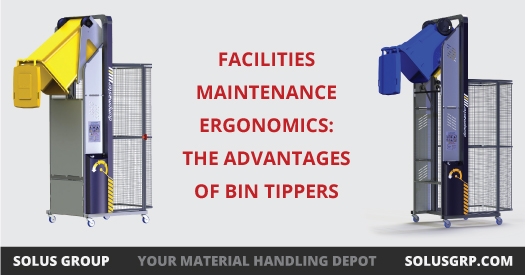 With a 660-pound capacity, this portable, heavy-duty, single-unit dumper can handle heavy loads that could badly strain an employee's back. The machine has several features to keep the operator safe — such as a standard wire mesh lift-track cage and optional foot panels — and includes 4-inch casters so it can be moved to where it's needed. 
Bin Tippers are built to last outdoors or in harsh warehouse environments. They require minimal maintenance while doing heavy lifting time and time again.
Bin Tippers allow any staff member to accomplish challenging lifting tasks.
It's a simple fact that not every facilities maintenance worker can lift the same amount of weight. This reality can lead to managers putting a larger burden for dumping heavy cans of trash, recycling, and compost on stronger workers. As with any frequently repeated task, this puts workers at higher risk of suffering an injury.
Mechanical lifting equipment allows any trained worker to easily empty bins. Even better, the process of emptying bins gives workers a momentary break to rest their muscles as the tipper does the heavy lifting. Keeping staff healthy and on the job makes life easier for everyone.
This boost to productivity and protection from injury is especially important for older workers.
The Bureau of Labor Statistics (BLS) reports that older workers are at a greater risk for injuries that require days off work than younger ones. The age group of 55-64 had the highest incidence rate in 2015, while those 45-54 had the highest number of days-away-from-work cases.
These older workers are a source of useful knowledge and are extremely valuable to the organizations they work for, but extra precautions must be taken to keep them healthy. Ergonomic devices like Bin Tippers are a great way to reduce strain and minimize injuries in an aging workforce.
Give staff the proper tools — figuratively and literally.
Education will always play an important role in keeping workers safe. Knowing how to lift ergonomically and when to enlist a lifting partner, or assistive lifting device, prevent untold numbers of injuries.
Unfortunately, all the education in the world can't prevent injuries when workers are lifting overly heavy loads. That's why so many organizations have come to rely on Bin Tippers to give their facilities maintenance ergonomics programs an extra boost.
References:
"Nonfatal Occupational Injuries and Illnesses Requiring Days Away from Work, 2015." BLS. Bureau of Labor Statistics, 10 Nov. 2016. PDF. 30 Oct. 2017.
"Solutions for the Prevention of Musculoskeletal Injuries in Foundries." OSHA. Occupational Safety and Health Administration, U.S. Department of Labor, 2012. PDF. 30 Oct. 2017.