Members of the American Welding Society know everything there is to know about compressed gas cylinder safety. After all, they use shielding gasses with their welds every day. The appropriate shielding gas varies from job to job — options range from argan alone to argan in many mixtures with carbon dioxide, oxygen, and/or helium — but all shielding gases are stored compressed in cylinders.
As the National Safety Council's publishing organ, Safety & Health, mentions, compressed gas cylinders must withstand an internal pressure of up to 2,500 pounds per square inch. Staff must treat them gingerly to avoid upsetting the delicate balance that keeps them from flying across the room or, worse, exploding in place.
Here are the AWS guidelines for safely handling compressed gas cylinders, as reported by their partners at Safety & Health:
When storing compressed gas cylinders, set them upright in a cylinder cart that's built for that express purpose.


Strap or chain cylinders into place during storage.


Store cylinders (empty and full) in a location that is 20 feet or more from anything combustible. Also the location should be well-ventilated, dry, and protected from heat, traffic, and electricity.


Store empty cylinders well away from full cylinders.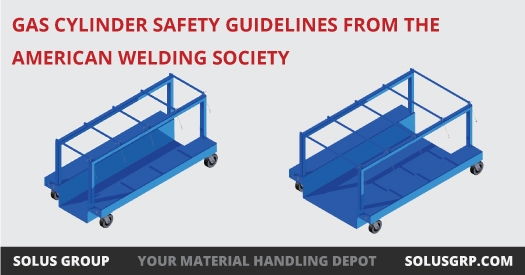 The guidelines are slightly different when moving gas cylinders. The necessity of movement introduces more safety challenges into proper cylinder handling. The AWS recommends that:
The AWS "Fact Sheet" on the safe storage, handling and use of gas cylinders warns workers to "use the right equipment, correct procedures, and sufficient number of persons to lift and move cylinders to avoid personal injury and cylinder damage."


They also warn against transporting cylinders in any other manner than upright.


"Secure cylinders upright to a proper hand truck or cylinder cart designed for the purpose," the AWS states in their Fact Sheet. (Our emphasis.)

The implication here is that cylinders shouldn't travel on any cart that's lying around; safe transportation for compressed gas cylinders requires dedicated, specially designed equipment, like Cylinder Transporters from Solus Group.

Make sure all valve caps and guards are installed correctly before transporting gas cylinders.


Never lift a compressed gas cylinder by its valve cap.
The AWS points out that "most accidents or injuries involving cylinders happen when moving or handling the gas cylinders." This fact underscores the necessity of observing all safety rules and regulations when working with compressed gas cylinders.
Any damage in the shell of a gas cylinder can create an explosion, as the vast internal pressure pushes outward, destroying the metal container. A damaged valve can send welding gas canisters spinning around the floor. Other types of compressed gas cylinders, such as those used for butane and propane, have differently designed valves. When those valves break, the pressure rushing out of them is so intense that it can transform the metal cylinder into a projectile, damaging anything in its flight path.
In order to avoid these hazards, it is vital for those who work with gas proceed with extreme caution when handling gas containers. These gas cylinder safety guidelines from the AWS can help, but only if you remember to observe them every time you handle a gas cylinder.
References:
"Handling and storing compressed gas cylinders." SafetyandHealthMagazine. National Safety Council, 27 Oct. 2014. Web. 6 Sept. 2017.
"Safety and Health Fact Sheet No. 30 - Cylinders: Safe Storage, Handling, and Use." AWS. American Welding Society, Apr. 2014. PDF. 6 Sept. 2017.