Given the proliferation of SKUs handled by modern third-party distribution centers, dead inventory may be a thing of the past. In fact, today's "dead" inventory often ends up the darling of tomorrow's niche market.
Before the rise of e-commerce, you could always get rid of slow-moving SKUs and use the space for hot new products. But for today's e-commerce distribution outlets, which handle a vast range of products, clients may expect everything nonperishable to stay on the shelves indefinitely.
Here are a few ways to keep the items that you only pick a few times a year accessible — without taking up valuable space that should be reserved for best-sellers.
BUILD SKU PRIORITY INTO YOUR FLOORPLAN.
A mix of shelving options can help to keep your outfit flexible. Ideally, you already have an idea of which items will move more than others, and you can place shelving accordingly.
For instance, if you primarily deal in pallet loads, devote the bulk of your warehouse space to pallet racks. But that doesn't mean you shouldn't tuck a few rows of fixed-height steel Industrial Shelving furthest away from your shipping room.
Maintaining the capacity for both pallet- and carton-flow lanes will allow you to store a wider variety of SKUs. If you can project demand, just place the slower-moving products further away from your shipping area for more efficient daily picks.
PRIORITIZE SKU PLACEMENT BASED ON POPULARITY.
Proximity to outbound shipment isn't the only way to increase efficiency on faster-moving SKUs. Pickers fill orders more safely and efficiently when high-selling items are ergonomically located.
Locate high-demand SKUs on shelves positioned between your average picker's shoulders and waist. That may only be two or three shelves, depending on the dimensions of your shelving units, but your order pickers will thank you. They'll also have fewer lower back injuries, which is a crucial concern in the material handling industry.
Meanwhile, store slow-moving inventory on your highest shelves, where you may need specialized equipment to access them.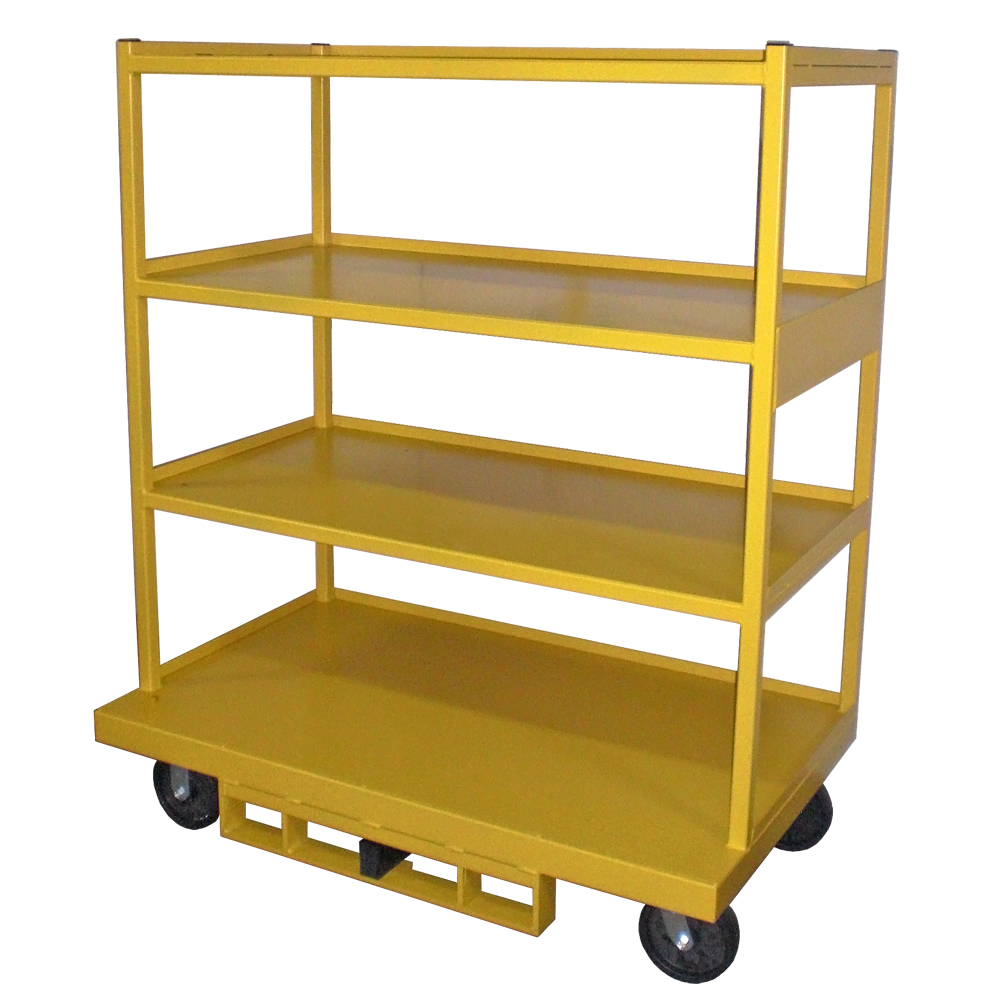 PROVIDE ORDER PICKERS WITH THE RIGHT TOOL FOR THE JOB.
In a non-automated warehouse, the standard tool-of-choice for order pickers will be a dependable cart, like the Order Picking Cart from Solus Group. These robust material handling solutions enable wave picking by allowing pickers to load up a whole wave's worth of SKUs in a single trip.
When an order comes in for a slow-moving SKU that's stored on the very top shelf of the unit, a trained, designated staff member can use a personnel lifting device to gain access. Given the rarity of such an order, this more time-intensive operation should not noticeably affect operational efficiency.
MAINTAIN SLOW-MOVING INVENTORY FOR A COMPETITIVE EDGE.
Given the radically open online market, even inventory that might have been considered obsolete in years past probably has a dedicated base of buyers today. Vintage computing equipment? There's a community of enthusiasts that will pay top-dollar. Old engine parts? Someone out there is restoring a classic car, and is desperate for that product.
When you carve out a place for slow-moving SKUs within your warehouse, you offer something that the competition can't. Variety is the key to today's market. With a little ingenuity, you can obtain maximum value for slow-moving inventory, while your popular items continue to ship without delay.
References:
Aldred, Tim. "How to manage an effective warehouse." TheGuardian. Guardian News and Media Limited, 3 Jan. 2014. Web. 12 Aug. 2016.
"Inventory Management 101: Time to revisit the principles." LogisticsMGMNT. Peerless Media, LLC, 1 Jan. 2014. Web. 12 Aug. 2016.