At any construction site, there's bound to be waste. Scraps of unusable wood, dust from sandblasting, blocks of broken concrete: It piles up, and it's often quite heavy.
Add to that the trash generated by large crews working long shifts and it's easy to see why most builders include plans for waste removal in their contracts. However, the options for waste disposal at construction sites that currently exist seem to leave one thing out of the equation: worker safety.
Roll-Off Dumpsters and Construction Crew Safety
Assuming a construction project doesn't generate hazardous waste, such as asbestos or lead, the general plan is to rent a few roll-off dumpsters, fill them up, and wait for the service to return and cart them away.
That's a perfectly good solution, but employers must consider the ergonomic hazards that come along with hauling heavy waste materials and throwing them over the lip of the roll-off, which usually requires lifting heavy loads above the worker's shoulder.
Throwing waste into a dumpster might involve heavy lifting, reaching above the shoulders, and twisting motions during a lift. All of these increase an employee's risk of developing musculoskeletal disorders (MSD).
Construction is already a high-risk field for MSDs. While rates of work-related MSDs have been dropping for the past few decades, MSD rates in the construction field remain higher than all other industries — combined.
It pays to reduce ergonomic hazards wherever possible at construction sites. Start with waste disposal.
Automating Waste Disposal On-Site at Construction Projects
Construction requires lots of heavy equipment, but it just takes one relatively compact machine to remove the risk of injury during waste disposal tasks. Bin Tippers from Solus Group lift and empty containers of all types.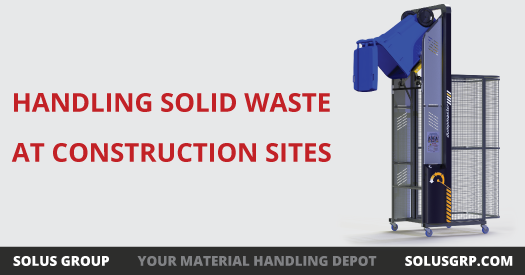 At a construction site, simply position durable wheelie bins close to the work. Let staff throw waste products into the bins. When a bin fills up, wheel it over to the dumpster, where the Bin Tipper is stationed.
Wheel the bin into the cradle of the Bin Tipper. (For this application, consider the Dumpmaster, which easily lifts and tips loads of up to 660 pounds.) Wheel catches within the standard Dumpmaster cradle hold bins in place, so you don't have to pause to secure the container before engaging the lift-and-tip action.
Dumpmaster Bin Tippers can be adjusted to reach between 47 inches and 83 inches, depending on the height of a dumpster. Custom models offer even greater reach.
A galvanized steel frame and zinc-plated guarding allow the Dumpmaster to withstand the elements for year-round outdoor use. It's the ideal solution that reduces the considerable risk of MSDs for workers in the construction industry.
Even better, the Dumpmaster Bin Tipper is powerful enough to handle the heavy waste products that come with every new construction project. Take the load from the employee's back by allowing Bin Tippers to fill roll-off dumpsters, quickly and safely, right there at the work site.
References:
"Ergonomics: The Study of Work." OSHA. Occupational Safety and Health Administration, United States Department of Labor, 2000. PDF. 27 June 2017.
"Solid Waste Management on Construction Sites." DOT.CA. California Department of Transportation, July 2000. Web. 27 June 2017.
Wang, Xuanwen et. al. "Work-related musculoskeletal disorders among construction workers in the United States from 1992 to 2014." BMJ. The BMJ Publishing Group Ltd., 30 Dec. 2016. Web. 27 June 2017.