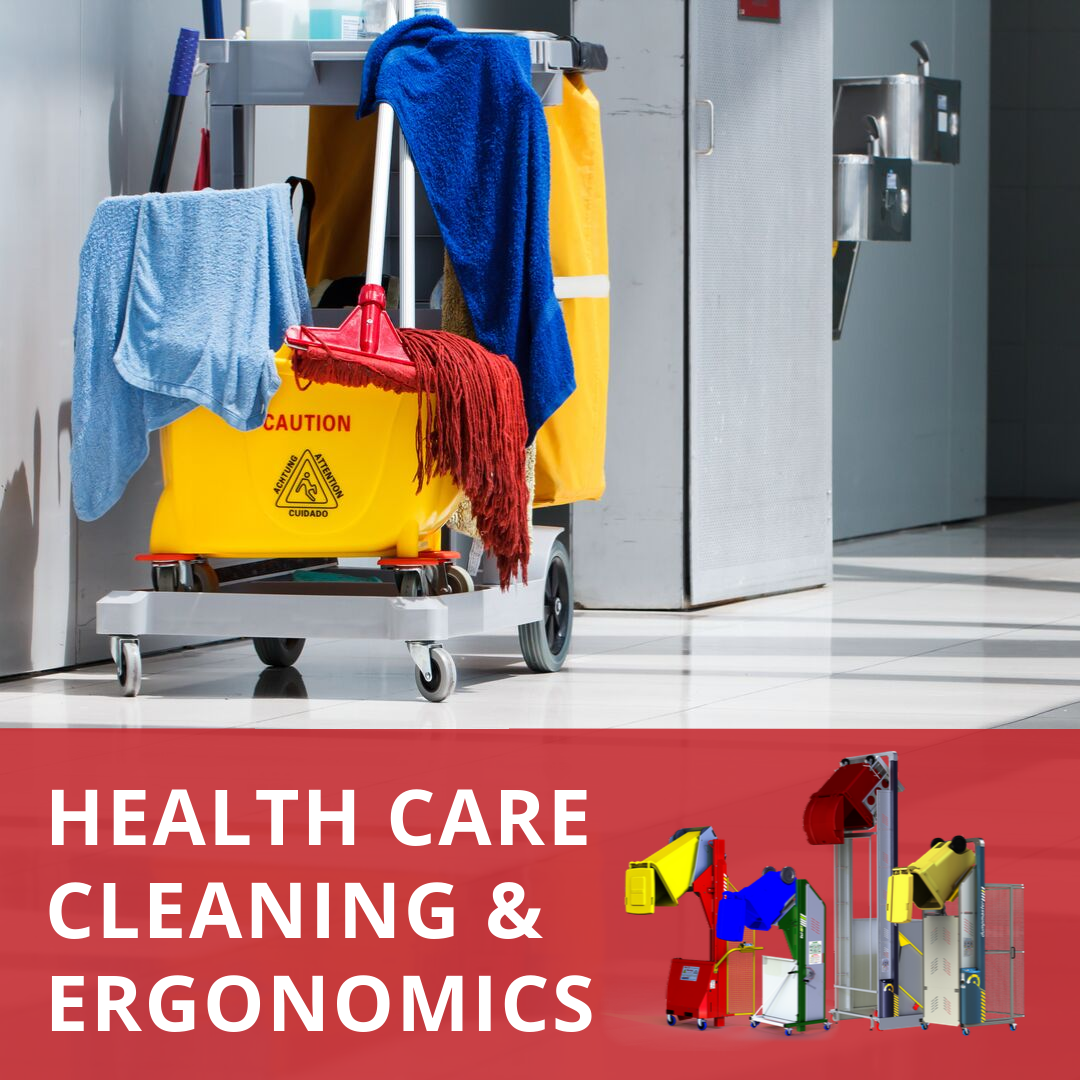 Ergonomics in the health care industry has gotten a lot of attention, and for good reason. Musculoskeletal disorders (MSDs), often the result of poor ergonomics at work, account for a disproportionate number of the workplace injuries suffered by health care workers. A team of Canadian researchers found that MSDs made up nearly 75 percent of the reported injuries in their 10-year study of health care workers, for instance
But while plenty of studies focus on the dangerous bodily demands placed on nurses, nurse's assistants, and other frontline health care staff, few specifically address cleaning workers in the health care setting — despite the fact that manual cleaning is a significant source of just those stresses that can cause MSDs and similar injuries.
That's not all. Cleaning staff in the health care industry face additional risks compared to their counterparts at, say, offices or schools. The disinfectants can be stronger. There are hazardous-waste protocols to follow. There are linens and laundry services to administer.
The good news is that ergonomic solutions for cleaners in the health care industry are available. Here are just a few, to get the conversation started:
Use carts, not muscles, to move cleaning supplies and equipment.
Easy-pushing carts with ergonomic push handles can transport the tools and products you need to clean a hospital or nursing home. Using carts removes the risk associated with lifting and carrying.
Choose carts with easy-to-use wheel breaks for stability during access, and avoid exceeded maximum load capacity. Steel carts with heavy-duty casters can handle just about anything in the health-care cleaning industry.
Empty buckets into floor drains, preferably with a spigot, rather than lifting them to access sinks.
Industrial mop buckets can easily exceed a safe lifting limit. Instead of lifting and emptying these containers, use floor drains and drain plugs. Similarly, fill buckets with a hose, keeping the receptacle safely at ground level during preparation and use.
Choose self-leveling linen carts and cabinets.
Bending to lift objects — even relatively light objects, such as linens, places a strain on the lower back, a common site of pain in cleaning and health care professions. To reduce the risk of MSD, choose linen carts and cabinets with a spring-loaded platform. This will bring the level of the contents closer to the user's ergonomic power zone, preventing unhealthy bending and reaching.
Use assistive equipment to lift and empty waste, haz-mat bins, and sharps.
Lifting and emptying trash bins into dumpsters creates a whole laundry list of ergonomic risk factors: heavy lifting, awkward postures, bending, twisting, and more. When you're handling hazardous materials or sharps, the risk becomes even greater.
Stainless Steel Bin Dumpers from Solus Group empty waste of all types, while protecting users from contents with optional PET-G operator guards.
Solus Group provides a wide variety of material handling solutions that can help make cleaning jobs safer, in the health care industry and beyond. Many of our products are also available in an easy-to-clean, stainless steel finish.
Call Solus Group at 314-696-0200 to learn more.
References:
"Guidelines for Nursing Homes; Ergonomics for Prevention of Musculoskeletal Disorders." OSHA. Occupational Safety and Health Administration, U.S. Dept. of Labor, Mar. 2009. Web. 17 Sept. 2019.
Oronye, N.O. and J. Bennet. "Prevalence of work-related musculoskeletal and non-musculoskeletal injuries in health care workers: the implications for work disability management." PubMed. Ergonomics, Mar. 2018. Web. 17 Sept. 2019.