Warehouse managers are always looking for ways to improve safety and efficiency in their facilities, but they often overlook a common bottleneck in throughput: the shipping and receiving room.
You may institute preplanned picking waves, hands-free selection, and efficient cross-docking. If goods start to pile up in the shipping area, though, your productivity will plummet.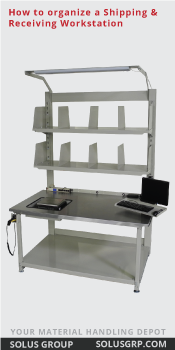 The first thing to do to improve workflow in shipping and receiving areas is to examine the workstations themselves. Most inefficiencies can be designed out of shipping operations with well-organized workstations and a smart layout.
Creating the Ideal Shipping and Receiving Desk
Start by considering the jobs that take place in your shipping and receiving room. Configure some desks for outbound orders and others for receiving shipments. If staff pack and route orders to the trucks, make sure they have everything they need for both tasks within easy reach.
Packaging stations should include spaces for boxes, both flat and built; always keep a few boxes ready for the next order. They should have integrated rolls of paper and/or bubble wrap. Store computers, keyboards, and mice on adjustable platforms. Plan storage for tape dispensers, scissors, staple guns, or anything else that your staff needs to efficiently package orders.
Essentially, your staff should be able to access everything in the workstation without reaching, stretching, or bending. Let's take a look at the reason why this is so important.
Focus on Ergonomics
The design of a workstation often makes the difference between happy, comfortable workers and injured staff who have to take lots of sick time.
Ergonomics experts label changes to the work area to reduce harmful movements an "engineering control." Engineering controls essentially design out the types of awkward and repetitive motions that are associated with musculoskeletal disorders.
For shipping/receiving staff, these hazards include stretching, reaching, bending, and lifting heavy loads. In a busy distribution center, order packers might have to repeat the same motions hundreds and thousands of times per shift. Over time, that can add up to significant injuries.
To realize full ergonomic benefits, place work as close to the worker's body as possible. Shipping and receiving desks that include cutouts, such as those offered by Solus Group, allow staff to get closer to their materials and workplace tasks. This can reduce the need for stretching and bending while also keeping work within the safe zone adjacent to the worker's torso.
Achieving Improved Workflow with Well-Designed Shipping and Receiving Stations
So, shipping and receiving workstations that are designed for worker comfort prevent injuries, thus improving productivity. The other side of that coin is that you can actually speed up throughput with safer, better-designed desks.
Look for inefficiencies in the shipping and receiving room. Does staff have to cross the floor to access new boxes? Do they need to carry packages from the packing station to a shipping window? If so, you're not getting the most out of your operation.
A great layout can help. Place desks in a progressive path based on the movement of the order. Conveyors between packing stations, shipping stations, and the loading dock will save time and keep staff safer and more comfortable.
Follow the flow of product to find the ideal layout. Then choose shipping and receiving desks with adjustable shelving and optional desk cutouts. With just a little effort and a minor investment, you can keep goods moving out of your facility faster, with fewer injuries. That will take you a long way towards success in the warehousing industry.
References:
"Controlling Ergonomic Hazards." OSHA. Occupational Safety and Health Administration, United States Department of Labor, n.d. Web. 15 May 2017.
Harps, Leslie. "Best Practices in Today's Distribution Center." InboundLogistics. Thomas Publishing Company, May 2005. Web. 15 May 2017.