How to Start a School Green Program Just in Time for Earth Day
Print
By Solus Group Marketing Team
April 20, 2018
School green programs, like recycling and composting, have a far-reaching impact. From reducing waste to nourishing leadership skills in students, these programs improve not just local communities, but also the planet — and that makes Earth Day the perfect opportunity to start one. Luckily, there are plenty of resources to help create a program from the ground up.
If you want to kickoff your program on Earth Day, you'll need to do some legwork beforehand.
The first step is creating a group and determining a coordinator. Try to recruit members from upper-level administration so that the program has support from the highest level. Including members from various areas (e.g. teachers, parents, students, and even custodial staff) ensures widespread support for the program.
This group will conduct an audit to determine the scope of the program. Will you focus on paper recycling? Do you have the resources to collect more materials, like plastic bottles and aluminum cans? Is composting a possibility? Answering these questions early on helps focus the program.
To generate support for the program, list all of the benefits. Recycling programs can reduce the cost of waste disposal, raise environmental awareness, and foster cooperation among students and teachers. These types of programs can also provide great leadership opportunities for students, who can help shape the purview of the program. And that's just the beginning. Once you start a recycling or composting program, it can grow and change in unexpected ways.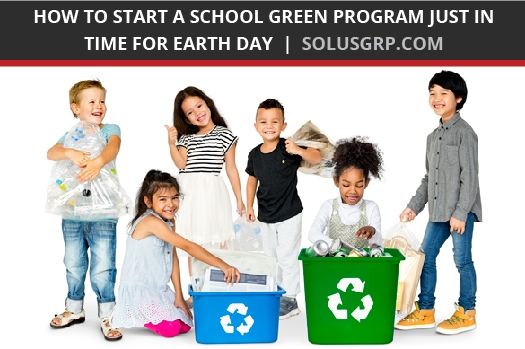 Proper signage and intuitive bins will help with sorting.
There are plenty of online resources for recycling signage. The nonprofit group Recycle Across America has some great ones for free. Keeping your system simple and consistent is key. Once participants learn the system, there will be little need for post-collection sorting.
Providing proper bins is another important part of the process. Anywhere you provide a recycling bin, provide a waste bin, and make sure each bin is clearly labeled. This helps reduce the amount of garbage that ends up in recycling bins, which streamlines collection and removal.
Consider requesting or raising money to buy assistive equipment like a bin tipper.
Janitor contracts can be sticking points for school green programs. Changing the way waste is sorted and collected can have a big impact on the custodial staff, and they won't necessarily embrace the changes.
In these cases, assistive dumping machines may be useful to a recycling program. Bin tippers safely lift crates and bins to dump them into larger collection points. These ergonomic machines allow materials to be collected and dumped without risk of strain or injury. Teachers and students can quickly learn how to use these devices, which eliminate the needs for heavy lifting.
To fund the purchase, there are numerous outlets, including the EPA, that award grants for environmental education programs. Fundraising projects can also help raise money while spreading awareness about the new program.
For further savings, public schools, local-authority-led charter schools, and public colleges can take advantage of purchasing programs through the federal General Services Administration. Because Solus Group is the nation's only GSA-approved importer of Simpro Bin Tippers, this online dealer is the clear choice for school administrators seeking improvements in recycling and composting. Learn more about GSA programs for schools here.
Share your successes with everyone you can.
Providing concrete statistics helps to communicate how important the program is. For instance, one ton of recycled paper saves 17 trees, 380 gallons of oil, 4,100 kWh of energy, 7,000 gallons of water, and 3.3 cubic yards of landfill space.
As you work hard to build your recycling or composting program, record estimates of waste reduction and share them to illustrate your successes. Tangible results will attract more attention and participants to your program. Earth Day provides an excellent opportunity to kick off or bolster a recycling program. Don't let another year go by without getting involved in a new school green program.
References:
Bullman, Holly. "Implementing Successful School Recycling Programs: A Handbook for Teachers and Schools." NWF. National Wildlife Federation, July 2007. PDF. 16 Jan. 2018.
"Dress Your Bins for Success!" RecycleAcrossAmerica. Recycle Across America, n.d. Web. 16 Jan. 2018.
"Environmental Education." EPA. United States Environmental Protection Agency, Jan. 2018. Web. 16 Jan. 2018.
"Recycling: It Starts With You!" PaperRecycles. American Forest & Paper Association, n.d. PDF 16 Jan. 2018.
Watanabe-Crockett, Lee. "8 Student Fundraising Projects That Will Help You Exceed Your Goals." Globaldigitalcitizen. Global Digital Citizen Foundation, 24 Nov. 2017. Web. 16 Jan. 2018.