Improving Waste Management at Aquatic Centers and Swimming Pools
Print
By Solus Group Marketing Team
April 30, 2018
Aquatic centers, community pools, and private swim clubs face unique waste management issues. Swimmers expect extreme tidiness and hygiene in communal areas of these facilities, and that means custodial staff must continually monitor trash and recycling bins.
But what happens when the janitorial team is short-staffed or a large volume of patrons creates spikes in the amount of waste? In these situations, hydraulic trash can dumpers can help custodians maintain a clean facility by doing the heavy lifting.
Aquatic Centers and Waste Management: Problems and Solutions
Many public pools and aquatic centers prohibit food and drink in the immediate pool surroundings. You would think that would reduce the need for waste management, but it doesn't always work that way. A food and drink ban can lead to quickly filled trash cans at pool area entrances. Additionally, some pools have adjacent picnic areas where parties or other large gatherings can create an influx of trash that must be emptied promptly to maintain cleanliness.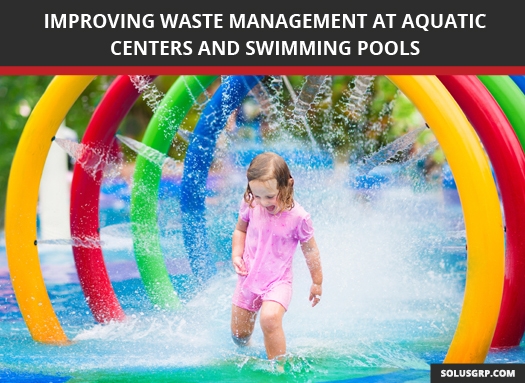 Further compounding the issue is the fact that aquatic centers and pools may have a relatively small janitorial staff. The pool area could be just one stop on a custodian's rounds. So what can he or she do when confronted with an overly full bin? The answer lies in mechanical lifting devices.
Bin tippers can lift and dump heavy trash cans and other receptacles in a controlled way that doesn't require unsafe physical exertion on the part of the janitor. Models like the Dumpmaster from Solus Group can lift up to 660 pounds and have an option for a bucket cradle to lift round drums or square bins.
Bin tippers allow a small staff (sometimes even one worker, depending on the weight of the trash can) to safely empty trash and recycling. The tippers make work easy, fast, and safe. This allows a great deal of flexibility in scheduling and ensures that needless injuries won't occur.
Avoid Costly Musculoskeletal Injuries Without Sacrificing Efficiency
There have been numerous studies on the high rate of musculoskeletal disorders (MSD) among custodial workers. Back and neck injuries account for over half of all MSD injuries requiring time off work. When you look at the risk factors for MSDs, it's easy to see why cleaners are so prone to them. OSHA provides a list of major risk factors for MSDs, including:
Performing similar tasks repetitively
Working in awkward positions
Exerting excessive force
Lifting and dumping heavy trash cans hits every one of the above factors. Fortunately, bin tippers eliminate all of these hazardous motions by using hydraulic power to lift heavy loads.
Best of all, a single worker can operate a bin tipper, meaning a leaner staff can continually stay on top of waste management during known peak times and unexpected spikes. Solus Group bin tippers are fitted with casters for easy mobility, allowing tippers to dump into multiple dumpsters. They also have a removable key to ensure unauthorized people can't operate them.
Boost Waste-Handling Productivity with Bin Tippers
Janitors for aquatic centers and pools strive to meet their patrons' high expectations for cleanliness. Bin tippers can help by allowing a small staff to stay on top of waste management even during peak times. Organizations using bin tippers have cleaner facilities, fewer staff injuries, and easier custodial scheduling. That's a great combination for simplifying waste management.
References:
Bukowski, Thomas. "Cleaning Up Safety." SafetyandHealthMagazine. National Safety Council, 1 Mar. 2012. Web. 18 Jan. 2018.
"Ergonomics." OSHA. Occupational Safety and Health Administration, U.S. Department of Labor, n.d. Web. 18 Jan. 2018.
"Injuries, Illnesses and Fatalities in the Janitorial Occupation." UMN. University of Minnesota Environmental & Occupational Health, 2003. Web. 18 Jan. 2018.
Samudio, Manuel. "Ergonomic Best Practices: Janitors, Custodians, and Housekeepers." OnePetro. OnePetro, 2017. Web. 18 Jan. 2018.