When manufacturing staff work with small, handheld materials, industrial Tilt Tables can drastically reduce reaching over the course of the shift. That may not sound like much of an intervention, but considering that repetitive motions like bending and reaching increase the risk of developing a musculoskeletal disorder, it's often worthwhile for manufacturers to invest in Tilt Tables for their employees.
The ideal workstation for staff in many manufacturing applications includes ergonomic equipment like a Tilt Table, which can bring materials small and large closer to the worker, resulting in less workplace strain, fewer musculoskeletal injuries, and better productivity. Here's how.
How Tilt Tables Help to Prevent Injury
Tilt Tables are a particular type of positioning equipment, which is itself a subset of the broader category of material handling equipment. While Lift Tables position loads vertically, hydraulic Tilt Tables rise at an angle to bring materials closer to the worker.
Manufacturing processes that involve boxes of tiny components are particularly good candidates for tilt tables. As a worker gradually empties out the box of materials set onto the tilt table, they can bring the items closer to their bodies instead of reaching further and further into the emptying box. This prevents hazardous stretching, reaching, and bending over the course of the whole shift.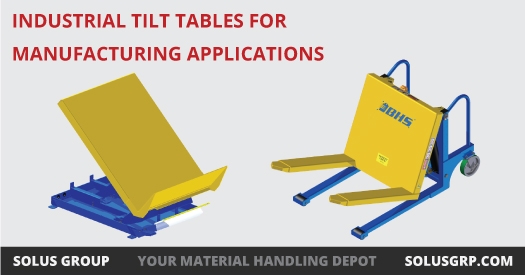 Note that Powered Mobile Tilt Tables from Solus Group perform the same work-positioning task, but for pallet loads and other large-scale containers fitted with fork pockets.
The High Cost of Work-Related Musculoskeletal Disorders
Again, managers who haven't been trained in ergonomics often underestimate the destructive power of repetitive movements. In 2000, the Occupational Safety and Health Administration was working on what would eventually become the ill-fated OSHA Ergonomics Program (29 CFR 1910.900).
In an address before the senate Subcommittee on Employment, Safety, and Training, OSHA assistant secretary Charles Jeffress reported that work-related musculoskeletal disorders cost U.S. businesses somewhere between $15 million and $18 million per year. Once analysts factored in indirect costs such as productivity dips, the estimated cost of MSDs ballooned to over $45 billion per year, Jeffress said.
At the state level, Oregon's not-for-profit worker's compensation insurance firm, SAIF, collected data from that state's occupational safety and health department and the Oregon Department of Consumer and Business Services. They found that employers in that state spent more than $367 million on musculoskeletal injury claims between 2001 and 2005. Each one of those injuries cost an average of nearly $10,000.
Ergonomic Equipment in the Light and Heavy Manufacturing Industries
The easiest way to avoid musculoskeletal injuries and their associated costs is to engineer a solution. For workers on manufacturing lines, the solution could be as simple as installing a few Tilt Tables from Solus Group.
References:
"Bush signs repeal of ergonomic rules into law." CNN. Cable News Network LP, LLLP, 20 Mar. 2001. Web. 27 Sept. 2017.
"Ergonomics & Musculoskeletal Disorders." SAIF. SAIF Corporation, Dec. 2007. PDF. 27 Sept. 2017.
Jeffress, Charles. "Statement of Charles N. Jeffress, Assistant Secretary for Occupational Safety and Health, U.S. Department of Labor, Before the Subcommittee on Employment, Safety and Training of the Senate Health, Education, Labor and Pensions Committee." OSHA. Occupational Safety and Health Administration, U.S. Department of Labor, 13 July 2000. Web. 27 Sept. 2017.