Inventory Management Strategies for Overstuffed Warehouses
Print
By Solus Group Marketing Team
November 29, 2018
In the runup to 2018's round of U.S. tariffs, many companies stockpiled vital materials and components to avoid higher rates. For some U.S. warehouses, that's led to swelling stock and a proliferation of SKUs. Even when managers find ways to handle increased demand (some of which we discuss here[link to blog titled Tariffs, Stockpiling, and U.S. Warehouses: Finding Capacity in an Age of Pulled Forward Demand]), they're still left with the challenge of managing increasingly complex inventory.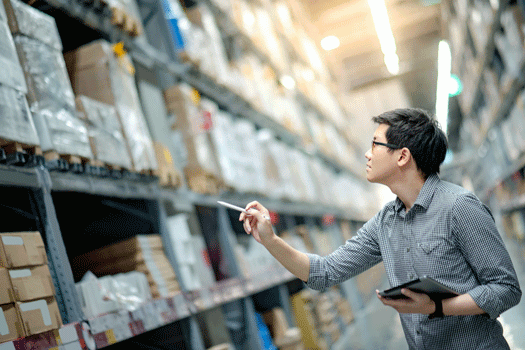 Inventory management is a developing science. Some of the latest discoveries in the field can help warehouse managers keep track of stockpiled materials and disparate SKUs. Here are a few tips that can help:
Excess inventory is usually seen as a failure of inventory management. In a stockpiling strategy, of course, the opposite is true. So warehouse managers are dealing with a whole new data model under stockpiling conditions. That requires a good deal of planning; our first tip is to schedule inventory management planning sessions with all company stakeholders. This may seem simple, but too often, warehouse managers race to adapt to new conditions without taking the time to plan for desired outcomes.
Similarly, schedule adequate training time for frontline staff. You might store stockpiled materials in a central location, where they can move out through multiple channels. Meanwhile, you might keep more stores in reserve storage. Make sure staff know which location goes to which channel, when, and why.
Consider discounts. No one likes to lower prices, but in certain conditions of excess inventory, keeping hold of all that stock can actually be more expensive than selling it discounted in the long run. Enterprise resource planning (ERP) tools can help managers calculate the costs of long-term storage versus lowering prices until inventory is more in line with demand. Thinking in terms of the total cost of ownership (TCO), rather than focusing on sunk cost, will make the decision easier.
Implement a customized Odoo system. Solus Group partners with cloud-software providers Blue Stingray to maintain a custom inventory application through open-source solution Odoo, and the results speak for themselves. Our custom Odoo system tracks stock at every step of our supply chain through a double-entry inventory system. It also integrates with all of our ERP modules, creating seamless functionality. If you're looking to streamline your inventory management, it's well worth your time to look into Odoo.
Reinvest in ergonomics programs. The last thing you need during a time of peak activity is half the picking team out with back pain. Are you providing appropriate, easy-to-use material handling equipment that's designed for the SKUs you're storing? Take a look at Order Picking Carts and Shipping/Receiving Desks. You might even invest in dedicated pallet-handling equipment, like the Pallet Carousel & Skid Positioner. These self-leveling, rotating surfaces keep work at the same, ergonomically optimal position while staff build or unload pallets. When you're dealing with excess inventory, worker safety is more important than ever.
The good news is that streamlining inventory management practices will pay dividends long after stockpiles deplete. The better warehouse managers organize and track inventory, the more efficient their operation will become — today and well into the future.
References:
Dittman, Paul. "11 ways to optimize your warehouse." IISE. Institute of Industrial and Systems Engineers, Feb. 2016. Web (Paywall). 9 Oct. 2018.
Engel, Bob. "10 best practices you should be doing now." SupplyChainQuarterly. Council of Supply Chain Management Professionals, Quarter 1, 2011. Web. 9 Oct. 2018.
Michel, Roberto. "Warehouse/DC Management: Six best practices for better inventory management." LogisticsMgmt. Peerless Media LLC, 1 Feb. 2016. Web. 9 Oct. 2018.