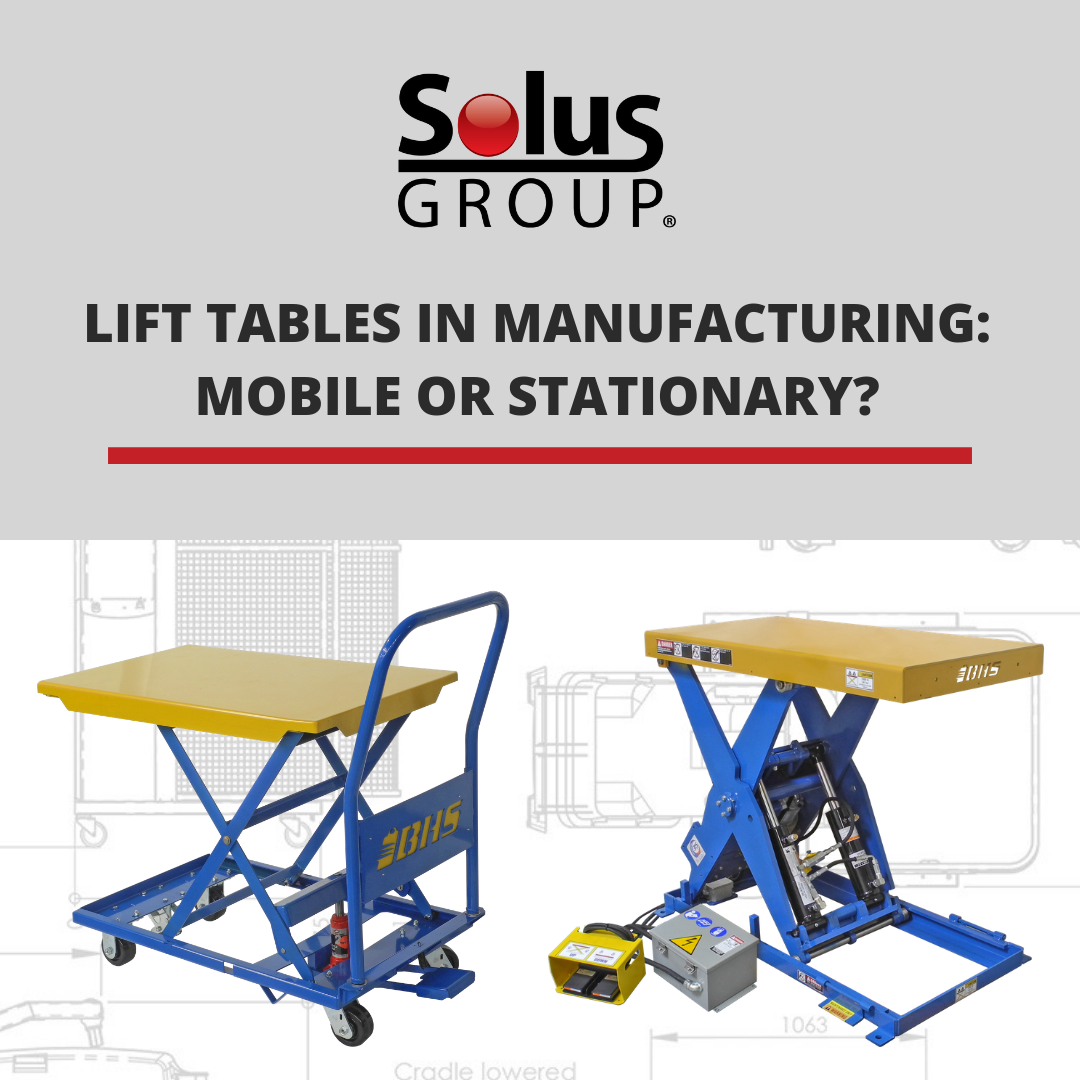 Lift Tables have become commonplace in the manufacturing industry, where they provide powerful ergonomic benefits. Take aircraft manufacturing, for example: Injury and illness rates in that industry fell from 3.4 cases per 100 full-time employees to 2.8 between 2016 and 2017, and were down from over 5 per 100 in 2003.
Top causes of these injuries are all clustered under the banner of ergonomic mishap. They include bending, repetitive motion, and overexertion — all injury causes that Lift Tables help to mitigate by positioning and repositioning work at a more comfortable, safer level. (To be clear, the link between Lift Table use and declining injury rates is our own inference; we are not aware of studies that establish a causative association.)
Once a manufacturer decides that installing Lift Tables on the line is a smart investment, though, they still need to choose which type of product to purchase. Generally, we divide Lift Tables into two distinct categories: Mobile and Stationary.
Each type has its advantages. The right decision for a particular application will depend on how the Lift Tables will be used. Ask yourself the following questions to determine whether Stationary or Mobile Lift Tables will provide the most benefits in your workplace:
How flexible is your assembly line? If you anticipate moving components between workstations, or if you frequently redesign the line, Mobile Lift Tables are often a better choice. They are available in Powered and Manual models, in a wide variety of load capacities. However, Stationary Lift Tables can also be quite flexible. While you wouldn't use a standard Scissor Lift Table to transport a load across the floor, you could easily reposition these units via forklift to accommodate assembly line changes.
How close to the floor do you need Lift Tables to collapse? Because they stand on heavy-duty casters, Mobile Lift Tables typically have a higher minimum collapsable height than Scissor (or Stationary) Lift Tables. Ramp attachments are available to allow users to slide loads onto both Mobile and Stationary Lift Tables, but if consistent access to floor level is a priority, Scissor Lift Tables may be the better choice.
Will the Lift Table be used for work positioning alone, or do they need to assist with transferring loads to another surface? Regardless of whether you choose a Mobile or Stationary Lift Tables, a variety of tabletop options are available to help fit the unit into the broader assembly line. Roller Conveyor tabletops significantly reduce the force required to slide a component off the Lift Table and onto a conveyor line or other material handling device. Ball Transfer tabletops do the same, while also simplifying rotation of objects for flexible work positioning.
Other considerations include the top height you need a Lift Table to reach and whether to invest in a higher load-capacity machine. Scissor Lift Tables from Solus Group are available with capacities between 2,000 and 6,000 pounds. Mobile Lift Tables feature maximum capacities between 250 and 1,200 pounds.
To learn more about hydraulic Lift Tables from Solus Group, contact us at 314-696-0200.
References:
"Rate of nonfatal workplace injuries and illnesses decreased in aircraft manufacturing in 2017." BLS. Bureau of Labor Statistics, U.S. Department of Labor, 30 Jan. 2019. Web. 14 Aug. 2019.
Weber, Austin. "Material Handling: Give Me a Lift." AssemblyMag. BNP Media, 31 Aug. 2009. Web. 14 Aug. 2019.