The term "meatpacking safety" suggests to the popular imagination serious injuries, with cuts, burns, and fractures featuring prominently. In fact, the greatest risk to the meatpacking workforce is much more insidious than a slip of the blade. According to data reported by NPR in 2016, repetitive motion injuries were close to seven times more common for workers in beef and pork processing plants than in other U.S. occupations.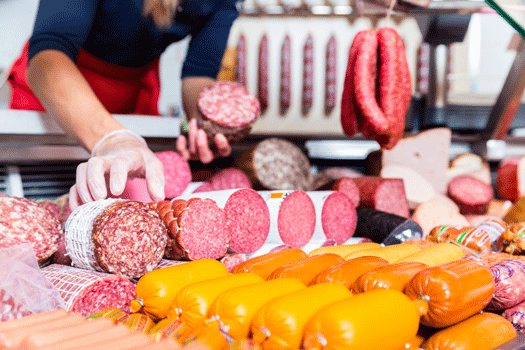 Contrast that to the broader injury and illness rate in the meatpacking industry, which is just 2.5 times higher than average. Clearly, serious injuries involving knives, slips, and processing equipment remain an issue for meat packers. But the fastest way to reduce injury rates in the industry is probably to cut down on musculoskeletal disorders associated with repetitive motions. In other words, employers must implement advanced ergonomics programs for their staff.
Here are a few of the Occupational Safety and Health's suggestions on how to do just that, along our own analysis as producers of ergonomic material handling equipment.
OSHA and Ergonomic Controls in the Meatpacking Industry
Ergonomists at OSHA have been studying the problem of injury in the meatpacking industry for a long time. In fact, their classic work on ergonomics for meat packers dates back to 1993.
The information contained therein may be old, but it's as accurate and useful as it was on the day it was written. The document provides the following instructions for improving ergonomics in the meatpacking industry:
The best way to remove an ergonomic risk is to implement engineering controls. These solutions comprise physical changes to workstations, tools, and other task-driven equipment.
Adjustable workstations are an excellent example of a powerful engineering control that can reduce injuries on the meatpacking line. Lift Tables allow workers to keep all work within their ergonomic power zone, regardless of height or body shape.
Wherever possible, replace manual lifting and awkward motions with mechanical material handling equipment to reduce strain on the worker's body. Emptying scraps and other bulk materials, for instance, typically requires an employee to both lift a heavy container and twist the body to dump it out. Bin Tippers remove this ergonomic hazard while speeding up lifting and emptying tasks.
Tools should have ergonomically designed handles. Where triggers or scissor handles are employed, keep the required pressure to operate them light. Cutting tools should always keep a keen edge.
Given the prevalence of repetitive motion injuries in the industry, investments in ergonomic equipment are a crucial part of any meatpacking safety plan. Safety on meatpacking lines is a serious issue, and both Bin Tippers and Lift Tables are important parts of the solution.
References:
"
Ergonomics.
"
OSHA
. Occupational Safety and Health Administration, U.S. Department of Labor, n.d. Web. 15 Jan. 2019. "
Ergonomics Program Management Guidelines for Meatpacking Plants.
"
OSHA
. Occupational Safety and Health Administration, U.S. Department of Labor, 1993. PDF. 15 Jan. 2019. Lowe, Peggy. "
Working 'The Chain,' Slaughterhouse Workers Face Lifelong Injuries.
"
NPR
. National Public Radio, Inc., 11 Aug. 2016. Web. 15 Jan. 2019. "
Meatpacking.
"
OSHA
. Occupational Safety and Health Administration, U.S. Department of Labor, n.d. Web. 15 Jan. 2019. Wasley, Andrew, Christopher Cook, and Natalie Jones. "
Two amputations a week: the cost of working in a US meat plant.
"
TheGuardian
. Guardian News and Media Limited, 5 Jul. 2018. Web. 15 Jan. 2019.