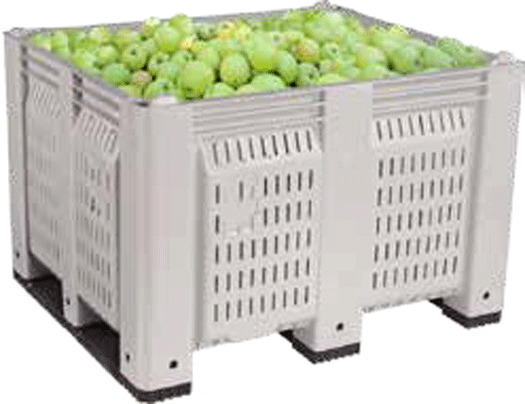 Wood harvest bins have been the industry standard for decades, if not longer, but plastic harvest bins have been turning up in more and more fields as the seasons pass. Each material has advantages and disadvantages, but in the end, plastic is the clear winner — provided it's the right sort of plastic.
By that, we mean thin-yet-sturdy HDPE plastic. This material is ideal for outdoor use, as it resists damage from heat and UV rays just as well as it does cold air and wet weather. It can take a beating without breaking or becoming misshapen, and it resists most chemicals, making cleaning a cinch.
So, for the purposes of this comparison, assume we're talking about HDPE harvest bins with thin profiles, modern design, and proven compliance with all USDA and HACCP standards.
Plastic Harvest Bins Slowly Replacing Wooden Bins in Global Agriculture
Fruit growers in northern Italy started using plastic bins in the 1970s. At first, no one else in the industry took notice. In fact, plastic bins for agriculture weren't even available in the United States until around 1992.
However, the apple and pear growers of Italy's Bolzano region were onto something. They liked the ease of sanitation, the air circulation, and the stackability of plastic. Slowly at first, and then all at once, farmers, packers, and merchants started switching to plastic bins.
That's not to say that wooden bins are a thing of the past. They've been the industry standard since at least 1957, and they do provide certain advantages that farmers are loathe to give up. But a side-by-side comparison of the two technologies places plastic harvest bins on top:
| | |
| --- | --- |
| Advantages of Plastic Bins | Advantages of Wooden Bins |
| Significantly lighter tare weight | Lower initial investment |
| Non-porous surfaces easier to disinfect | Deconstruct for cheaper shipping |
| Stack neatly and safely with nesting design | Easier to handle when wet |
| Highly durable and reusable | Farmers may already have them on hand |
| Ventilation for better cooling and air flow | X |
| Rounded edges prevent damage to contents | X |
| Integrated fork pockets simplify handling | X |
| No splinters in fruit or vegetables | X |
Sanitizing Plastic Bins Vs. Wooden Bins
Next to the value of low tare weights — which allow larger shipments of product, and simplify sales by weight — sanitation is probably the top advantage that plastic offers over wood. So how different are the materials? Wood is a porous material with lots of miniscule cracks and holes that make ideal homes for bacteria. Plastic harvest bins, on the other hand, are nonporous and molded with rounded edges, eliminating tight seams that could host pathogens. For all these reasons, plastic harvest bins are quickly becoming the industry standard. Call Solus Group at 314-696-0200 to learn more about agricultural solutions for the harvest.
References: Dininny, Shannon. "Are your bins sanitary?" GoodFruit. Washington State Fruit Commission, 28 Jun. 2016. Web. 13 Jan. 2019. Waeiti, Henry. "Should We Use Plastic Bins?" TFREC. Washington State University Tree Fruit Research & Extension Center, Dec. 1992. Web. 13 Jan. 2019.