When the retail season kicks into high gear, you need a shipping room that's designed and outfitted to handle the stress. Anything less might become a bottleneck, slowing down throughput facility-wide. That's something no distribution center can afford this close to the holidays.
The good news is that it's easy to improve efficiency in the shipping room. Here are some tips for organizing and streamlining order packing stations, just in time for the busy season: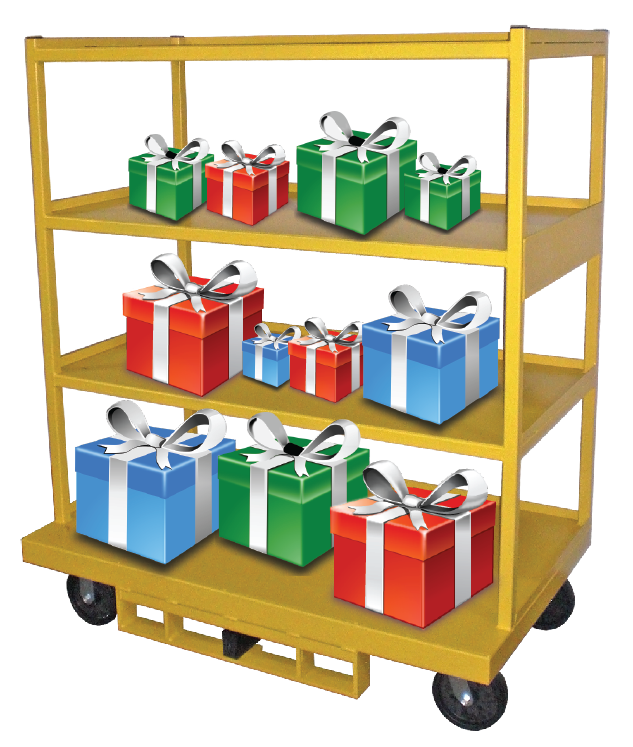 1. Start with ergonomics.

Musculoskeletal disorders caused by repeated motions — such as packing similar items for shipping, over and over again — can lead to permanent injuries and peak-season sick time. Obviously, you want to avoid these injuries.

But ergonomic workstations also help workers complete tasks more efficiently. Choose order packing desks that provide a cutout to keep workers that much closer to their work. There are powerful ergonomic benefits to performing repetitive tasks as close to the body as possible.

2. Customize stations for specific tasks.

Different packing stations might handle different types of orders. Desks and shelving should be adjustable to account for these differences.

The Shipping/Receiving Desk from Solus Group is completely adjustable to keep staff safe and comfortable, no matter what order packing task they're assigned to. Detachable keyboard and monitor mounts can be adjusted to suit workers of various heights, and even the shelves can be moved to meet specific needs.

3. Keep everything within arm's reach.

Don't require workers to walk to the end of the room to get a shipping label. When you reduce the required travel distance to its absolute minimum for every task, you'll be ready to take additional throughput with minimal stress.

That means providing desk space and shelving for computers, monitors, scanners, and printers, as well as packing materials and cartons of various sizes. With adjustable shelves and a steel, 500-pound-capacity desktop, the Shipping/Receiving Desk has room for just about anything.

4. Try going mobile.

One simple way to save time on order packing is pick directly into cartons. Add a laptop or a tablet, a scanner, and pre-selected cartons, and Order Picking Carts from Solus Group become high-capacity pick/pack carts.

These heavy duty steel carts are ideal for traditional order picking, but by combining the two tasks, many warehouse managers can increase production significantly — an important goal during the holiday rush.
It takes more time to pack orders than it does to pick them. This simple fact can lead to serious bottlenecks at packing stations, and the problem only gets worse when throughput skyrockets.
The solution is to build the most efficient shipping room possible. When warehouse managers look for inefficiencies, they often start with forklifts or with order picking strategies. This holiday season, don't forget to review the shipping room as well. It pays to improve packing stations, especially during times of increased productivity.
References:
Specter, Sara. "4 ways packing stations have evolved." MMH. Peerless Media LLC, 1 Sept. 2015. Web. 1 Nov. 2016.