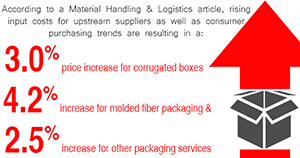 In any given year, December is undoubtedly the most important month for packaging and shipping supply chains.
This year, however, December might be even more important than usual, as experts predict that prices for packaging and shipping supply chains will rise at an unusually fast rate.
According to a Material Handling and Logistics article, rising input costs for upstream suppliers as well as consumer purchasing trends are resulting in price increases for corrugated boxes (a 3.0% price increase), molded fiber packaging (a 4.2% increase) and other packaging services (a 2.5% increase).
Knowing this, what can your warehouse do to maintain a high level of warehouse efficiency to help offset these rising costs?
Here are just a few tips to help manage the rising costs of packaging and shipping supply chains:
Shop cheaper
If your warehouse relies on corrugated boxes, it's easy to save money -- as there is a large number of different options available when shopping for these boxes. Choosing to buy from a supplier that charges less than your current supplier is a great way to cut costs, especially when these boxes are so commoditized.
Seek substitutes
For warehouses that depend on molded fiber packaging, it's a good idea to consider alternate packaging options if maintaining a high level of warehouse efficiency with costs is important. Because molded fiber packaging is expected to grow more expensive quicker than any other packaging material, you should try to find a substitute packaging material if you can to save money.
Take advantage of competition
The packaging services market boasts a low market share concentration; meaning buyers like you can take advantage of competitive prices by switching to a different packaging services provider. Many packaging services providers offer discounts to high-volume or long-term customers -- another good thing to consider.
How do you plan to preserve your warehouse's cost-efficiency this December? Is it through more attention to proper forklift battery management and battery room management to preserve forklift battery life and battery room safety, or through other methods? Feel free to share with us or ask any questions by leaving a comment below.