There's nothing better than improving staff safety without spending a fortune.
Federal and state governments have a vested interest in keeping the workforce safe and productive. To that end, they've developed a wide range of grants that companies can use to improve ergonomics, a key safety issue at industrial facilities and warehouses.
Some of these grants pay for training programs that teach your staff to work more ergonomically. Others help to fill your business with ergonomic equipment. All of them represent an opportunity to create a safer, more productive workplace when the funds simply couldn't come from anywhere else. Browse through this list of safety grants for ergonomic improvements. To learn more about federal grant opportunities, visit www.grants.gov.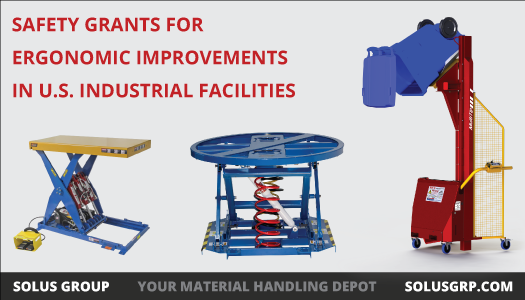 The Susan Harwood Training Grant Program

The Occupational Safety and Health Administration funds safety training and education programs through this federal program, which is named after a legendary director of OSHA's Office of Risk Assessment.

These grants provide funds for the development of training materials, increasing a training organization's outreach capacity, or for providing education on one of OSHA's pre-selected special training topics. The OSHA training topics change yearly, but in past years they have often dovetailed with ergonomics.

Only nonprofits are eligible for funding through the Susan Harwood Training Grant Program, but that does include labor unions and employer associations. Learn more here.

Army Research Laboratory Broad Agency Announcement for Basic and Applied Scientific Research

The U.S. Army Research Laboratory offers grants to nonprofits, universities, and businesses to contribute to their "areas of interest." These include mechanical, environmental, and materials sciences. These may include researching ergonomic interventions.

The closing date for these applications is March 31, 2022, so you do have a little time. But if you think you have an ethical project, it's worth getting that application in early. You can learn how to do that here.

Various State Grant Programs

Many state-level agencies provide grant programs to improve occupational safety. These differ from state to state, but funds for safety programs, up to and including ergonomics, are available in Minnesota, Ohio, North Dakota, and Washington state, just to name a few.

It's likely that your state offers some grant programs that cover ergonomics, too. A little quick research can pay off when it's time to improve ergonomic infrastructure at your business.
The world of governmental grant programs can be intimidating to the newcomer, but like anything, it becomes familiar with enough exposure. The federal grant website offers a good resource for newcomers.
Remember that better ergonomics can prevent musculoskeletal disorders, which are one of the most common types of workplace injuries. The Bureau of Labor Statistics found that musculoskeletal disorders caused 33 percent of all reported occupational injuries in 2013.
Because of these facts, ergonomics programs may be eligible for just about any grant program that's devoted to workplace safety. Apply for all the grants you can find, and don't be dismayed if your applications get rejected at first. You'll get better at the process every time. Soon, you might have a whole new set of ergonomic tools, whether that includes variable height workstations, lifting/tipping devices, or pallet positioners—without having to drain your own accounts.
References:
"Apply for a Grant Online Now." Grants. Grants.gov Program Management Office, n.d. Web. 21 June 2017.
"Susan Harwood Training Grant Program." OSHA. Occupational Safety and Health Administration, United States Department of Labor, n.d. Web. 21 June 2017.