The snow is melting, the crocuses are blooming, and the supply chain is humming along. You know what that means: it's time to clean your facility from top to bottom.
If your operation runs electric forklifts, you can't afford to neglect the battery room during your annual deep cleaning. Somehow, electrolyte seems to find its way into every nook and cranny. But with the right gear and a little bit of know-how, scrubbing your battery changing area can be no more difficult than sweeping the dock.
Here's what you need to know to make sure spring cleaning goes smoothly in the battery room.
Make a Plan
Before you get out your brushes and acid neutralizers, take stock of your battery room. How much corrosive buildup is on your battery extractor? What about battery stands?
Spring cleaning is also a great time to check your drip pans. Many facilities let this task slide, but no serious clean-up is complete without restoring drip pans to their original capacity.
Start With Safety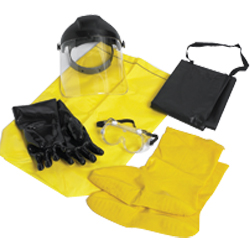 Electrolyte can be dangerous. That's why it's so important to clean forklift battery infrastructure in the first place. Luckily, a lot of really smart and dedicated people have already figured out how to keep staff safe when working with this corrosive compound.
Follow all the applicable OSHA standards. For instance, 29 CFR 1910.132 requires employers to provide adequate personal protective equipment for staff who work with caustic substances. The Personal Protective Kit from Solus Group includes everything you need to protect a staff member from exposure to electrolyte, even when scrubbing corrosive sludge from battery stands.
Assemble the Right Equipment
The number-one threat to your battery handling equipment is stray electrolyte. Even if your batteries never spill or boil-over, drops of this acidic compound always end up on battery cases, stands, and floors.
Hopefully you inspect all equipment for corrosion and damage every shift. But spring cleaning is your chance to eliminate the risk of these costly developments, at least for a while.
You can't remove acidic build-up safely until you neutralize the acid. There are plenty of neutralizers on the market, but for scrubbing battery room infrastructure you're best served by a sprayable solution like AcidSafe Liquid. Just load it into a spray bottle and you're ready to go.
AcidSorb indicates complete neutralization with an easy-to-see color change. When you know acidic residue is neutralized, it's safe to scrub away with a bristle brush, scrub brush, or even a plastic scraper.
All of these items and more are collected into the Equipment Cleaning Kit from Solus Group. This kit was designed just for the battery room, and it even includes a reusable pail to stow all cleaning supplies away until the next scheduled scrubbing.
Train Your Staff For Ongoing Battery Room Safety
Once you have your battery handling equipment gleaming like new, it's time to keep it that way. Schedule regular cleaning during every shift. An important OSHA standard, 1910.178, requires ongoing training for anyone who handles forklift batteries. Be sure to teach the best methods of keeping equipment clean and well-maintained during these training sessions. That way, your task may be a whole lot easier the next time spring cleaning rolls around.
References:
Kaletta, James. "Lift trucks: Battery room safety tips." MMH. Peerless Media Network, 27 Oct. 2010. Web. 4 Apr. 2016.
"Personal Protective Equipment - 1910.132." OSHA. Occupational Safety & Health Administration, United States Department of Labor, n.d. Web. 4 Apr. 2016.
"Powered Industrial Trucks (Forklift)." OSHA. Occupational Safety & Health Administration, United States Department of Labor, n.d. Web. 4 Apr. 2016.
"Powered industrial trucks - 1910.178." OSHA. Occupational Safety & Health Administration, United States Department of Labor, n.d. Web. 4 Apr. 2016.