In 1989, the U.S. Department of Labor issued a fact sheet titled, "Back Injuries — Nation's #1 Workplace Safety Problem."
It's a provocative title, but not misleading. In that year, more than a million back injuries were documented in U.S. workplaces. Manual material handling was the main source of worker's compensation payments, and 80 percent of injuries related to that field involved the lower back.
These conditions spurred safety advocates to take action, prompting a massive amount of research — followed by the development of new ergonomic technologies, which have steadily reduced rates of workplace-acquired back pain over the last few decades.
Of course, there's still room for improvement; the Bureau of Labor Statistics reported more than 212,000 back injuries in 2013. The good news is that managers can reduce these statistics by following advice from OSHA, NIOSH, and leading research ergonomists. Commonly recommended fixes — redesigning containers, introducing stretching programs, optimizing material handling equipment — are all essential, and they're not necessarily expensive. Here are two important strategies to keep in mind.
Supplement Manual Lift Training With Effective Lifting Equipment
In the early days of ergonomics, teaching proper lifting technique was considered sufficient to protect workers. Surprisingly, recent studies have cast doubt on the effectiveness of this type of training. A 2011 research review from The Cochrane Collaboration concluded that simply training workers in material handling techniques is not an effective intervention for preventing back pain.
Even training workers to use assistive devices like lift belts and transfer boards — tools that help with material handling tasks without automating them — won't completely eliminate injuries. Ergonomic training remains a vital part of a holistic approach to safety, but the research suggests that the best way to protect a worker from a risky lift is to eliminate the action entirely with appropriate equipment.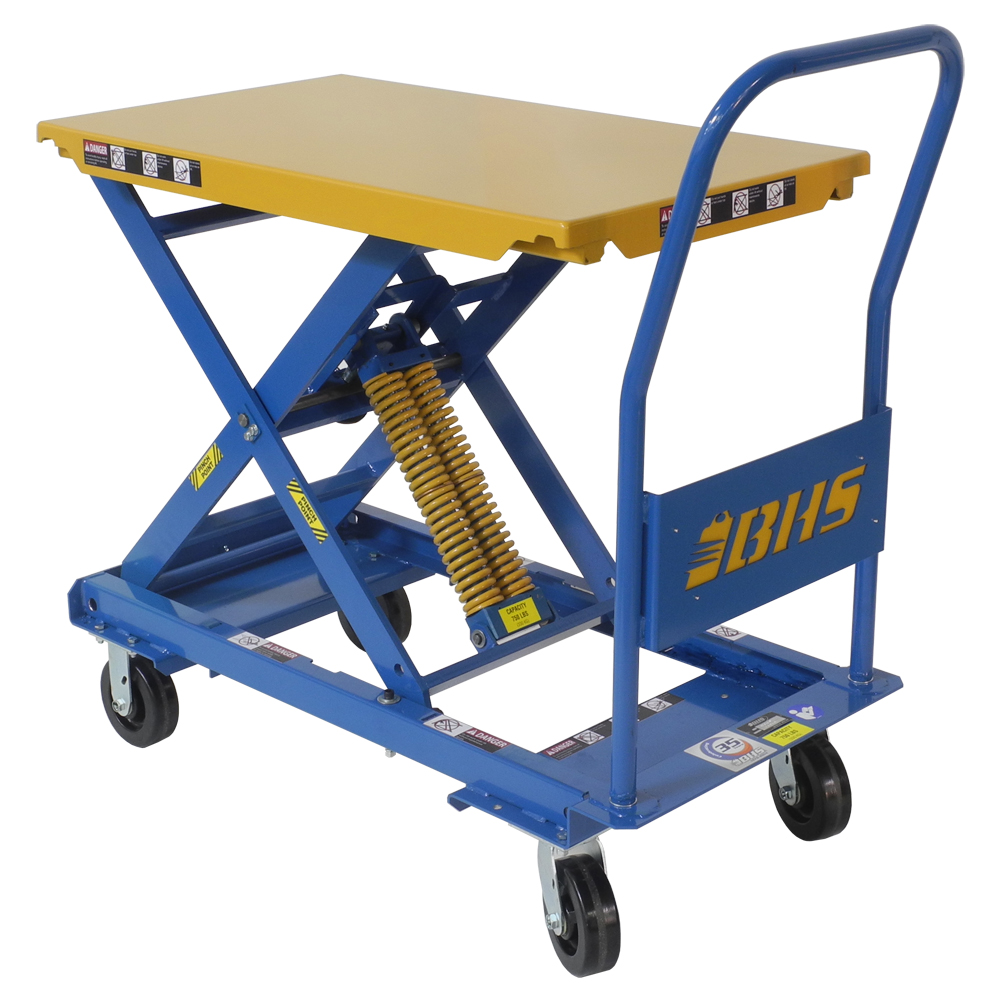 Implementing industrial material handling devices reduces ergonomic hazards while simultaneously improving productivity. Scissor lift tables complete the toughest lifting tasks without exposing workers to risk, while mobile lift tables provide safety during both lifting and material movement.
Using the Revised NIOSH Lifting Equation Improves Ergonomics
The NIOSH Lifting Equation was devised by occupational safety experts specifically to address lower back pain and other common lifting injuries. This labor planning tool considers six variables for a given lifting task and establishes a Recommended Weight Limit (RWL) for safe lifting.
The RWL is defined as a weight that won't increase a worker's risk of low back pain, even when lifted repeatedly during an 8-hour shift. Because the focus on preventing back pain is built into the equation, this is an extremely valuable tool for improving ergonomics during lifting tasks.
In general, NIOSH recommends keeping an RWL of 51 pounds for two-handed lifts. You can keep the RWL within safe limits by altering other conditions measured in the equation, such as travel distance and lift frequency.
For loads that exceed a given RWL, there is only one safe option: use a durable lift table or other lifting device with a sufficient weight limit. Avoiding exposure to unsafe lifting tasks is one of the best ways to prevent back injury for workers.
References:
"DHHS (NIOSH) Publication No. 2007-131: Ergonomic Guidelines for Manual Material Handling." National Institute for Occupational Safety and Health. 2007. PDF. 23 June 2015.
"Nonfatal Occupational Injuries and Illnesses Requiring Days Away From Work, 2013." Bureau of Labor Statistics News Release. U.S. Department of Labor, 16 Dec. 2014. Web. 23 June 2015.
"OSHA Fact Sheet: Back Injuries." U.S. Department of Labor Fact Sheet No. OSHA 89-09. n.d. Web. 23 June 2015.
Verbeek, Jos H. "Manual Material Handling Advice And Assistive Devices For Preventing And Treating Back Pain In Workers." Cochrane Database Of Systematic Reviews 6 (2011): Cochrane Database of Systematic Reviews. Web. 23 June 2015.