Any teacher who has tried to build a recycling or composting system in an unsympathetic school district understands the difficulty of challenging an existing school waste management program. Resistance can come from anywhere: coworkers, administrators, or even fellow teachers.
Students, on the other hand, tend to get onboard with green innovations. And when educators invite student leaders to help drive the changes, they create a powerful learning environment that's hard to deny. After all, composting and recycling are inherently educational activities. In-house composting and green waste retrieval projects serve as excellent hubs for lesson plans in every subject. They get students excited about learning and the environment.
With funding opportunities for material handling equipment from groups like Project Learning Tree and the Environmental Protection Administration's Environmental Education Grant program, students can even take responsibility for handling recycling and food waste — a point on which the success of a student-driven waste handling program can succeed or fail — as Brooklyn-based public school teacher Coquille Houshour discovered in 2006.
Bin Tippers for School Recycling and Composting Programs
Teachers and students who start recycling and composting programs in schools quickly discover that the process depends on adequate equipment: recycling bins, separate dumpsters, and Bin Tippers for safe handling of waste.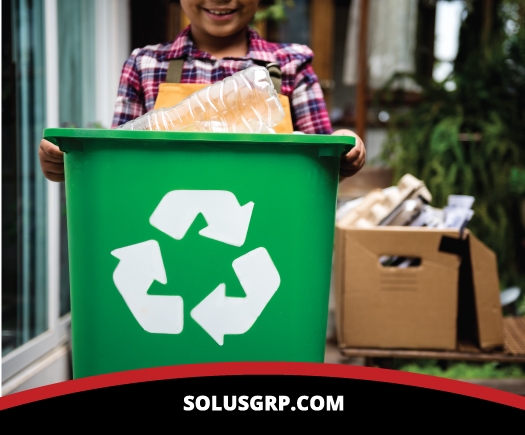 Regarding this last point, a fleet of ultra-safe, easy-to-use Bin Tippers could be the key to the entire project. That's because, as Houshour discovered back in 2006, custodial staff sometimes resist changes in the waste stream; contracts might not allow these changes, or staff may worry about additional workplace burdens. Houshour encountered resistance when she began the Green Group at her Brooklyn public school to rebuild the school's then-weak recycling system.
Houshour understood her coworkers' concerns. She included members of the school's custodial team in her Green Group and heard their voices. Through grassroots decision-making, Houshour and the custodians arrived at a compromise: The teacher and her students would handle the recyclables themselves. Rather than introducing greater workplace burdens, the program should actually make things easier on the busy cleaning staff at the school.
When students and teachers take the responsibility to collect and empty hundreds of pounds of recyclables, assistive equipment is a must. The Multi-Tip Hydraulic Bin Tipper from Solus Group empowers teachers and students to easily empty trash cans stuffed to the brim with heavy glass recyclables. These trash can dumpers are light enough for virtually anyone to handle, and the tipping motion keeps weight within the frame's footprint for unbeatable stability during use.
Giving Students a Voice on Their Institutions' Environmental Impact
Unfortunately, we don't have a record of whether Houshour's district discovered Bin Tippers, as 2006 was a bit before our time. But we do know that, since then, environmentally active teachers in other school districts have used Bin Tippers to accomplish precisely the same goal Houshour found herself pursuing: allowing students and teachers to play a frontline role in green waste-handling at school.
You don't necessarily need every single person on your side when you bring green innovations into the school. You just need the equipment that allows interested students to grow their own school waste management systems.
References:
"Greening at the Grass Roots: School Recycling." AFT. American Federation of Teachers, AFL-CIO, Jun. 2012. PDF. 19 Dec. 2017.