Sustainable Kids' Recipes for Parents and Children to Make Together
Print
By Solus Group Marketing Team
September 10, 2018
As the poet-farmer Wendell Berry reminds us, "eating is an agricultural act" — and agriculture can have a tremendous effect on environmental health.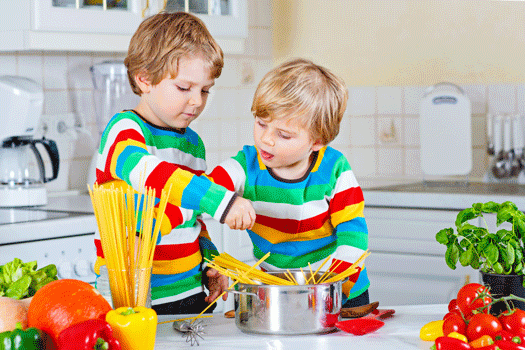 "Eaters," Berry writes, "must understand that eating takes place inescapably in the world, that it is inescapably an agricultural act, and how we eat determines, to a considerable extent, how the world is used."
He's not wrong, but what does all this have to do with introducing kids to meal preparation? Well, Berry gives us a list of things everyone can do to develop a more sustainable relationship with food. The first two items on that list are to grow a garden and to prepare meals at home, where you can choose healthy, locally sourced ingredients with a minimal carbon footprint.
The sooner your kids get started cooking, then, the better off they'll be — and you can say the same about the planet. With that in mind, here are a few recipes that could help your child develop eating habits that are healthy, enjoyable, and environmentally friendly all at once:
1. All-Natural Applesauce
Indulge your kid's love of applesauce without all that plastic packaging with this delicious, late-summer classic! Visit your local pick-your-own orchard to further reduce transportation emissions associated with this healthy treat — which, we should add, has absolutely zero added sugar.
Get the recipe here.
2. Fruit Kebobs with Vanilla-Honey Yogurt
This kid-friendly recipe is great for all ages. Let your youngest mix together a bowl of yogurt, honey, and cinnamon, while the older ones skewer their favorite fruits on renewable bamboo skewers. When the party's over, toss these sticks in the compost for a waste-free snack.
Get the recipe here.
3. Basic and Delicious Tomato Spaghetti
If there's one thing every kid loves, it's a classic bowl of spaghetti. This recipe gives separate steps for kids, adults, and both together for a fun family experience any night of the week. To make this meal as green as it can possibly be, use your own homegrown tomatoes and basil! If you forgot to plant your garden this year, don't worry as canned tomatoes work just as well, and you can always recycle the container when the meal is complete.
Get the recipe here.
4. Pizza Skewers
Looking for another way to get your kids excited about the backyard tomatoes? Look no further than this barbecue-friendly version of pizza. It uses cherry tomatoes, which are easy to grow and quite prolific. If you grow them, you're bound to have plenty to spare. Just have the kids create their skewers, and then throw them on the grill!
Keep this menu Earth-friendly by choosing bamboo skewers and organic lump charcoal from renewable sources. Here are a few options for greener-burning charcoal.
Get the recipe here.
5. Homemade Almond Milk
What could be greener than replacing the occasional glass of cow milk with a plant-based substitute? Why, making that plant-based substitute in your very own kitchen, of course.
Cows are terrific, but, along with other livestock, they account for somewhere between 14.5 and 18 percent of the world's total human-influenced greenhouse gas emissions. Almonds, on the other hand, have a relatively small carbon footprint. Plus, almond milk is delicious and fun to make!
Get the recipe here.