Global trade norms changed dramatically in 2018. Multiple rounds of U.S. tariffs led to fears of rising material prices among U.S. manufacturers. Many companies behaved like any rational institution anticipating a time of scarcity: They stockpiled. The more shoreside materials they could import before the tariffs struck, the longer they'd be able to delay raising their own prices.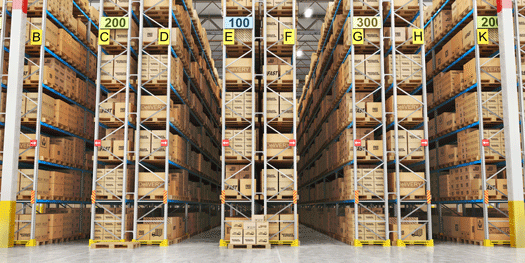 By March, Canadian steel suppliers were rationing orders for their U.S. customers. The price of hot-rolled coil was up by almost 20 percent compared to the previous year. The tariffs hadn't even gone into effect yet, and they were already stirring up the markets.
To those of us in the warehousing industry, this is all old news. The question now is: How do you handle that extra inventory? Short of expanding into new buildings, here are a few ways to squeeze a little extra square footage out of an overstuffed materials warehouse:
Use vertical space everywhere.

Even if racking systems use every bit of available clear height, there are other areas in the warehouse to use vertical space. Try storing pallet truck batteries in Point of Discharge Stands, which store chargers on upper shelves. This limits the overall footprint of your battery storage area.

Match storage racks to inventory.

Shelves should match the product. It's a waste of space to store 6-inch cartons alongside 24-inch variants. Choose Industrial Shelves that match product dimensions to fully utilize the entire cube.

Boost capacity at the dock.

How much space could you save at the dock? Try installing shelves above dock doors for partial pallets. Or use Yard Ramps to load and unload trucks away from traditional dock spaces.
These tips don't apply just to newly taxed imports like steel and aluminum. Increasingly, cold storage facilities are facing the same challenges as their ambient-temperature counterparts. By the summer of 2018, cold-storage warehouses were struggling to store more than 2.5 billion pounds of meat.
Indirectly, this surplus is also due to changes in global tariff laws. In retaliation to U.S. tariffs, Mexico imposed a retaliatory tariff of 20 percent in July. The passage of the United States-Mexico-Canada Agreement returned those tariffs to zero, but not before contributing to the cold-storage backlog.
Meanwhile, China retaliated to U.S. tariffs with a 62 percent duty on pork products. This led to pork exports to that nation falling by 18 percent over the first five months of 2018, with some weeks passing without a single shipment crossing the Pacific.
Point being? Trade disagreements can create surplus on U.S. shores both going and coming. For storage facilities across the nation, that means it's time to squeeze every last drop of capacity from the cube.
References:
Bunge, Jacob. "2.5 Billion Pounds of Meat Piles up in U.S. as Production Grows, Exports Slow." WSJ. Dow Jones & Co., 22 July 2018. Web. 4 Oct. 2018.
Lampert, Allison and Allison Martell. "American customers stockpile Canada steel as tariffs loom." Reuters. Reuters, 9 Mar. 2018. Web. 4 Oct. 2018.
"NPPC praises new NAFTA; USMCA preserves zero-tariffs on U.S. pork." NationalHogFarmer. Informa, 1 Oct. 2018. Web. 4 Oct. 2018.