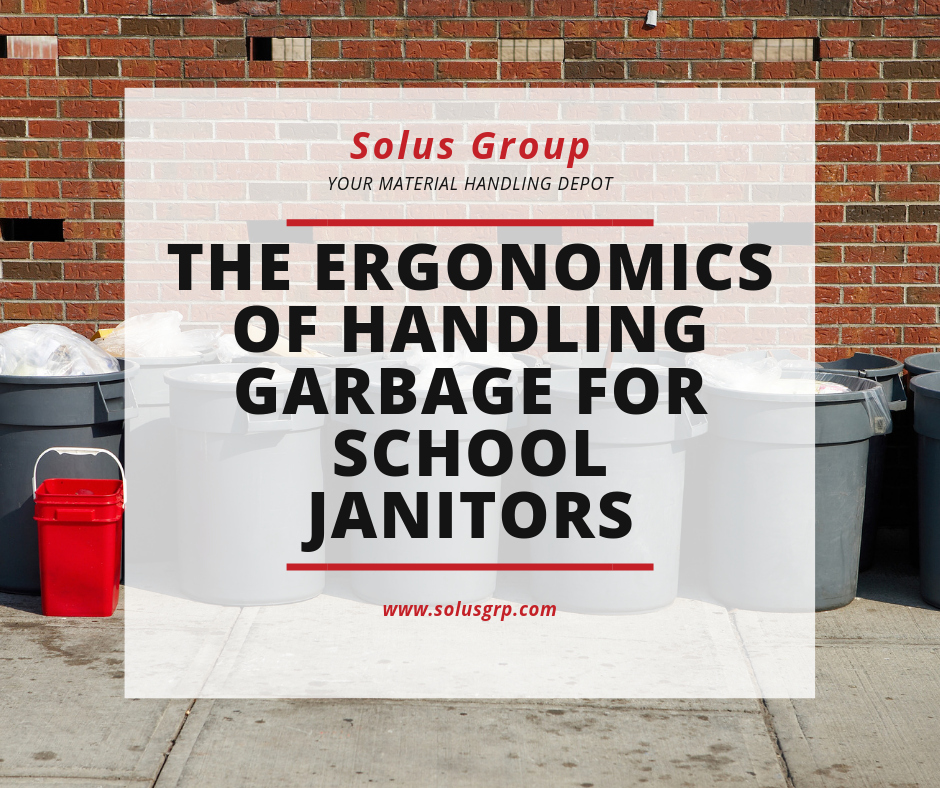 Whether they work at the elementary, high school, or collegiate level, all school janitors spend a lot of time handling garbage. This is a constant and repetitive task involving frequent bending and awkward postures. That is, it's an ergonomic hazard.
When we break down waste handling into its component elements, we can devise ergonomic solutions that help to prevent injuries from this body-intensive job. With that in mind, here are each of the steps in a standard waste-handling routine for school janitors, along with ideas on how to make the whole job safer and more efficient.
Emptying small waste baskets, like those found in classrooms and office areas, into a larger trash cart. First, examine the contents of the wastebasket. Are there heavy items or bits of broken glass? If so, take extra care when handling the load. To lift the can, bend at the knees, keeping the back straight. Use both hands, and don't forget the protective gloves. It's better to empty waste baskets more often; this keeps loads light and easy to handle.
Pushing waste carts throughout the facility. The risk to musculoskeletal systems associated with wheelie bins comes from excessive force required to push the item. Alternately, janitors lunging to prevent a spill may end up with pulled or twisted muscles. Push the wheelie bin slowly and pay attention to the ground. Slight changes in elevation, bumps, and thresholds can all increase the risk of a spill. Use both hands to move the bin. In cases of extreme weight, employers should provide assistive devices like the Nu-Star Power Pusher. This device takes the strain off janitors and safely allows them to move heavy loads across the facility.
Emptying roll-out carts into dumpsters. The final step in the waste removal process, for the janitor, at least, is to lift and tip the full cart into a dumpster. When performed manually, this task requires a heavy lift, twisting the body, and adopting an awkward posture — all of which increase the risk of musculoskeletal disorder. The simplest solution is to replace the manual action with a machine-assisted one. Bin Dumpers are available in a variety of configurations to fit schools of any size. These machines safely lift and empty waste bins at the dumpster, reducing the ergonomic risk to almost nothing.
While you might not think of being a school janitor as a dangerous job, in fact, these cleaning workers suffer more occupational injuries than almost any other job, including truckers and operators of heavy equipment.
Many of these injuries are caused by repeating the same simple actions over and over. Certainly, removing garbage has a role to play in the ergonomic risk school janitors face every day. Luckily, with a little bit of training and a few strategic investments in equipment, every employer can ensure a safer, more efficient janitorial department overall.
References:
Wissel, Paula. "Janitors Have One of the Highest On-The-Job Injury Rates Of Any Workers." KNKX. KNKX, 11 Jun. 2018. Web. 29 Jul. 2019.
"Working Safer and Easier for Janitors, Custodians, and Housekeepers." DIR.CA. Cal/OSHA Consultation Service, California Department of Industrial Relations, 2005. PDF. 29 Jul. 2019.