On the inaugural Global Recycling Day, let's all remember that there's a greener way to tackle spring cleaning. Unwanted items from your closets and drawers can be taken to speciality recycling centers that accept hard-to-recycle items like electronics and clothing. Find a location here!
And while recycling is a great way to save energy and divert waste from landfills, repurposing items can be even more eco-friendly. Here are three of our favorite ideas for giving new life to old products: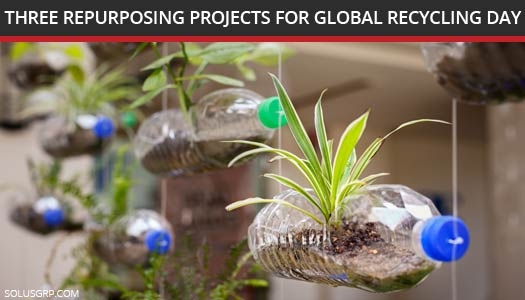 T-Shirt Tote Bag
Want to hang on to a favorite t-shirt, but have trouble fitting into it or want to find a new way to show it off without wearing it every day? No problem. Just turn it into a cute and handy reusable tote. You can eliminate the need for plastic shopping bags, and the only supplies you need are a pair of scissors. Here are the instructions.
And while we're on the subject, if you do use plastic shopping bags, remember to recycle them at special drop-offs located at grocery stores. Throwing them into single-stream recycling, like your curbside pick-up, can cause major problems for materials recovery facilities.
Soda Bottle Terrarium
There's no better way to usher in spring than by planting something green. Here's how to do it (instructional video here):
Cut a soda bottle in half horizontally, about a third of the way from the bottom.
Add a half-inch of gravel for drainage.
Add two inches of moistened soil.
Plant a seed (Herbs work great!) or seedling.
Reassemble the bottle by sliding the bottom into the top. (You may need to cut a small vertical slit on opposite sides of the top to get it to fit into the bottom.)
Leave lid on so terrarium makes a closed system.
The bottle can be left outside on warm days, but bring it inside when temperatures dip below freezing. Once you pass the last freeze date, the terrarium can stay outside, or the seedling can be replanted in a raised bed or the ground.
Toilet Paper Roll Organizer
Toilet paper rolls are easily compostable, but they have another handy purpose. These short, cylindrical tubes make perfect cord, cable, and charger organizers. Label the outside with a magic marker, and neatly wind the cords on the inside. You can even create artistic designs with paint or colored craft tape. Using TP rolls, you can keep your cords labeled, untangled, and tidy for free. That's the kind of repurposing project we love!
Invent Your Own Reuse Project
Before you toss unwanted items in the trash or recycling, give them a closer look to see if they can be given away or repurposed into something fun and new. Repurposing projects keep items out of landfills and eliminate the need to buy new products. That makes them a great activity for families looking to save money and help the environment. And once you're done reducing and reusing materials, don't neglect to recycle them properly.
Learn more about Global Recycling Day.