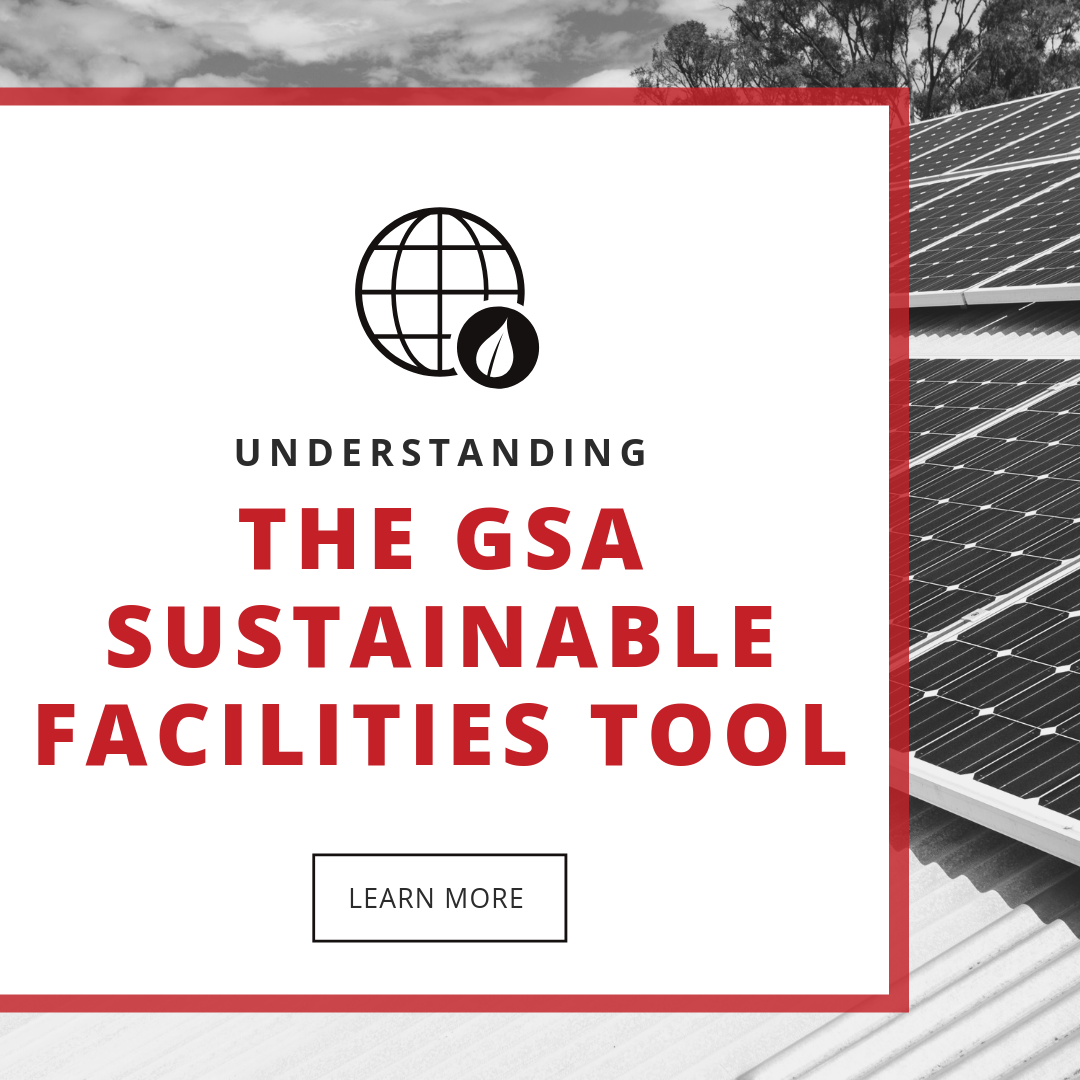 The most common federal government contract is the GSA Schedule, worth more than $45 billion in 2018. In order to work with the General Services Administration, however — that is, to obtain a GSA Schedule Contract — vendors and contractors must work within the Administration's broader sustainability policies.
In Part 23, Subpart 23.9, Subtopic 23.902 of the Federal Acquisition Regulation, for instance, the law states that the federal agency's contracting officer must "ensure contractor compliance [with environmental management systems] to the same extent as the agency would be required to comply, if the agency operated the facilities or vehicles."
In other words, if you want a federal government contract, you need to understand the GSA's standards for sustainability. Luckily, there's a tremendous resource that allows you to do just that.
The GSA Sustainable Facilities Tool (SFTool) provides detailed guidance on all GSA requirements, as well as best practices for green facility management generally. While the tool was designed primarily for government facility managers, designers, or purchasing agents, would-be federal contractors can benefit from this resource, as well.
Here are some of the ways contractors can use the GSA Sustainable Facilities Tool to meet environmental requirements under the Federal Acquisition Regulation.
Study the Elements of a Highly Sustainable Facility
The "Learn" tab provides in-depth information on sustainable operation in key areas of facility management, including water use, energy efficiency, and the health of occupants. This section is also where users find links to federal sustainability requirements. Click to read about the laws, executive orders, and regulations that GSA building operators plan by.
Make Plans for Specific Project Types
Speaking of plans, the "Plan" tab on the SFTool home page is exactly that — detailed guidance on best practices for creating workable plans. Visitors can read about broad strategies for reaching sustainability goals, or they can look at specific strategies by project.
Virtually Tour a High-Performance Sustainable Building
So far, the SFTool resources have amounted to a lot of reading. In the site's "Explore" area, though, users are invited to see ideal building systems in action. An interactive depiction of a high-performance green facility peels away as the viewer clicks through options, revealing the bones and sinews of sustainable building systems, from lighting to solid waste management.
Read Case Studies in Sustainable Facility Management — Or Submit Your Own
Community Case Studies on the SFTool provide real-life stories of facility managers improving sustainability through a variety of interventions. These accounts are full of insight from those who've already succeeded, and they provide plenty of inspiration along the way.
Contractors hoping to work with the GSA aren't the only ones who can use the SFTool. Any facility manager who's interested in more sustainable operations will have plenty to learn. Even students and the merely curious will benefit from this concentrated resource for green buildings.
The SFTool is free to use for all visitors. Explore today by visiting http://sftool.gov.
References:
"Federal Acquisition Regulation Part 23, Subpart 23.0, Subtopic 23.902, Policy." Acquisition. U.S. General Services Administration, n.d. Web. 5 Jul. 2019.
"GSA Schedule Sales: Fiscal Year 2018." FederalSchedules. U.S. General Services Administration, 2 Apr. 2019. Web. 5 Jul. 2019.
"Sustainable Facilities Tool." SFTool. U.S. General Services Administration, n.d. Web. 5 Jul. 2019.