Once the hustle and bustle of the holiday seasons dies down, it's time for warehouses to take a deep breath and...ramp up for the return season. The more efficient logistics become, the less downtime there is between people rushing to get a gift on time and the recipient returning it for something else. With heavy-duty and configurable shipping and receiving equipment, your operation doesn't have to stress about the transition to reverse logistics.
Make sure your industrial cart can keep up with your workflow.
When you think of ergonomics, you probably don't picture an order-picking cart. The simple design is shared by most products in the market. However, small inefficiencies in a cart can lead to slower work and strained muscles.
Whether you're fulfilling orders or returning products to the shelves, you need a cart with good casters. Just like a shopping cart with a stuck wheel, bad casters on an order-picking cart lead to slower movement, more effort by the operator, and an annoying distraction.
Order Picking Carts from Solus Group have two swivel and two rigid casters so workers can easily steer the cart through busy warehouses, without strain. Poly and phenolic casters are available depending on the width of the cart. Fork pockets allow lift trucks to transport carts that have heavy loads or need to travel over rough terrain.
These heavy-duty carts have an ergonomic combination of lipped shelves with an open-style frame. The lipped shelving keeps product from sliding off the cart. The open-style frame allows staff access and visibility to contents allowing for quicker loading and unloading.
Be ready to tack from filling orders to accepting returns with a fully adjustable shipping-room desk.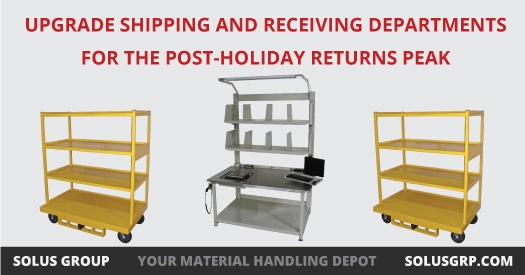 A desk that can change with the seasons can speed up workflow and reduce strain on workers. Having shelves, scanners, and other tools of the trade exactly where they're needed makes a workstation truly ergonomic and efficient.
The Shipping/Receiving Desk from Solus Group is a great option for operations that require flexibility but don't want to invest in multiple workstations. This versatile desk has two adjustable shelves with 350-pound capacities. Each shelf has three dividers, which are adjustable horizontally in 2-inch increments.
A detachable monitor mount and keyboard tray have multiple vertical adjustment points and can mount on either side of the desk. The mounting arms have two lateral pivot points and a tilt function to position the screen and keyboard in the most ergonomic position.
The detachable scanner-gun caddy allows the scanner position to be changed depending on the job. A detachable supply caddy contains multiple compartments and mounts to either side of the desktop. This shipping and receiving desk has the versatility needed by operations whose budgets or space constraints require them to work creatively.
As with any ergonomic planning, observe how the workstation is used.
When you see repeated motions that waste time and energy, consider how adjusting the workspace configuration could improve the process. Gathering staff input can help speed up the process and let your valuable workers know you care about their comfort and health. By investing in heavy-duty, ergonomic equipment, you'll make staff happier and more productive.