As universities and other institutions transition to greener practices, composting becomes a more common sight. And for good reason—kitchens and cafeterias create hundreds of pounds of compostable food waste on a daily basis.
Composting all those scraps of fruits, veggies, napkins, coffee filters, and newspapers accomplishes two goals. For one, it keeps the composter from paying to send useful waste to a landfill. Secondly, it provides a nutrient-rich fertilizer that can be used by the institution for landscaping or gardening.
Bin tippers make handling food waste safer.
Compost collection can occur in both kitchens and cafeterias. As cooks chop and peel, they discard pounds of compostable refuse. When students finish their meals, they also have items to add to a compost-only bin. Bins from both locations must eventually make their way to the composting site, where the scraps, leftovers, and paper bits will turn into a sweet-smelling soil amendment.
This is where bin tippers enter the picture. Food waste can be denser and heavier than non-recyclable trash filled with bulky but light styrofoam and other plastics. That's why it's crucial to rely on a mechanical lifting device to empty bins into larger dumpsters or directly into compost piles and windrows.
Because composting programs are frequently student-led, safety is paramount.
Composting is still not quite a mainstream practice. While nearly every cafeteria has separate bins for recycling and landfill waste, relatively few have a composting option. When they do, it is often as a result of a student-led initiative.
In order to protect students, who may be inexperienced in ergonomically lifting heavy loads, mechanical lifting devices are necessary. Solus Group's line of bin tippers come with a full suite of safety features that make safely emptying a container foolproof.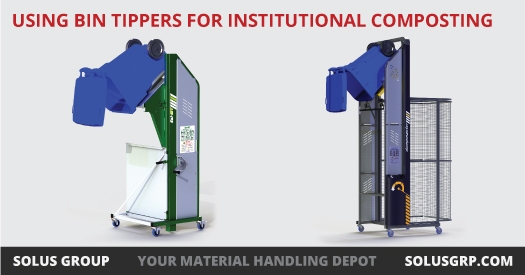 From the hand-cranked Ezi-MT manual tipper to the heavy-duty hydraulic Dumpmaster, Solus Group bin tippers smoothly and quickly empty bins while protecting the operator. The weight of the bin stays within the machine's footprint throughout the tipping cycle to ensure maximum stability.
With minimal training any student or volunteer will be able to safely empty a heavy bin of compost into the desired location.
When food waste has completely broken down into usable compost, the bin tipper can help load landscaping wagons.
There are many applications for rich and fertile compost. A university or institution could use it to fertilize trees or amend the soil in a garden. Wherever the compost is taken, it needs to get onto a truck first. Here, a bin tipper makes material handling safer a second time in the composting process.
Loading compost into a short-walled container allows landscaping workers to do less heavy lifting. When a container is filled, the bin tipper can lift it and dump the contents into the bed of a truck or wagon saving staff time and energy and reducing injury risks.
Composting helps close the food-waste loop and reduces waste-disposal fees.
It also provides institutions with homemade fertilizer and teaches students and volunteers about waste and soil management. Let bin tippers make the process safer and easier by shouldering the heavy lifting in place of students, workers, and volunteers.
References:
"Composting/Food Services." UOregon. University of Oregon, n.d. Web. 28 Sept. 2017.
"Food Waste Composting: Institutional and Industrial Application." UGA. University of Georgia Extension, n.d. Web. 28 Sept. 2017.
"Institutional Composting Step-by-Step Guide." MUSC. Medical University of South Carolina, n.d. PDF. 28 Sept. 2017.