Here in the middle of National Ergonomics Month, it's a great time to revisit our favorite warehouse ergonomics solutions. But it isn't just National Ergonomics Month. October 16 is also World Spine Day, an international event that raises awareness of spinal issues and back pain in particular.
In honor of this year's World Spine Day theme, #LoveYourSpine, we're offering ergonomic tips for warehouse workers that focus on spinal health. Manual material handling can place a lot of strain on the spine as well as other musculoskeletal groups.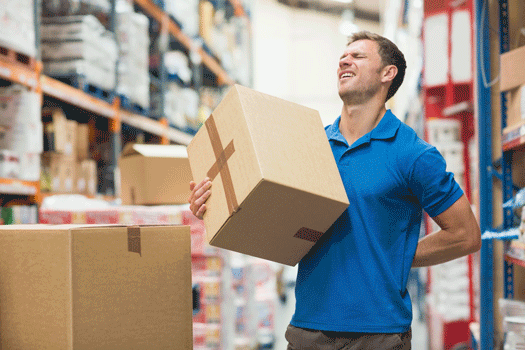 Warehouse workers can avoid back pain and spinal injuries by following a few ergonomic guidelines:
Use self-leveling, rotating work surfaces for all palletizing tasks.

Building and unloading pallets is a common warehouse job, and it is rife with ergonomic risks. Workers often reach across the pallet, and/or bend to access the bottom-most levels.
The solution is to provide Pallet Carousel & Skid Positioners. These self-leveling lift tables keep work at a comfortable level, even as users add or remove items from a pallet. An integrated turntable surface prevents twisting and reaching to keep the spine and muscles safe and unstrained.
Avoid lifting heavy objects by using Lift Tables and carts.

Rather than lifting and carrying heavy loads, Lift Tables allow workers to slide them from one surface to another. Mobile Lift Tables double as carts themselves, while Order Picking Carts eliminate the need to carry items.

Find workarounds to replace tasks that require twisting the back.

Some material handling tasks in the warehouse require workers to twist their backs in risky ways. For instance, emptying trash cans typically involves both lifting and twisting, making it a particularly hazardous activity.
Choose specialized material handling equipment for these jobs. In the above example, use Bin Tippers to safely lift and dump trash cans with virtually zero ergonomic risk.
Keep work within the ergonomic power zone with variable-height work surfaces.

Stooping at desks or packing stations places strain on the spine and related systems. Ensure that staff can all work in the space between the waist and shoulders to prevent musculoskeletal disorders.
Because every worker's body is different, however, employers must install Lift Tables to create variable-height workstations. These heavy-duty adjustable surfaces provide ideal workstations that fit every worker's ergonomic needs.
Choose workstations designed specifically for workplace tasks. For instance, order packers can benefit from Shipping & Receiving Desks, with left or right cutouts to keep work closer to the worker's torso. Modular features also allow workers to customize these desks to prevent reaching, stretching, and twisting the back to access materials.
Celebrate this World Spine Day — and National Ergonomics Month — by taking another look at your facility's ergonomics program. The National Institute of Occupational Safety and Health (NIOSH) recommends taking four steps to improve ergonomics in manual material handling applications.
First, look for ergonomic hazards at your facility. Review OSHA complaints and worker injury records, and have the ergonomics team observe workers at their tasks. Ask staff which jobs leave them sore or achy. Once you've identified areas that require improvement, prioritize them based on impact.
The third step is to implement changes, such as installing ergonomic material handling equipment or variable-height work stations. Finally, the ergonomics team should evaluate the effects of the changes. If they work as planned, great. If not, it's time to start the process over again.
And while National Ergonomics Month provides a great reminder to follow up on ergonomics interventions, the most beneficial approach is to improve continually, throughout the year.
References:
"Ergonomic Guidelines for Manual Material Handling." CDC. National Institute for Occupational Safety and Health, Centers for Disease Control and Prevention, 2007. PDF. 29 Aug. 2018.
"World Spine Day 2018 — Love Your Spine!" WorldSpineDay. World Spine Day, 2018. Web. 29 Aug. 2018.