The season is upon us yet again. As consumers open their pocketbooks to ensure a merry celebration, supply chain industries rush to complete warehouse holiday preparation.
There's just one thing that's a little different this year. Warehouses along the West Coast are facing a serious overstock problem. With every slot on the coast occupied, logistics facilities further inland are starting to see rising demand for services. This could create a domino effect that leaves a lot of excess stock on shelves — and money on the table.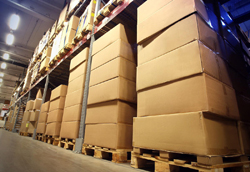 Given this challenge during retail's busiest time of the year, here are a few tips to get warehouses, distribution centers, and e-commerce fulfillment providers ready for the holidays without facing a new year burdened with overstock.
Pursue an omni-channel distribution strategy. It's certainly possible to run a more efficient operation with omni-channel distribution, but this technique provides an even greater benefit during peak season: When you fill brick-and-mortar shelves and online orders from the same location, you reduce the risk of post-rush overstock.
Provide powerful ergonomic tools for seasonal workers. Hopefully, you already have your seasonal work force trained and ready to go. But all staff members, even temporary workers, need the right equipment to safely and efficiently fill every order that comes through your facility.

An army of order pickers can be outfitted affordably with Order Picking Carts from Solus Group. Unlike low, plastic carts, these hearty steel tools provide ideal ergonomics that can keep workers free from injuries while providing plenty of space for wave picking.

The more orders you can fill, the less overstock you'll face. Order pickers armed with efficient tools are the fastest way to boost capacity during the holiday rush.

Prepare the shipping/receiving area for increased throughput. To get every order out on time, shipping/receiving rooms must be rigorously organized. Everything from the placement of shipping stations to the distance from docks can affect overall efficiency.

Most importantly, provide staff with ergonomic packing stations. The all-steel Shipping/Receiving Desk from Solus Group provides cutouts for left- and/or right-handed workers to keep all tasks placed safely near the body. Adjustable pivot arms keep keyboards and monitors at ergonomic levels while multiple shelves make it easy to organize packing materials.

To build the ultimate ergonomic order packing station, pair Shipping/Receiving Desks with Tilt Tables or Lift Tables. The latter two options provide ergonomic work positioning for all packing and unpacking tasks.
Of course, the best way to handle the holiday surge without overstocking is to predict demand as accurately as possible. That's easy to say and nearly impossible to accomplish.
Use the data-tracking abilities of your warehouse management system to help predict demand. Data can help you plan inbound shipments strategically. Rather than making a huge order all at once, try stocking shelves in multiple bursts — and let your tracking software predict when you need that next shipment, or if you need it at all.
Last year, U.S. overstock losses amounted to $471 billion, with the leading cause of those overstocks attributed to forecasting failures. It's possible to cut down losses by getting your facility running at peak efficiency, but without a liberal application of data analysis, warehouse holiday preparation can't address the real cause of busy-season losses.
References:
Douglas, Merrill. "Holiday Stocking: Preparing for the Seasonal Retail Rush." InboundLogistics. Thomas Publishing Company, Nov. 2012. Web. 25 Oct. 2016.
Napolitano, Maida. "Warehouse and Distribution Center Management: Omni-channel distribution — Moving at the speed of 'now.'" LogisticsMGMT. Peerless Media LLC, 1 June 2013. Web. 25 Oct. 2016.
Taylor, Glenn. "Overstock Losses To Cost Retailers $471 Billion In 2015." RetailTouchPoints. Retail TouchPoints, 18 Nov. 2015. Web. 25 Oct. 2016.