Warehouse safety depends on ergonomics, but different fulfillment tasks carry different ergonomic risks. Order pickers face more than a few of the ergonomic hazards listed by the National Institute for Occupational Safety and Health. These include:
Lifting, carrying, or otherwise handling heavy loads unassisted.
Bending or twisting while accessing loads.
Repetitive gestures, such as reaching, lifting, or carrying loads.
While the Occupational Safety and Health Administration has not created regulations to govern ergonomics in material handling tasks, both OSHA and NIOSH offer helpful guidelines that can prevent musculoskeletal injuries for order pickers in warehouses and distribution centers. Here are some of their suggestions: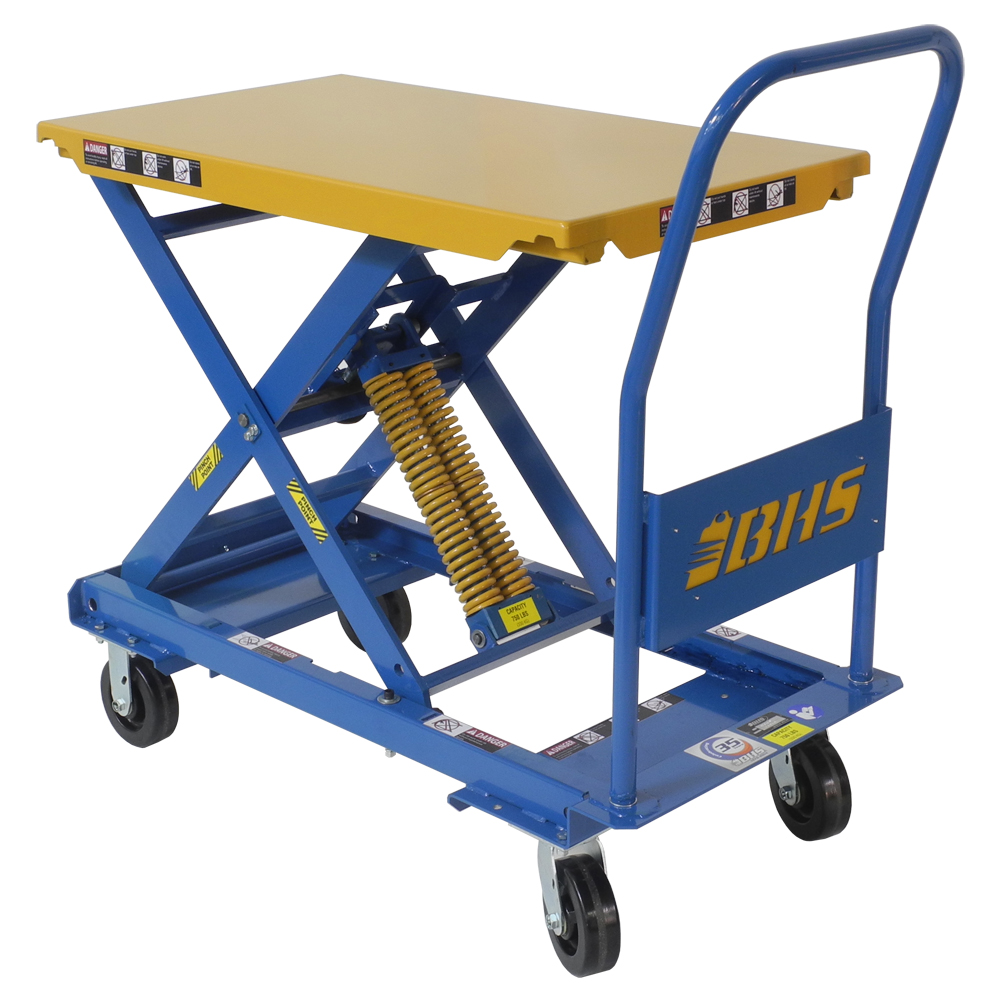 Use mechanical aids when lifting loads of 51 pounds or more. According to NIOSH, 51 pounds is the maximum weight workers should try to lift — only with two hands, and only under ideal conditions. Mobile Lift Tables are an ideal option for order pickers faced with loads of more than 50 pounds or repetitive lifting/lowering tasks.
Use Lift Tables to slide, rather than lift, heavy or cumbersome SKUs. Simply align the surface of the lift with the shelf, and slide cartons onto the Table. From there, it's easy to slide cartons onto an Order Picking Cart or conveyor belt for a virtually risk-free material handling solution.
When lifting heavy items is unavoidable, use mechanical devices such as Lift Tables to set the item at waist-level before attempting the task. Lift with both arms while distributing the weight evenly. Never lift items from below waist-level or from above the shoulders.
Periodically rotate order pickers to jobs that don't involve lifting or reaching. The risk of injury increases with the frequency of a given motion. Managers could train order pickers and packers to switch jobs midway through shifts, for instance. This sort of job-sharing will reduce muscular strain across the facility, helping to prevent musculoskeletal injuries.
Whenever possible, store pallet loads above floor-level. This will help order pickers keep work within the area NIOSH calls the "power zone...above the knees, below the shoulders, and close to the body."
Keeping all work within this power zone reduces ergonomic risks associated with common order picking tasks. Self-Leveling Lift Tables from Solus Group offer a simple way to locate any warehouse task within the power zone, even as loads increase or decrease.
The OSHA eTool for ergonomics in grocery warehousing points out a common difficulty for order pickers in any type of warehouse. After pointing out the value of mechanical assistance for order pickers, the resource states that, "Because employees move about the warehouse, development of mechanical aids to assist with heavy lifting or reducing awkward postures is difficult."
Mobile Lift Tables from Solus Group offer a solution. These heavy duty lifting devices travel easily through warehouse aisles, accompanying order pickers just like a traditional Order Picking Cart. But with weight capacities of up to 1,200 pounds and heights of up to 79 inches, Mobile Lift Tables provide the lifting assistance that order pickers need to prevent straining muscles.
To truly excel at warehouse safety, managers must train order pickers to avoid risky motions. But they must also provide ergonomic equipment that takes the load from a worker's back.
References:
Cable, Josh. "NIOSH: Order-Pickers Could Be at Risk If Production Volume Increases." EHSToday. Penton, 11 Sept. 2006. Web. 1 Dec. 2016.
"Ergonomic Guidelines for Manual Material Handling." CDC. National Institute for Occupational Safety and Health, Centers for Disease Control and Prevention, 2007. PDF. 1 Dec. 2016.
"Grocery Warehousing Ergonomics." OSHA. Occupational Safety & Health Administration, United States Department of Labor, n.d. Web. 1 Dec. 2016.