Electric vehicles—and their charging stations—are being used in a variety of applications in industrial, commercial, and consumer environments. Regardless of the use case, EV chargers are typically mounted in just one of two ways: either on an EV charger pedestal, to create free-standing charging stations, or else attached to a wall, whether that's in a residential garage or the exterior of an industrial facility. So which mounting option is best? The answer depends on who's using it and why.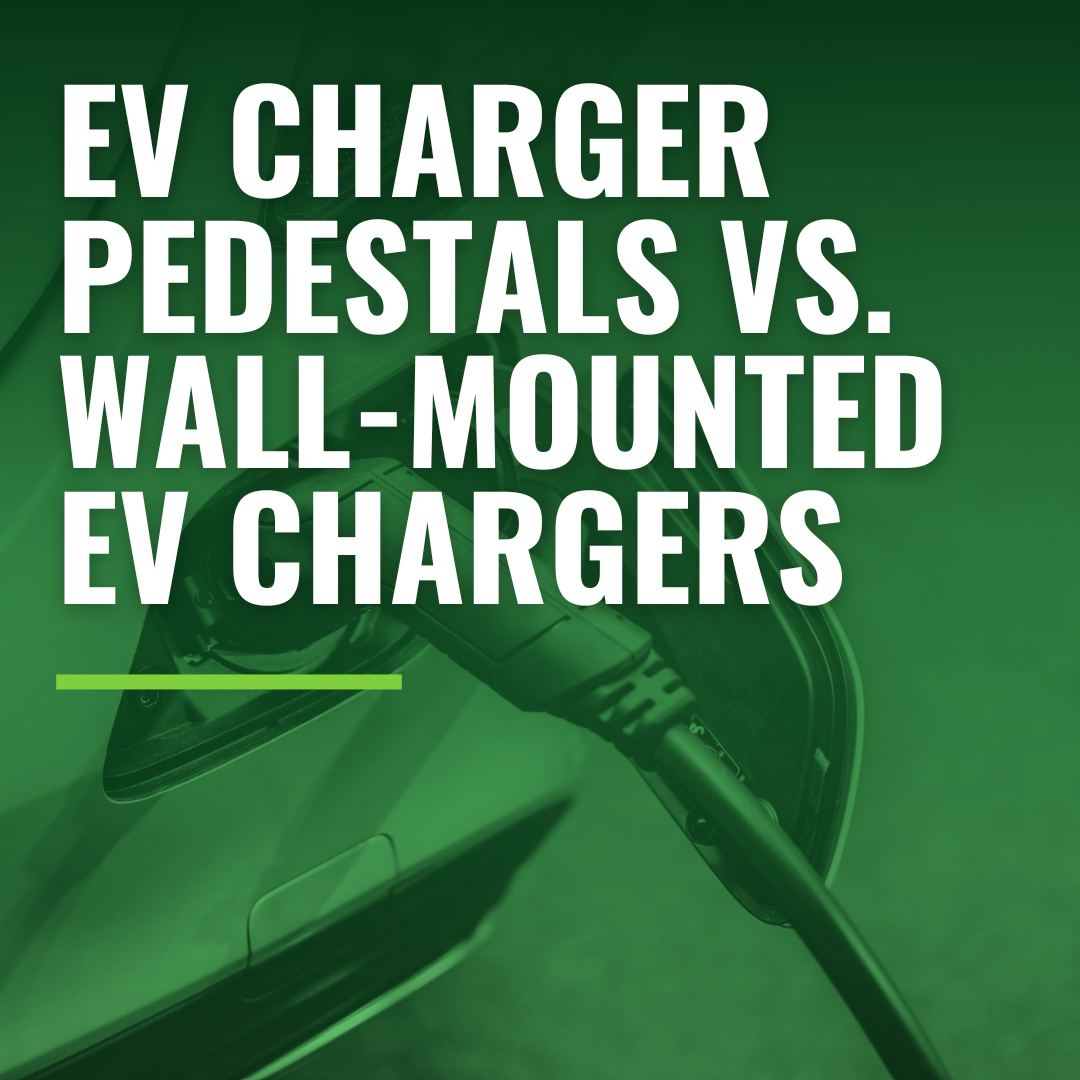 For many consumer electric car owners, a wall-mounted EV charger in the garage is sufficient. But if you're building a series of EV charging stations for public use, you'll need pedestal EV chargers, preferably ones with integrated cable management systems. This point-by-point comparison of pedestal EV chargers and wall-mounted systems will help you decide which is ideal for your situation.
Choosing Your EV Charger Mount: What To Consider
Here are five factors to think about when choosing between a wall-mounted EV charging station and a free-standing unit, along with which option provides the greatest benefit in common scenarios.
1. Location Versatility
Charging stations don't exist in a vacuum; you'll be installing your EV chargers in an existing space. The main drawback for wall-mounted EV chargers is that they require free wall space. That may be convenient for consumer EVs when you own a garage. It could also work for indoor industrial facilities. But if you're building a commercial charging station for multiple EVs, or a charging area for outdoor industrial vehicles, EV charger pedestals are your best option.
2. Ease of Access
Wall-mounted chargers can only be approached from one direction, and if their charger cables aren't long enough, you may need to back vehicles toward them. Pedestal-style chargers can be approached from either side, and each stand can support up to two chargers. For most outdoor applications, that makes them more convenient—particularly in high-volume charging scenarios like industrial EV fleet management and commercial charging stations.
3. Cable Management Options
Many wall-mounted EV chargers don't include integrated cable management systems. Users simply wind cables around a frame to keep them off the ground between uses. This approach has a few disadvantages. It takes longer to access a cable when you have to wind and unwind it every time—and the repetitive movement of the cable can damage conductors over time, especially if it's wound too tightly. Charger pedestals with integrated s avoid these scenarios, providing instant access and protection for charger cables. A retractable charger cable system also supports longer cables for easier connections on all sorts of vehicles. The presence of an integrated cable retractor is a key benefit of EV charger pedestals.
4. Installation Convenience
NEMA classifies EV chargers into three categories: Level 1, which uses 120-volt AC power; Level 2, with 240 volts of AC electricity; and DC Fast Chargers, which start at 480 volts DC and go up from there. Any of these options will require suitable electrical power installed by professional electricians. Assuming you have wiring available, wall-mounted chargers are quicker to install; simply bolt them to the wall. EV charger pedestals can be bolted to floors, indoors or out, or set into a fresh-poured concrete curb. For outdoor installations, however, this is still a more cost-effective option than building a wall.
5. Charger Protection
Both walls and pedestals elevate EV chargers, protecting them from vehicle strikes. But you still need suitable cable management to prevent roll-over damage to charger cables. When choosing a free-standing charger stand, look for welded-steel posts with built-in charger reel boxes, like the EV Charger Pedestal and Cable Management Kits from Solus Group. To learn more about EV charging equipment with integrated cable management systems, contact Solus Group at 314-696-0200 today.