Where they mention eye wash stations, standards from the Occupational Safety and Health Administration (OSHA) are both remarkably clear and short on detail. That's led to a lot of questions about how, when, and where OSHA requires eye wash stations, safety showers, and other emergency flushing systems.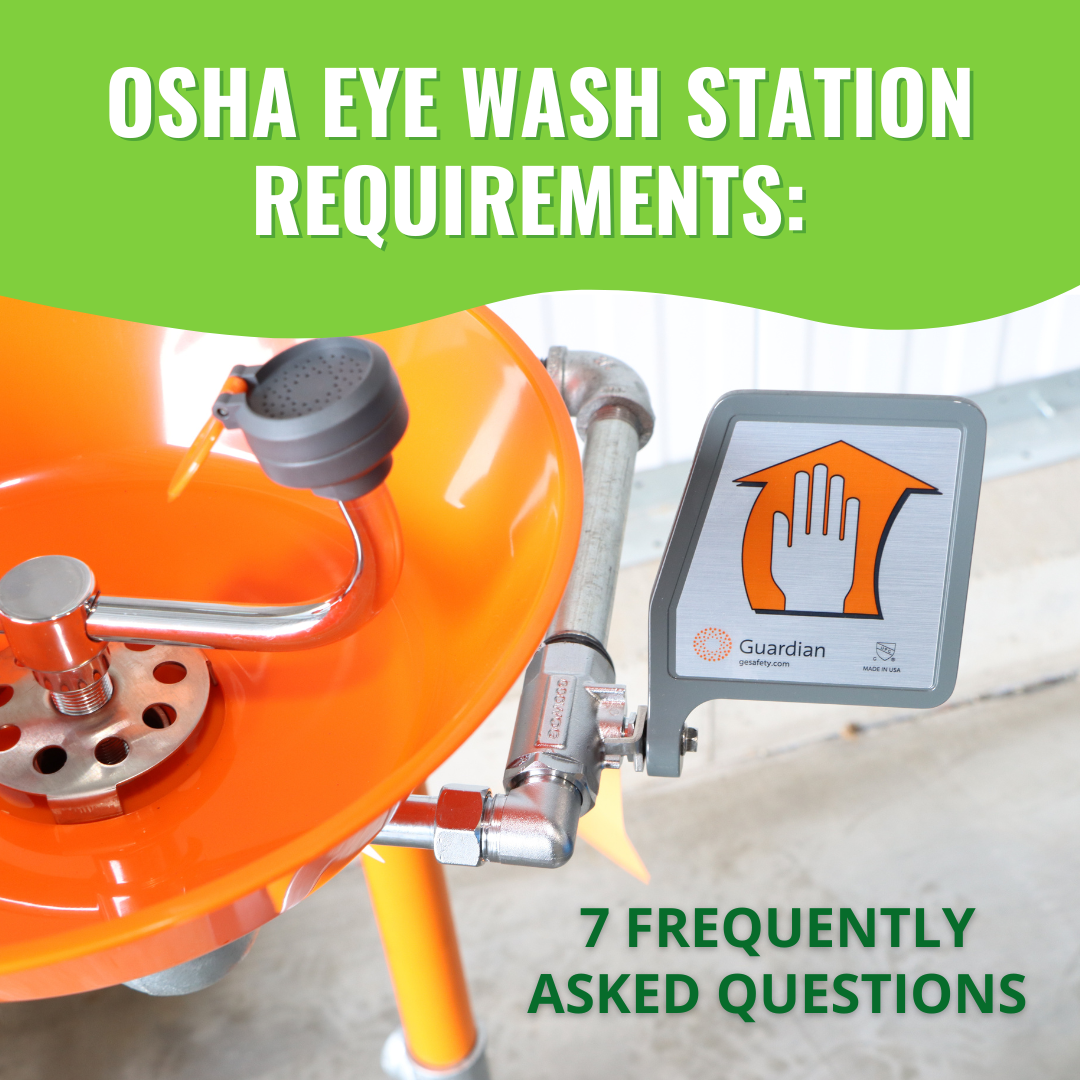 We looked deep into OSHA's documentation, from standards themselves to correspondence with business owners, to find answers to your most frequent questions on the topic. Here's what we discovered about OSHA eye wash station requirements, all in one convenient FAQ.
1. Does OSHA require eye wash stations for my business?
The short answer is that, if harmful fluids substances pose a threat to your workers' health, you do have to provide eye wash stations, safety showers, or similar equipment.
This answer comes from two OSHA standards, one for "general industry" and the other for the construction sector. Note that most non-construction workplaces are regulated under OSHA's standards for general industry, Part 1910 of the Occupational Safety and Health Standards.
Standard 1910.151(c), for general industry, states that:
Where the eyes or body of any person may be exposed to injurious corrosive materials, suitable facilities for quick drenching or flushing of the eyes and body shall be provided within the work area for immediate emergency use.
Standard 1926.50(g), for the construction industry, says the same thing using the exact same language.
The Occupational Safety and Health Administration clarifies their standards in response to questions from industry operators. In one such standard interpretation, from 1994, the Administration explained that employers must provide these wash facilities in any workplace where "employees are exposed to injurious corrosive materials."
That's the key question in determining whether OSHA requires eye wash stations at your facility. If corrosive materials are present, there's a chance employees may be exposed to them. Then, according to OSHA, you do need to provide eye wash stations or similar equipment — which brings us to our next question.
2. What does OSHA consider "suitable facilities" for safety wash stations?
An eye wash flushing bottle may be considered a flushing facility So may a full-sized, plumbed shower. But does OSHA consider these or other options sufficient for compliance with their standards?
The language of the standards only tells us this equipment must be "suitable" for "quick drenching or flushing of the eyes and body." Luckily, OSHA does explain what it considers "suitable" in safety wash equipment.
In multiple standard interpretations, OSHA representatives recommend employers choose safety wash stations that comply with ANSI/ISEA Z358.1: American National Standard for Emergency Eyewash and Shower Equipment, the latest edition of which (as we publish) is from 2014.
This standard provides optimal specifications for the following equipment:
Emergency showers
Eye wash stations
Eye-and-face wash stations
Combination shower/eye/face wash stations
Personal wash units
Drench hoses
Note that these last two, personal wash units (like flushing bottles) and drench hoses, are only intended to supplement primary eye wash and shower stations. So they aren't sufficient to comply with OSHA standards on their own.
Depending on many factors — type of hazardous materials, potential exposure time, number of employees with exposure risk, and more — OSHA may deem any combination of safety wash equipment necessary for compliance. Employers must study their own particular risks and provide the wash stations that best respond to these hazards. Whether you need an emergency shower, eye wash stations, or both, ANSI/ISEA Z358.1 requires them to meet standard specifications, including:
Equipment must control flushing fluid's (water or specialized solutions) velocity and quantity.
Wash stations must release flow within one second or less, and controls should be easy to use.
Wash station valves must be corrosion-resistant.
Wash fluid should be "tepid," with a temperature between 60 and 100 degrees Fahrenheit (16 to 38 degrees Celsius).
These are just a few examples; for full wash station specifications, consult the latest edition of ANSI/ISEA Z358.1, available for purchase here.
3. Does OSHA require plumbing for eye wash stations and emergency showers?
This is an important question; not all areas of all facilities have access to plumbing. So does OSHA require you to run new water lines, or are free-standing eye wash stations sufficient for OSHA compliance?
Nowhere does OSHA say that emergency wash stations must be plumbed. Instead, they refer to the flow rate and time restrictions found in ANSI Z358.1. For example, in a 2002 standard interpretation, OSHA points out that ANSI Z358.1 requires emergency showers to meet the following specifications:
The shower must be able to deliver at least 75.7 liters per minute (20 gallons per minute) of water or flushing fluid. (For eye wash stations rather than showers, the flow requirement is 1.5 liters per minute [0.4 gallons per minute].)
The velocity of the fluid must be low enough to avoid injury.
The wash system must be able to maintain this flow rate for at least 15 minutes.
The standard interpretation mentions that "a sufficient volume of flushing fluid shall be available" to supply this flow rate for this time period. Plumbing certainly makes this possible, but so do freestanding reservoirs, as long as they're big enough. Note that personal eye wash bottles do not meet these requirements, because they'll run out of fluid long before 15 minutes; that's why the ANSI standard considers them merely supplemental.
In short, OSHA does not require eye wash stations to connect with central plumbing systems — though plumbing is often the simplest way to meet minimum flow requirements, particularly for showers.
4. Where does OSHA require emergency wash stations to be located?
The two OSHA standards that require safety wash stations do tell us a little bit about placement. They say that emergency wash facilities must be "provided within the work area" of the hazard. For more precise details, however, OSHA refers us to ANSI Z358.1, which requires eye wash stations to be placed where employees can reach them within 10 seconds of an exposure.
Workplace safety experts estimate a motivated worker can travel 55 feet within those 10 seconds. That means employers must provide eye wash stations or flushing showers within 55 feet of each potential place of exposure. These stations must be clearly identified with highly visible signage, too.
In some scenarios, OSHA stipulates that safety wash stations be positioned even closer to hazard areas. For industrial batteries in the construction industry, for instance, OSHA standard 1926.441(a)(6) states that:
Facilities for quick drenching of the eyes and body shall be provided within 25 feet (7.62 meters) of battery handling areas.
This may not be the only exception to the 55-foot rule, so it's always best practice to consult an industrial safety expert for specific OSHA requirements in your field.
5. How many eye wash stations or showers must facilities provide according to OSHA?
The Occupational Safety and Health Administration doesn't give exact figures on exactly how many eye wash stations you must install. But employers can quickly calculate how many stations they need based on the ANSI Z358.1 10-second rule.
If you need safety wash stations within 55 feet of potential exposure zones, the number of facilities you need will be based on how many of these areas are present in your facility. You may need additional wash units if multiple employees risk exposure at the same time. So the total number of eye wash stations or showers you'll need will depend on the number of exposure points and employees facing the risk. Conduct a thorough safety inspection to calculate the ideal number of emergency wash stations and you'll likely comply with OSHA standards.
6. How long can you use an eye wash station according to OSHA?
A well-maintained safety shower or eye wash station can provide a lifetime of reliable service, and OSHA doesn't specify replacement intervals for this equipment. However, an OSHA Infosheet does instruct employers to follow the manufacturer's instructions on maintaining emergency wash stations — and the flushing fluids they may contain.
Improperly maintained eye wash stations can expose users to infections from microbes like acanthamoeba, pseudomona, and legionella, and these infections can cause illness and even threaten vision. To prevent the risk, users must periodically flush systems, add treatments to reservoirs, or change out flushing fluids according to manufacturer instructions.
7. Where can I find OSHA-compliant eye wash stations and safety showers?

Solus Group carries a full line of OSHA-compliant emergency wash stations and related safety equipment, including:
Wall Mounted Eye Wash Stations
These permanent, wall-mounted eye wash stations connect to facility plumbing, and are manufactured in compliance with all ANSI Z358.1 specifications. They include a self-regulating flow control valve to achieve ideal spray pressure, plus stay-open ball valves, filters, and float-off dust covers for ongoing dependability.
Buy Wall Mounted Eye Wash Stations from Solus Group
Pedestal Mounted Eye Wash Stations
If you don't have a wall within 55 feet of an exposure-risk area, install a Pedestal Mounted Eye Wash Station wherever necessary. This is a permanent, plumbed installation, in full compliance with OSHA and ANSI regulations.
Buy Pedestal Mounted Eye Wash Stations from Solus Group

Portable Eye Washes
Don't have plumbing in a room that contains splash hazards? Portable Eye Wash stations from Solus Group provide the solution. These self-contained, high-density plastic units combine OSHA-compliant dual spray nozzles with a 16-gallon reservoir, surpassing minimum ANSI specifications for 15 minutes of flushing at a flow rate of 0.4 gallons per minute. Every Portable Eye Wash ships with a bottle of bacteriostative additive that keeps the flushing solution safe for up to six months at a time. 
Buy Portable Eye Washes from Solus Group
Shower Eye Wash Stations
This plumbed, floor-mounted unit combines an OSHA-compliant safety shower with an appropriate-height eye wash station in a single system. Users can flush their eyes while simultaneously dousing the whole body with an overhead spigot. An optional curtain limits splashing and provides privacy during emergency body flushes.
Buy Shower Eye Wash Stations from Solus Group
All these products comply with OSHA eye wash station requirements. For help choosing which is best for your facility, contact Solus Group at 314-696-0200.