In 2019, Amazon ordered 100,000 electric vehicles (EVs). The next year, UPS bought 10,000 delivery EVs. And in 2021, FedEx announced a plan to switch its entire fleet to electric power by 2040.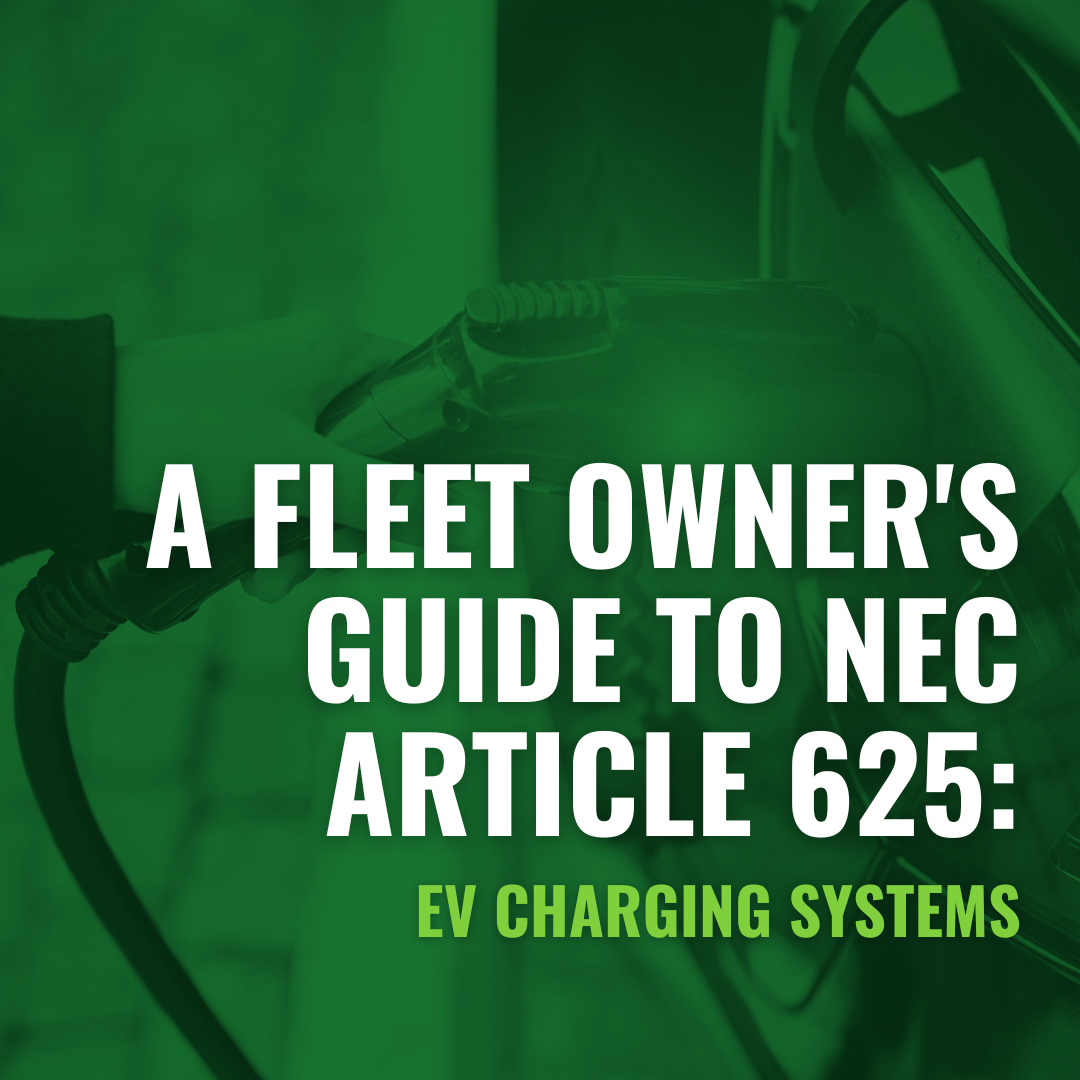 These top supply chain operators aren't the only companies investing in new, electric fleets. Airports, food manufacturers, public transit systems, municipalities, and distribution operators are all making the switch to electric. That means there are lots of fleet managers struggling to manage the installation of EV charging infrastructure before their EVs arrive.
Where can fleet owners go for guidance? When you're building an electric forklift fleet, you can rely on standards from the Occupational Safety and Health Administration (OSHA): standard 1910.178(g), to be precise. But OSHA moves slowly, and the official standards remain silent on today's EV fleet infrastructure.
For public and private EV fleets, the regulatory and standardization ecosystems are still in the wild west phase. So far, there are just two strong sources every fleet manager should consult when designing fleet charging systems: The International Electrotechnical Commission's (IEC's) standard IEC 61851-1: Electric Vehicle Conductive Charging System, and a familiar code written by the National Fire Protection Association (NFPA): NFPA 70®, The National Electric Code®, or NEC.
In this article, we'll take a look at the section of the NEC that can help fleet owners set up their charging infrastructure — NEC Article 625: Electric Vehicle Charging Systems. Certified electricians will handle the wiring and power flow, so we'll focus on everything else: Physical infrastructure, charging station design, and NEC-required safety protections. If you're managing a transition to an electric fleet at your company, here's what you need to know about the 2023 edition of NEC Article 625.
Key Points From NEC Article 625: Electric Vehicle Charging Systems
1. Charging Station Location
When you're planning a fleet-charging system, the first question is where to put it. Do you have space indoors, or are you converting a parking lot into an EV depot? According to NEC code 625.50, EV chargers can be located indoors or outdoors — although indoor installations may require ventilation, and have different standards for charging cable placement (more on that in a moment).
Whether you set up an indoor or outdoor EV charging system, the NEC states the obvious: Chargers must be located where their output cables can reach the electric vehicle's charging ports. Additionally, you'll need to choose somewhere with space to fit chargers — plus the infrastructure on which they stand. That brings us to the NEC's guidance on EV charger stands.
2. Charger-Mounting Infrastructure
You can't leave EV chargers strewn across the ground, of course. But do you need a particular type of stand? According to NEC code 625.102 (B), EV chargers must be located at a certain height off the ground: at least 18 inches (450 millimeters) for indoor chargers, and 24 inches (600 millimeters) or higher outside.
You can mount chargers on walls or on poles. You can attach them to buildings or structures. You can even secure them atop a raised concrete construction. But to conserve spaces while protecting EV charging equipment, the best option is to use a "pedestal"-style mount, like the EV Charger Pedestal and Cable Management Kit from Solus Group.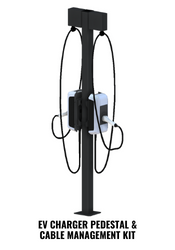 These space-saving EV stands meet NEC guidelines for charger height. They're compatible with most Level 1 and Level 2 EV chargers on the market. You can mount one or two chargers per stand. And because they're made of weather-resistant, powder-coated steel, they'll provide a lifetime of dependable service indoors or out.
EV Charger Pedestals from Solus Group also ship with an integrated Cable Management Kit. That feature helps you comply with another section of NEC Article 625: Electric Vehicle Charging Systems, which we'll discuss next.
3. EV Charging Cable Management Systems
Anytime you have long electrified cables around vehicles, it's important to provide a means of protection from roll-over, twisting, and other sources of damage. The trick is to find a cable management system that keeps cables—and their users—safe, while also providing quick access.
The NEC doesn't say much about the convenience issue, but it does require cable management systems for all charging cables over 25 feet (7.5 meters). Regardless of NEC compliance, it's a good idea to install EV cable management systems for shorter cables, too: They reduce the risk of expensive, dangerous damage to cables, and make charging quicker and less of a hassle for users.
EV Charger Cable Retractors from Solus Group provide the solution for charging cables of any length. A steel, weather-resistant housing — suitable for indoor and outdoor use — holds a spring-loaded retractor reel capable of supporting up to 35 pounds (15.8 kilograms). Cable clamps hold charging cables up to 1.5 inches (38 millimeters) in diameter. Models are available for mounting on EV Charger Pedestals or on walls and structures.
These EV cable management systems also keep charging cables elevated well above the 18-inch (450 millimeter) or 24-inch (600 millimeter) height required by the NEC. But with your cable management system in hand, you still have to choose the type of EV charging cable to choose. Here's what the NEC has to say about that.
4. EV Charging Cables
According to NEC code 625.17 (B), charging cables that lead from the charger to the EV must be one of several types, as described by the NEC's Table 400.4. (That's located in Chapter 4 of the NEC, section Article 400, which describes all the types of "flexible cords and flexible cables" electricians might use.)
Be sure to choose EV charging cables that carry the appropriate NEC trade name designation. These are:
See NEC Table 400.4 for specifications for these categories of EV charging cables; some have higher or lower voltage, are rated for "hard" or "extra-hard" usage, or are suitable for wet locations and/or oil resistance, for instance. Choosing the right EV charging cable is just one way to keep your installations safe, though. If you build an indoor charging system, you may also have to install mechanical ventilation systems — but not necessarily.
5. Ventilation
Only indoor charging installations may require ventilation. To determine whether you need to ventilate the space, the NEC instructs you to consult the equipment manufacturer. Providers of EV chargers must list ventilation requirements: If they say you need mechanical ventilation (exhaust fans, for example), then you do. If they say you don't, you don't.
Consult NEC Table 625.52 (B), located in NEC Article 625, for ventilation requirements according to the power ratings of your EV chargers, plus the total number of EVs you can charge at any given time.
The NEC does not list ventilation requirements for outdoor installations, since you shouldn't need fans outside an enclosed space. But when you build an outdoor charging system, you have to confront another safety issue: Weather-proofing.
6. Charging Receptacle Water-Proofing
If there's a chance your EV charger receptacles might get wet, NEC code 625.56 requires you to add a water-proof enclosure. The NEC recommends an "outlet box hood," which must be listed as "extra-duty" by the manufacturer. This water protection must function with or without plug gaps in the charging receptacle.
While this primarily applies to outdoor installations exposed to weather, it could hold true for indoor locations that might get wet: The NEC says this code applies to any charging receptacles "installed in a wet location." While we're on the topic of safety, let's examine the NEC's rule for protecting users from electric shock when handling EV charging apparatus.
7. Protection Against Electric Shock
According to NEC code 625.22, EV chargers must include a "personnel protection system" that prevents shocks. Typically, that means an "interrupting device," which blocks the flow of electricity for disconnected circuits.
This is something your electrician will handle, but given the primary importance of safety, it's worth discussing with your electrical contractor — just to be safe.
All seven of the points listed above will help you plan your EV charging system. For more detailed information, consult NEC Article 625: Electric Vehicle Charging Systems. You can get free access to the NEC by signing up for an account with the NFPA, which also carries no cost, and only takes a moment.
If you need help choosing EV charging infrastructure, don't hesitate to call the experts at Solus Group. We'll discuss the details of your installation, and recommend EV Charger Pedestals and/or Cable Management Kits that meet your specific needs. Call us today at 314-696-0200.