Air pollution causes cancer, bronchitis, and other major health problems while exacerbating existing conditions like asthma, making clean air a crucial public health issue. The World Health Organization estimates that three million people die prematurely from poor air quality worldwide. Air pollution also harms the environment through acid rain, particulate soot, and other harmful pollutants.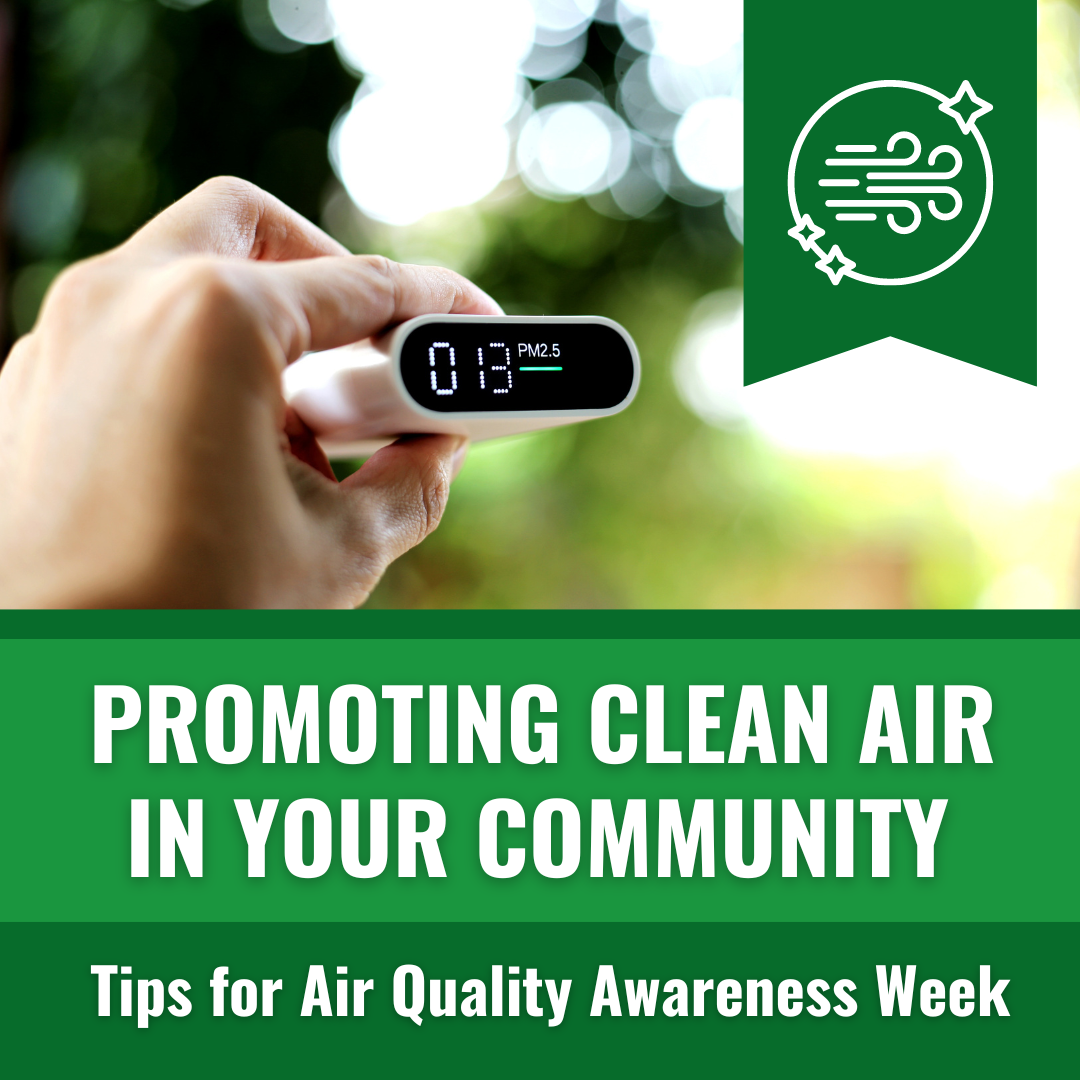 Thankfully, there are plenty of ways that individuals can help reduce air pollution. For Air Quality Awareness Week, let's look at some of these simple steps that make the air we breathe a little cleaner.
Get the most out of your car by keeping it well-maintained.
A car that is in good, working order will pollute less than a poorly maintained car. Regular tune-ups promote engine efficiency and prolong the life of emission control systems. Keeping your wheels aligned and tires properly inflated will boost gas mileage. And speaking of gas, never top off your gas tank at the pump. This can lead to spilled gas and escaped fumes, which contribute to air pollution.
To reduce your car's emissions, never let your engine idle for long periods of time. An idling car produces twice as much pollution as a car in motion. Because of this, experts recommend turning off your car while waiting for periods longer than 10 seconds. Turning off your engine and restarting it causes less pollution than idling and saves gas money.
Reduce emissions even more with eco-friendly modes of transportation.
There are many advantages to choosing alternatives to cars. Public transportation, biking, and walking all offer great benefits to the commuter and the environment. These modes of transportation are generally cheaper and allow you to discover new parts of your city or town as you take new routes.
Biking and walking provide health benefits while reducing congestion on the road and emissions in the air. If you have reading or work to do, try using public transportation as a way to travel without having to watch to the road. Check with your work or school for reduced fares for your local public transportation system.
Recycle and compost to divert waste from landfills.
Recycling is one of the best ways to save energy. Many materials, like glass and aluminum, can be recycled repeatedly with no loss of quality. Supplying manufacturers with recycled glass and aluminum means that companies don't have to waste energy extracting raw materials from the earth to create them anew.
Composting is an ancient eco-friendly practice that's finally coming back into style. By collecting food scraps and yard waste, you can keep organic material out of landfills while producing nutrient-rich soil. Households can collect coffee grounds, fruit peels, and vegetable scraps in a small bucket in the kitchen. Those in communal living situations may need a larger collection container — just be sure to use assistive lifting equipment if you're emptying heavy bins.
Composting is important to reducing air pollution because it allows organic waste to break down with the help of oxygen. When those food scraps end up in a landfill, they decompose anaerobically. That process creates methane, a greenhouse gas 25 times more powerful than carbon dioxide.
Conserve energy to reduce power plant emissions.
One of the biggest causes of air pollution is burning fossil fuels in power plants. Simple changes in your home can reduce the energy you consume which allows power plants to burn less material.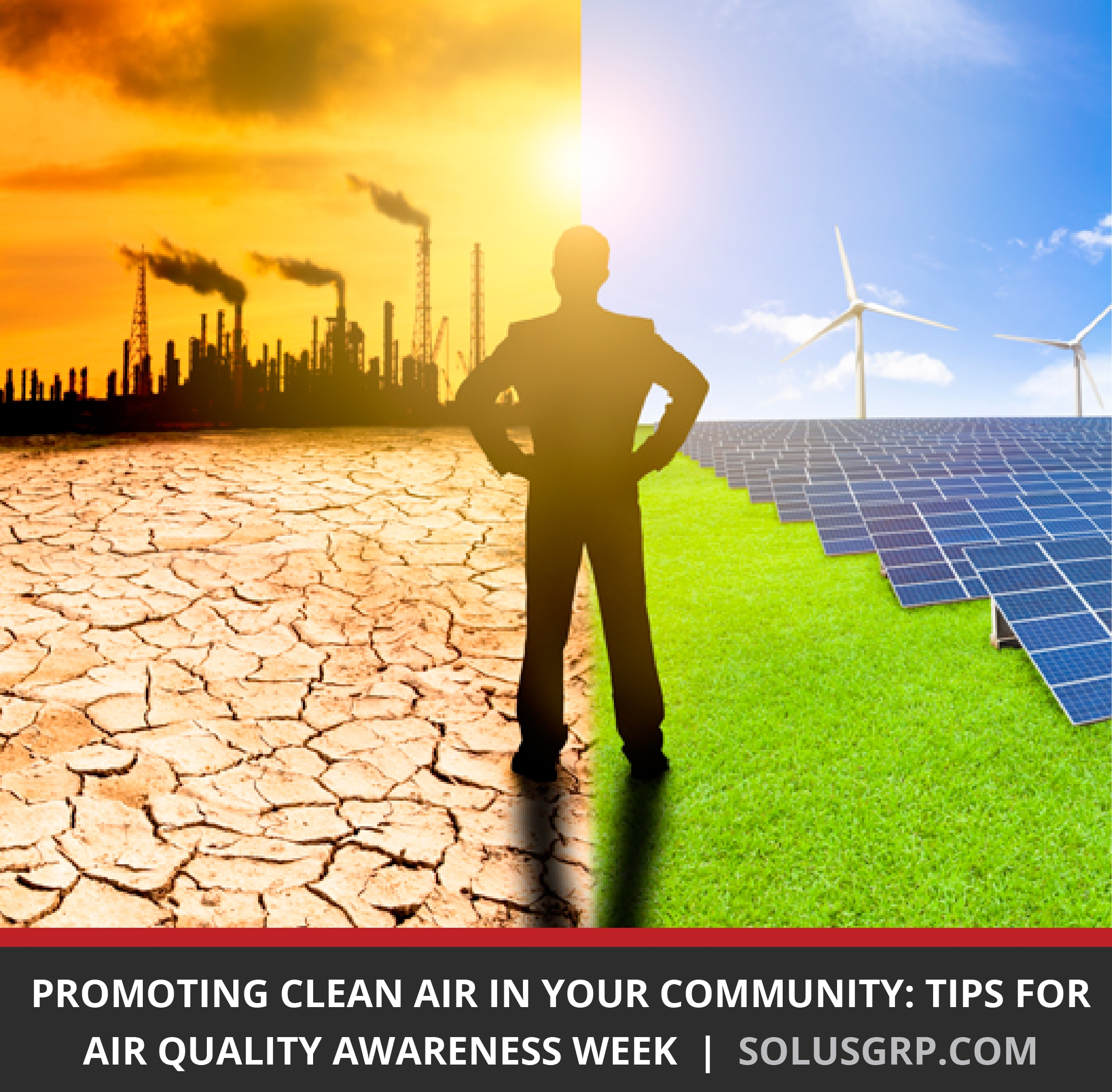 Using energy-efficient light bulbs and appliances is a great way to reduce energy consumption with a minimal impact on your lifestyle. Watch for the ENERGY STAR label on appliances — that signifies that the EPA has certified the product as highly efficient.
Another way to reduce energy consumption is to buy products made from recycled materials. Recycled paper reduces the need to cut down trees and financially supports the recycling industry (two things that are great for minimizing air pollution). You can find recycled paper products of a similar quality and price to products made from virgin wood. But if consumers don't request recycled products, businesses won't always stock it.
Don't forget about indoor air pollution.
When you hear the phrase "air pollution," you might picture smoggy cityscapes and smoky power plants. However, most people spend the majority of their day inside, making air quality in our homes, workplaces, and schools just as critical for public health as the air outside. In fact, you may encounter an even wider variety of pollutants in your living room than in your backyard. Here are some common problem areas and how to combat them.
We all want clean air, but it takes a concerted effort to get it.
Luckily, there are more options than ever for reducing your carbon footprint and keeping harmful pollutants out of the air. By incorporating positive steps into our lives and supporting industries that help conserve energy, we can help guarantee clean air for future generations.
References:
American Lung Association. "Electric Utilities." American Lung Association. 31 Oct. 2017. Accessed 26 Mar. 2018.
American Lung Association. "Indoor Air Pollutants and Health." American Lung Association. 7 Dec. 2017. Accessed 26 Mar. 2018.
Centers for Disease Control and Prevention. "Facts About Mold and Dampness." Centers for Disease Control and Prevention. 5 Sep. 2014. Accessed 26 Mar. 2018.
Centers for Disease Control and Prevention. "Lead." Centers for Disease Control and Prevention. 19 Jun. 2014. Accessed 26 Mar. 2018.
"Dust Allergy." American College of Allergy, Asthma, and Immunology. 2014. Accessed 25 Mar. 2018.
Environmental Protection Agency. "Composting at Home." Environmental Protection Agency. 20 Mar. 2017. Accessed 26 Mar. 2018.
Environmental Protection Agency. "Protect Your Family From Exposures to Lead." Environmental Protection Agency. 30 Aug. 2017. Accessed 26 Mar. 2018.
Ohio Environmental Protection Agency. "Reducing Risk from Emissions." Ohio Environmental Protection Agency. Accessed 26 Mar. 2018.
World Health Organization. "Ambient (Outdoor) Air Quality and Health." World Health Organization Media Centre. Sep. 2016. Accessed 27 Mar. 2018.