For manufacturers, compliance with California Proposition 65 can be a frustrating and confusing process. The law requires businesses to clearly identify consumer products that contain chemicals "known to the state to cause cancer or reproductive toxicity." Typically, this means affixing an appropriate warning label to the product in question.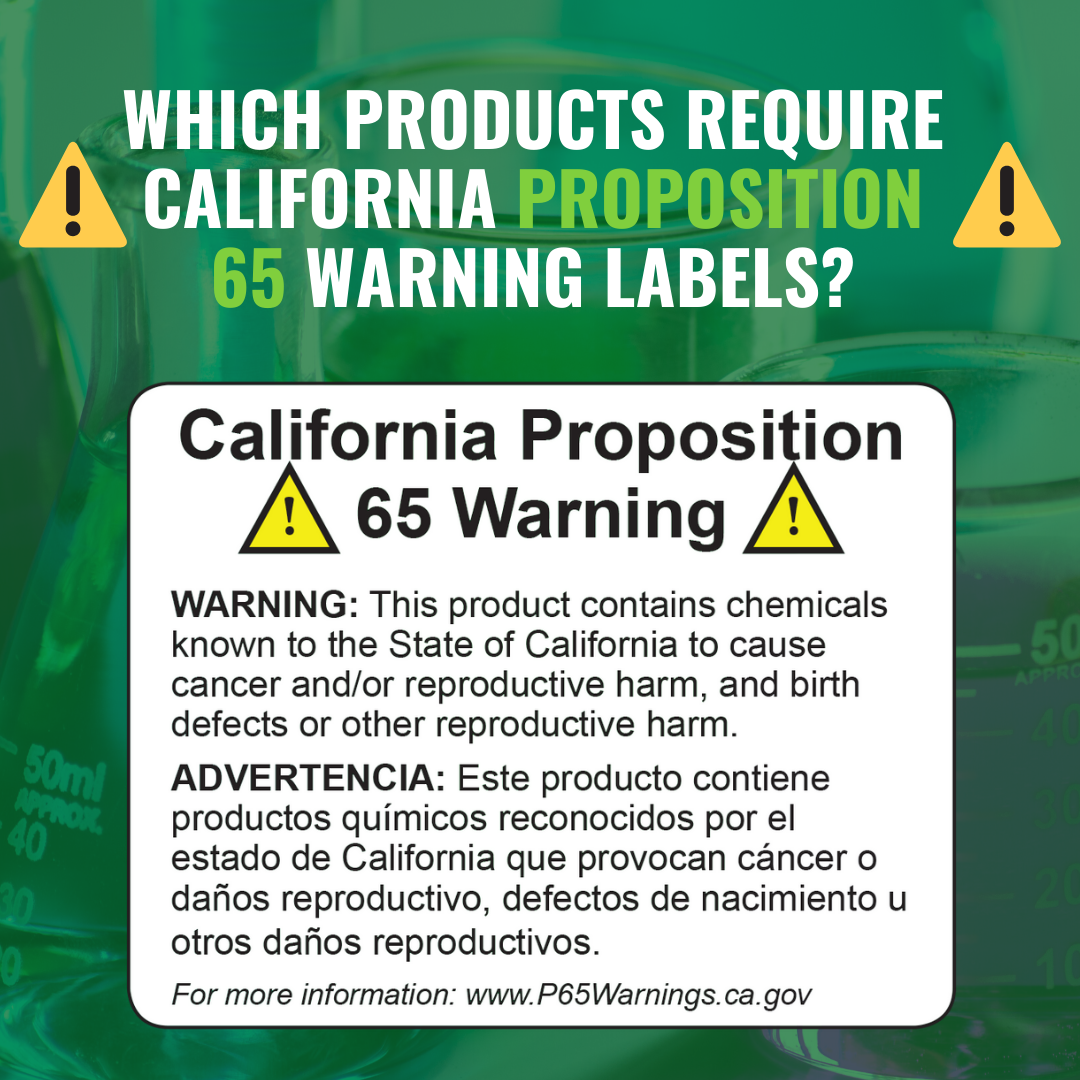 Businesses often have issues determining whether their products meet the safe harbor thresholds established by the state of California — and choosing appropriately descriptive labels when required. Of course, to determine whether or not you need to take this step, you should speak with a qualified consultant. However, if you're looking for more information on the law and its penalties, here's a quick overview.
A Brief History Of Proposition 65 Warning Stickers
California Proposition 65 is the most common name for the Safe Drinking Water and Toxic Enforcement Act of 1986, which was intended to limit exposure to chemicals that could cause cancer or birth defects. It passed via direct voter initiative, thanks in part to a high-profile public relations campaign supported by celebrities including Cher, Rob Lowe, and Jane Fonda.  
Originally, the purpose of the law was to ensure clean drinking water for Californians. Businesses were prohibited from knowingly discharging the listed chemicals into drinking water sources (or onto land where the chemicals could eventually reach drinking water sources). The bill also contained this language:
Required Warning Before Exposure To Chemicals Known to Cause Cancer Or Reproductive Toxicity. No person in the course of doing business shall knowingly and intentionally expose any individual to a chemical known to the state to cause cancer or reproductive toxicity without first giving clear and reasonable warning to such individual, except as provided in Section 25249.10.
That section ultimately became Prop 65's most prominent feature (at least to consumers and businesses). Many of the chemicals listed under Prop 65 are widely used, and warning stickers have become extraordinarily common. Critics of Prop 65 note that many substances produce carcinogenic particles when aerosolized, and some of the listed substances haven't been definitively linked with either carcinogenesis or birth defects.
The bill also established low thresholds for common substances like lead, so thousands of commonly used products are required to carry Prop 65 warning stickers, sometimes to the potential detriment of consumers. For example, in 2003, Trader Joe's Company received a 60-day notice for several of their balsamic vinegars. Balsamic vinegars often absorb trace amounts of lead from the wooden barrels in which they're aged, and removing this lead would likely require a quicker aging process. Manufacturers and importers must choose between changing their processes substantially (and potentially resulting in a lower quality product) or applying warning labels, which could frighten some consumers.
Currently, for potentially carcinogenic chemicals, the "no significant risk" level is defined as the amount of exposure that wouldn't result in more than one excess case of cancer per 100,000 individuals over a 70-year lifetime.
How Chemicals Are Chosen For The Prop 65 Chemical List
Any chemical can qualify for Prop 65 designation, provided that either of two "independent committees" of scientists and health professionals find that it causes an elevated risk of cancer or reproductive harm. These committees are the Carcinogen Identification Committee (CIC) and the Developmental and Reproductive Toxicant (DART) Identification Committee.
Chemicals may also be added to the list if:
An agency of the state or federal government requires the chemical listed as carcinogenic or capable of causing reproductive harm (for instance, prescription drugs regulated by the Food & Drug Administration)
The chemical meets scientific criteria established in the California Labor Code and requires labeling
An authoritative body (as determined by the CIC or DART) finds that a chemical causes cancer, birth defects, or other reproductive harm
Today, the Prop 65 list of chemicals contains approximately 900 entries and is updated at least once per year. A searchable database of the chemicals can be found on the California Office of Environmental Health Hazard Assessment here. The site also lists the type of reported toxicity, along with the basis of the listing.
Importantly, a Prop 65 warning does not officially designate a product as "unsafe." As the California Attorney General's site notes, the warning provides consumers with the opportunity to "seek information about the actual levels of exposure from the business that produces the product or causes the exposure in order to decide whether to accept, avoid, or take measures to mitigate the exposure risk."
Some widely used chemicals, including Bisphenol A (BPA) and saccharin, have been removed from the list.
What To Know About Prop 65 Enforcement And Penalties
Despite its somewhat controversial reputation, Proposition 65 has led to a number of product reformations, many of which benefit all consumers — not just Californians. We'll refrain from attempting to judge the bill on its merits, but the takeaway is clear: For logistics professionals, Prop 65 violations can be costly, and proper labeling is essential.
The law is typically enforced by the California Attorney General's office, but violations can be litigated by any district attorney or city attorney from a city with a population of over 750,000. Additionally, private parties can bring Prop 65 lawsuits when acting in the public interest after giving businesses 60 days notice of the alleged violation.
Prop 65 violations can result in fines of up to $2,500 per day, per violation. That's an extraordinary amount, but most violations result in smaller fines; the California Attorney General's office may simply inform the business and order them to stop committing the violation.
Who Needs Proposition 65 Warning Stickers?
Every business with 10 or more employees that operates in the state of California needs to comply with Prop 65. Products that are purchased by Californians must have a clear and responsible warning label if they contain any of the chemicals on the list in amounts that exceed the "safe harbor" level.
Per the OEHHA:
By law, a warning must be given for listed chemicals unless exposure is low enough to pose no significant risk of cancer or is significantly below levels observed to cause birth defects or other reproductive harm.
The safe harbor numbers vary greatly by chemical, but businesses may choose to provide a warning based on an assumption of the presence of a listed chemical. For example, balsamic vinegar manufacturers might decide to put warnings on their products rather than individually test them. Businesses are not required to file reports with OEHHA regarding their warnings, nor are they required to test their products for the listed chemicals.
From 1986 to 2016, most labels were fairly generic and contained this language:
"WARNING: This product contains a chemical known to the State of California to cause [cancer / birth defects or other reproductive harm]."
In 2016, Proposition 65 was updated significantly. The state now recommends providing more specific information for certain kinds of products and exposures. The revised recommendations are intended to avoid "over-warning" consumers and to give them more actionable information.
The new warnings may appear in the following format:
WARNING: This product can expose you to chemicals including [chemical name], which is known to the State of California to cause [cancer / birth defects or other reproductive harm]. For more information, go to www.P65Warnings.ca.gov."
Following a two-year phase-in period, the new warnings became a requirement for all qualifying products manufactured before Aug. 30, 2018. Other important requirements for Prop 65 warnings:
The warning must be in English. If the product label or packaging provides consumers with information in any language other than English, the Prop 65 warning must appear in that language as well.
A warning icon must be present. The icon must show a black exclamation point outlined by a yellow triangle. The word "WARNING" must be printed in bold, capital letters.
The state has additional requirements for font and font size. The full text of the requirements can be found here (link opens a PDF).
Additional requirements apply to alcoholic beverages and some other products. Businesses must also post occupational exposure warnings in their workplaces, but as that's slightly outside of the scope of this blog, we'll avoid a detailed analysis of those warnings here.
Businesses are allowed to use other warnings that satisfy the requirement for "a clear and effective warning," but following the official recommendations ensures compliance with the law. Specific chemicals don't necessarily require individual listings, but in many cases, businesses choose to indicate the chemical to fully comply with the safe harbor guidelines.
In other words, businesses should choose Prop 65 warning labels specifically marketed as such. Solus Group carries general Prop 65 warnings that satisfy the recommendations; they use a cold-temperature adhesive, provide warnings in English and Spanish, and include the URL of California's Prop 65 website.
The good news: While complying with Prop 65 means incurring additional costs, California offers resources for businesses, and appropriate labels can make the process much simpler. For more information and resources, visit the Proposition 65 Warnings website.