What is a pipe cart — and why is it an indispensable tool for construction electricians?
Pipe carts (also known as pipe wagons or simply as conduit carrier carts) can securely move loads through narrow aisles and tight spaces, enabling electricians to transport large amounts of conduit without a forklift. Some carts are also equipped with fork pockets, which allows workers to transport conduit over longer distances via lift truck, then navigate the materials to the point of installation via manpower.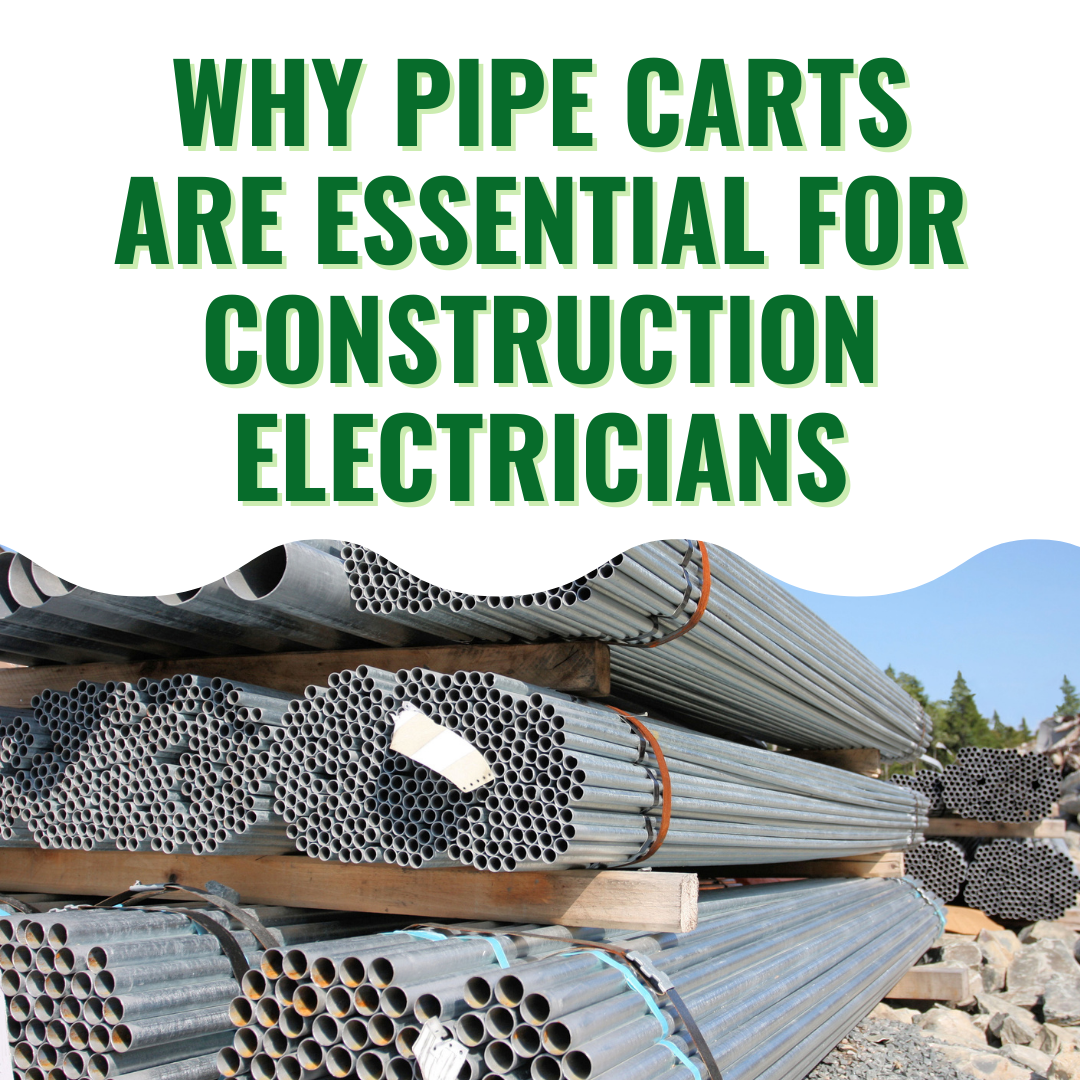 But while pipe wagons are fairly simple devices, they're professional material handling equipment — in other words, quality matters. Here are a few key considerations to keep in mind when purchasing material handling equipment for moving conduit.
4 Key Features for Construction Pipe Carts
Galvanized steel conduit is manageable for experienced electricians, but it's also relatively heavy: 100 feet of 6-inch rigid steel conduit weighs about 1,745 pounds (including couplings). The best practice is to use equipment specifically designed for handling heavy loads — ideally, with features that promote ergonomic movement.
Important factors to keep in mind when choosing a product:
Ergonomics - The cart should promote ergonomic material handling by providing grip points, along with a sufficient number of high-quality casters to move a full load of conduit without forceful pushing or pulling.
Overall Capacity - Smaller pipe carts may have a capacity as low as 1,000 lb. However, depending on the application, capacities of up to 6,000 lb. may be necessary for handling full runs of conduit.
Construction - Look for all-steel pipe carts. Powder coating can extend the functional lifespan of the equipment and protect materials, allowing for a better long-term return on investment.
Physical Size - Carrier carts should maintain a small footprint. Consider the potential limitations of a typical jobsite: Moving conduit to different floors or navigating through smaller spaces may create bottlenecks. Standard conduit carts may work well on the ground, but consider tilting pipe carts if electricians will need to move materials via elevator or if the conduit will need to be positioned vertically (or semi-vertically) at any point during travel.
Of these factors, ergonomics is arguably the most important for promoting efficiency and reducing on-the-job-injuries. Pipe cart handles should be located at practical points, and the design of the carrier should prevent slippage. Avoid carrier carts that force workers to bend down during travel — look for products that support natural movements.
Construction Pipe Carts and Tilting Conduit Carts from Solus Group
Solus Group carries a variety of heavy-duty options for handling conduit on the jobsite. Products to consider:
BHS Conduit Carrier Cart
Ideal for most construction applications, the Conduit Carrier Cart features four formed-and-welded handles at each corner. Two steel tie-down plates allow loads to be strapped and secured prior to transport, and the steel frame includes extra spanners to support entire runs of conduit.
The Conduit Carrier Cart is available in six standard configurations with capacities ranging from 1,500 to 6,000 lb. Larger units have integrated fork pockets, and all models maintain a minimal footprint. Custom options available.
Learn more about the BHS Conduit Carrier Cart.
BHS Tilting Conduit Carrier Cart (CC-ELV-1K)
The Tilting Elevator Conduit Cart improves on the design of traditional pipe dollies by providing electricians with material-handling flexibility. With a load capacity of 1,000 pounds, this unit positions conduit (in 10-foot lengths) vertically, allowing product to move through tight spaces with ease.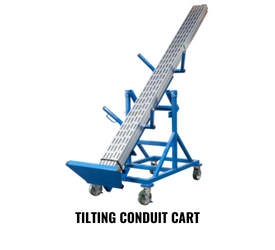 The CC-ELV-1K can travel through 36" doorways and many elevators with ease, and the bed adjusts vertically — allowing workers to load or unload the cart in either a raised or lowered position.
The Tilting Conduit Carrier Cart is also constructed with heavy-duty steel, powder-coated to protect materials while extending the cart's working lifespan. Four casters (two rigid, two swivel) allow for easy maneuverability, and a tilt-assisted handle enhances ergonomics. Custom options available.
Learn more about the BHS Tilting Conduit Carrier Cart
Contact Solus Group to Discuss Your Electrical Material Handling Challenges
Extensive customization options are available, enabling your operation to achieve optimal efficiency while building an ergonomic approach to material handling. To discuss options, contact our sales team at 314-696-0200 or click here to submit a request online.