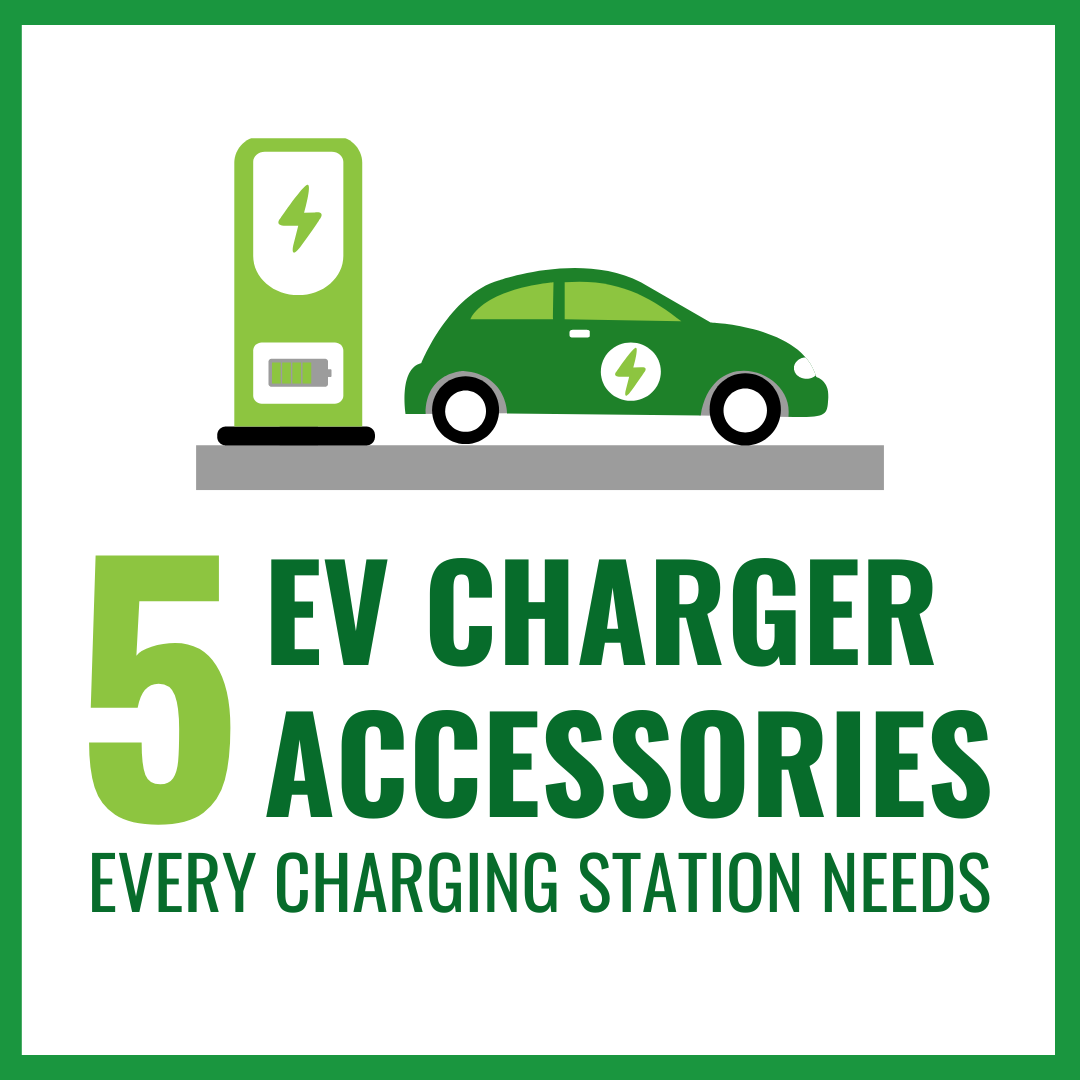 There's a simple reason so many companies are investing in commercial electric vehicles (EVs): They're much cheaper to run and maintain than their gas-guzzling counterparts. At the end of 2022, gas cost just over $3.00 per gallon. Diesel was over $4.50 per gallon. Electricity cost less than  $2.00 per gasoline gallon equivalent (GGE)—a price that has remained relatively steady since 2011, even as gas prices fluctuate wildly.
But to reduce operating costs for your commercial fleet, you'll have to invest in EV infrastructure. When calculating costs for your facility's charging stations, start with chargers themselves. Just don't stop there.
A charging station is more than a charger alone. You also need physical support equipment to create a safe, easy-to-use system. What does that look like? Here are five EV charger accessories that belong in every fleet charging station.
Going Beyond the Charger: 5 EV Charger Accessories
Whether you install Level 1, Level 2, or DC fast chargers, you'll need a place to put them—and gear that protects your investment. Keep these five items on your purchase list:  
1. Charger Stands or Mounts
First off, of course, you need somewhere to store your chargers. According to section 625.102 (B) of the National Electrical Code® (NEC), indoor chargers must be stored at least 18 inches (46 centimeters) above ground level. In outdoor installations, chargers must stand 24 inches (61 centimeters) high.
That leaves you two choices: Mounting stands on a wall, or a floor installation. If you don't have a wall handy, you must use charger stands. The EV Charger Pedestal from Solus Group offers the best combination of space utilization, equipment protection, and compliance with the NEC and related standards.

2. Cable Management Systems
The NEC requires cable management systems for EV charger cables over 25 feet (7.6 meters) long. Even if your cables are shorter, however, cable management can prevent damage and provide a more convenient charging experience. We'd recommend including this EV charger accessory for every station, regardless of the output cable's length.
Install EV Charger Cable Retractors to keep cables out of harm's way, while providing convenient access during charges. These fully enclosed, indoor/outdoor cable reels retract up to 108 inches (2.7 meters) and support cables of up to 30 pounds (14 kilograms). Wall-mounted models are available. These cable retractors are also integrated into every EV Charger Pedestal and Cable Management Kit from Solus Group, providing two solutions in one. 
3. Protective Barriers
The U.S. Department of Energy's Alternative Fuels Data Center recommends "curbs, wheel stops, and setbacks" to keep vehicles from running into charger stands. For the highest level of security, however, guard charging installations with Structural Barriers.
A pair of Structural Bollards in front of the charging stand will keep equipment safe even if a vehicle jumps the curb. Or choose Structural Barrier Rails for even more comprehensive coverage. 

4. Signage
The last thing you want is a gasoline car blocking access to your EV chargers. That can happen if you don't label these spaces clearly. A 2012 report from ECOtality and the EV Project suggested a standardized graphic for identifying EV charging stations.
In addition to signs bearing this image, consider painting traffic guidance symbols on parking spaces and lanes. See the Federal Highway Administration's Manual on Uniform Traffic Control Devices for more details.
5. Lighting
Outdoor EV charging installations may be vulnerable to vandalism or unauthorized use. Adequate street lighting can help to reduce the risk, while also simplifying access for nighttime charges.
The U.S. General Services Administration (GSA) recommends locating stations "under street or parking structure lighting and in locked or guarded enclosures." Following this advice may require the installation of additional lighting systems.
With these five EV charger accessories in hand, you'll be prepared to build effective, long-lasting charging stations. That's a necessary step toward the benefits of an all-electric commercial vehicle fleet.
For more information about EV charger accessories, contact Solus Group at 314-696-0200 today.